The choice of a career or study you meet at a young age is often no longer valid for life. Therefore, extra-occupational study can improve career opportunities. An overview.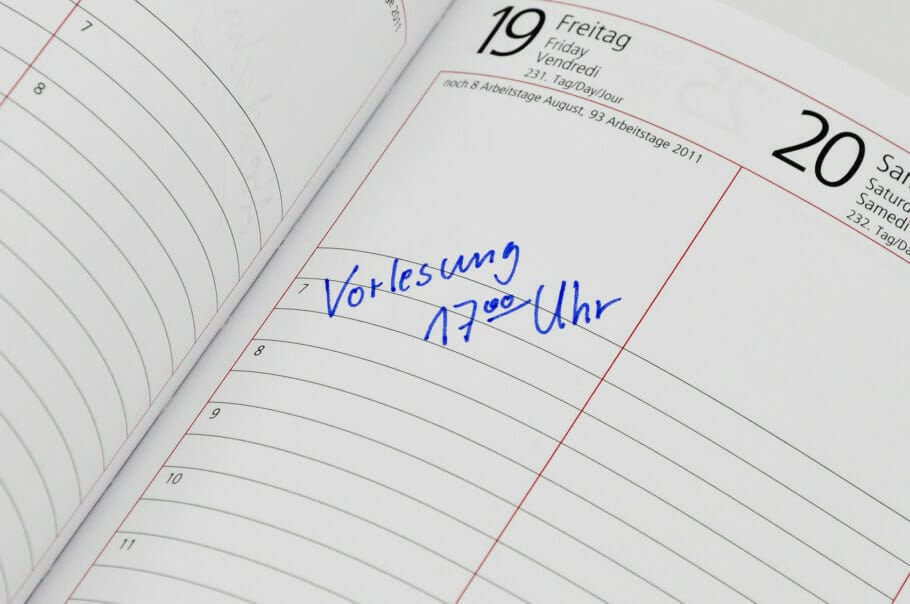 Back to university - first career, then university
Do the Abitur at eighteen, then at most one year of FSJ and then it should already go to university. One seems something like this Study from System to be considered, which at first glance is also confirmed by the average freshman. The adjustments both internationally to Bologna and the Switching for the Abitur after only eight years of high school point in the same direction.
The average Age of first-year students has correspondingly fallen steadily over the last few years. It is currently a little over 21 years old. Fortunately, this is not the case for every student. For a variety of reasons, many also begin their studies later in life, such as after a Vocational Training or after some time in everyday work.
Why should you study after starting your career?
There are many different reasons for this. Often it is simply professional interest or the desire to take another step in the career. A course of study is then often the right way to develop or further develop in the professional context - for example, if a paralegal employee decides to study law.
A big argument is that, unfortunately, in reality, having an academic degree often gives you an advantage in your job Job Search has. Anyone who can show a university certificate is often more attractive for the job market.
Study as a possibility for specialization
The breadth of basic knowledge that is imparted during a course of study often goes further than the sometimes company-specific professional experience that one can gain in a few years on the job. Therefore, they often see the possibility that the Basics are more likely to be available to train for the new position.
There are many good training occupations in Germany, which is why even people who develop a deeper interest do not initially decide to study decide. Then it may be found later that the desired specialization or Further Training not possible. Being underchallenged by a job with no opportunities for further training can certainly lead to a need for new challenges.
Study without Abitur - planned from the beginning?
The university entrance qualification in Germany is obtained in most cases by a high school diploma. However, there is also the possibility of a general university entrance right for continuing vocational training.
Depending on the state, different rules apply. In Baden-Württemberg, for example, you can also study without a high school diploma - but only in a related field after having completed vocational training and at least three years' professional experience.
In addition, an aptitude test is required after a counseling session at the university. In North Rhine-Westphalia, however, such an examination is not required if the subject corresponds to the professional experience.
So if you are interested in studying without a (Fach-) Hochschulreife, you should inform yourself urgently about the requirements in your own and surrounding federal states. It may also be a good plan, instead of completing secondary school education to gain entry to the university.
First training, then studies
Basically, that's a good thing Idea, since immediately after the Abitur the horizon for both subject areas and ideas for the work life is not yet given. Then you can first apply for a Career choice then decide to go into the decision to be able to depend on more personal experience when studying at a later point in time.
The most frequently mentioned AnxietyBeing too old to study is usually completely unfounded. Especially if you already have training and work experience, you often have advantages in the application process.
Various possibilities
Studying does not always mean being on campus from Monday to Friday and tackling post-graduation and study projects at the weekend - there are many different forms and models that can be taken to study. Depending on the life situation and your own preferences, these have various advantages and disadvantages.
Ordinary full-time study
An attendance study at a university with morning courses in the weekly cycle is the norm. If you have no other obligations and maybe want to get to know the real student life, this is recommended.
Extra-occupational part time
If you want to continue your education but cannot or do not want to give up your current position, you can do both with a part-time degree. TheCourses offered in this form often have a longer standard period of study. In this way, they can also be carried out with fewer semester hours per week with the same amount of material. personal priorities are important here.
There are several different models for this:
Evening courses: Many face-to-face events, mostly after 18: 00 pm until late in the evening. After work it goes to the university.
Weekend Study: TheCourses take place on weekends, so that in addition to work on weekdays can still be completed the study.
Block Studies: Seminars and lectures are offered in intensive blocks, for example four days at a time, up to nine hours a day (with breaks). So only occasionally a few days leave to be used to attend these block courses.
Up study: A large part of the study takes place on a specific day of the week (often on Fridays). On that day, a free day must be agreed with the employer - for example, by working up the missing hours during the rest of the week.
Distance learning: With absolutely free timing, but more demands on self-discipline, since almost everything has to be learned in self-study. Unfortunately, not every course of study is offered as distance learning, but job-related is quite common.
Coping with the extra-occupational study
Many forms of part-time study consist at least to a certain extent of self-study. Depending on the life situation and the flexibility that results from it, you have to choose the right one. In most cases, forms can also be combined, so that, for example, evening studies with courses on Saturdays and Sundays can be combined Onlineseminars is added. But even if you don't study part-time, you often find yourself in a different life situation after the age of 20, in which you have to approach your studies differently.
Distance learning is of course particularly interesting for parents, because then less Problems in relation to the care of the offspring. Of course, the additional time required is not easy to cope with, but a daily stay in an expensive all-day day care center is not necessary. Evening lectures may be part of part-time studies Everyday life.
The financing of a study
If you in this country to the Financing of studying, you get BAföG immediately, Minijob and the Family as a supporter in Head. In many cases, however, these options are no longer possible if you start your studies later.
BAföG
BAföG is usually only when the Student at the beginning of his studies under 30 years old is. Likewise, one must not have completed more than one vocational school education. Good news for returnees: who after some time in the Economy If you want to get a Master's degree later, you can even receive BAföG funding for up to 35 years.
rise scholarship
Anyone who has worked in the respective profession for several years after completing their training but would now like to continue their education can consider an advancement grant as an option. This is a funding offer from the Federal Ministry for Education and linked to certain requirements so that the right target group can benefit from it:
Completed vocational training and at least two years of professional experience.
Good professional ability, about above average grade in the training examination.
Tied to state recognized colleges and BA, state exam and MBA degrees.
This funding can be requested for full-time students as well as part-time. You can also apply for it retrospectively until the end of the second semester apply.
Parental allowance as a full-time support for parents
Another special feature applies if you already have or have a child as a first-year student. Anyone who does not do a full-time job can do one financial support for parents receive. Even students have the opportunity to apply for parental allowance. For extra-occupational students who continue to work full time, of course, this is not possible, but this case should be the exception rather anyway.
Student loans
A good last resort, which is available up to a study entry age of 44 years, is the Student loan from the development bank KfW, This can be applied for any form of study, extra-occupational or full-time. Thus, even later in life, a study can be financially supported, even if no half is granted as a grant as BAföG.
Read text as PDF
Acquire this text as a PDF (only for own use without passing it on according to Terms & Conditions): Please send us one after purchase eMail with the desired title supportberufebilder.de, we will then send the PDF to you immediately. You can also purchase text series.
4,99€Buy
Book eCourse on Demand
Up to 30 lessons with 4 learning tasks each + final lesson as a PDF download. Please send us one after purchase eMail with the desired title supportberufebilder.de. Alternatively, we would be happy to put your course together for you or offer you a personal, regular one eMail-Course - all further information!
29,99€Buy
Skate eBook as desired
If our store does not offer you your desired topic: We will be happy to put together a book according to your wishes and deliver it in a format of yours Wahl. Please sign us after purchase supportberufebilder.de
79,99€Buy
Corporate publishing and advice
You want to publish, increase your reach or as an employer Candidate speak to? For these and other topics we offer special Consultant packages (overview) - For example, a personal phone call (price is per hour).
299,00€Buy