WIKIPEDIA entries & media features
I am pleased to be represented as an author and blogger on German Wikipedia from now on. The Publisher Best of HR – Berufebilder.de® was also referenced several times. The overview with all Wikipedia entries can be found under the picture.

References in the German-language Wikipedia:
I am with Best of HR – Berufebilder.de® right in several places in the Wikipedia: With an entry to my person as well as with references in several subject and subject articles. These are the following four posts:
Personalmanager Magazin reports about us
What do our book readers and customers say about our work? A good example of successful PR: The magazine "Personalmanager" reported very positively on our book "IT-Recruiting & Skilled Labor Shortage". By the way: Further down on the page you can order review copies yourself!
MDR is looking for engineers for interview: Shortage of skilled workers & no job?

Last year was Best of HR – Berufebilder.de® in the ARD reportage "The fairy tale of skilled labor"To see. Now unemployed engineers are again being sought as interview partners - from the MDR.
Skilled labor shortage - and no end?
Even though it has recently become a bit quieter about it, the issue of skilled labor does not seem to be a long way off.
At the latest after, for example, Daimler had already announced in September, specifically for specialists in refugee homes - no doubt an honorable intention - is of course the more the question of whether we can even speak of a skills shortage.
VDI rowed back
Already in April, the VDI had astonishingly diverged from its long-proclaimed specialist-shortage-thesis:
Suddenly it was one of them Professionals surplus the speech - possibly also a result of our ARD broadcast. Maybe you have finally synonymous with the VDI finally recalculated the numbers.
Unemployed engineers wanted
Now another program on the subject of skills shortages is planned, this time in the MDR. Journalist Nadja Mönch is looking for unemployed engineers in Saxony, Saxony-Anhalt and Thuringia with the following call:
Are you an engineer and do not find a job? For an MDR reportage about professional strength I am looking for engineers from Saxony, Saxony-Anhalt and Thuringia who have a hard time finding a job. I would like to accompany you in the search and to report on your experiences with companies and applications. If you are interested, please contact me! Nadja Monk 0341 / 35002705 or nadja.moench@miamedia.de I am looking forward to your letter!
Will someone report this time?
Years of discussion Best of HR – Berufebilder.de® Despite the ARD reportage last year, it was difficult to find anyone who wants to comment on the subject in front of the camera.
I am curious what this post looks like and wish Nadja Mönch much success - and I look forward to the reportage, which will come out in this research.
Professional association for specialists and executives prints us: Women Matter
We are pleased that the Professional Association for Specialists and Managers has made a contribution from Best of HR – Berufebilder.de®-author Britta Posner in the current issue of his magazine "Perspektiven".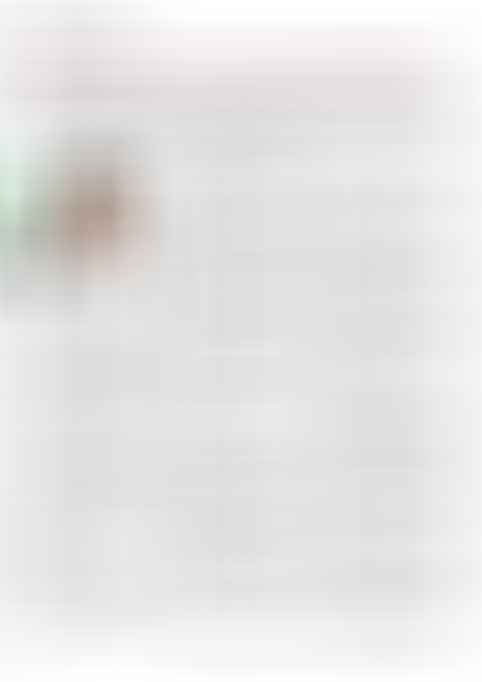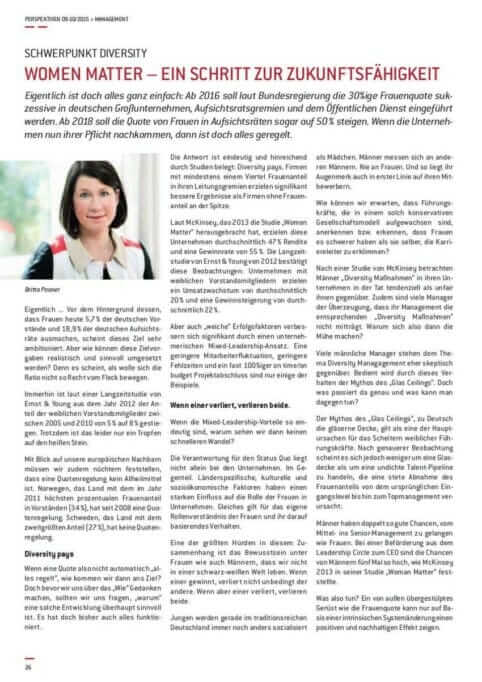 About the Professional Association for Specialists and Managers
The article WOMEN MATTER - A STEP FOR SUSTAINABILITY was published in the category Management under the DIVERSITY focus - in the current issue 9 / 10 of the journal Perspectives.
The executives are the professional association for specialists and managers with around 25.000 members. It provides its members with advisory services for professional start-ups, seminars and free legal services. This is what the website says:
We look after our local members and represent their interests - individually as well as in politics, business and society. We are committed to improving working conditions for professionals and managers. Political and ideological we remain neutral.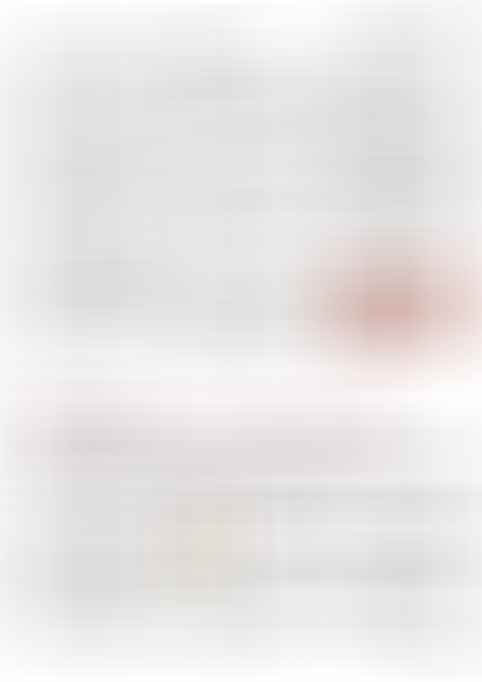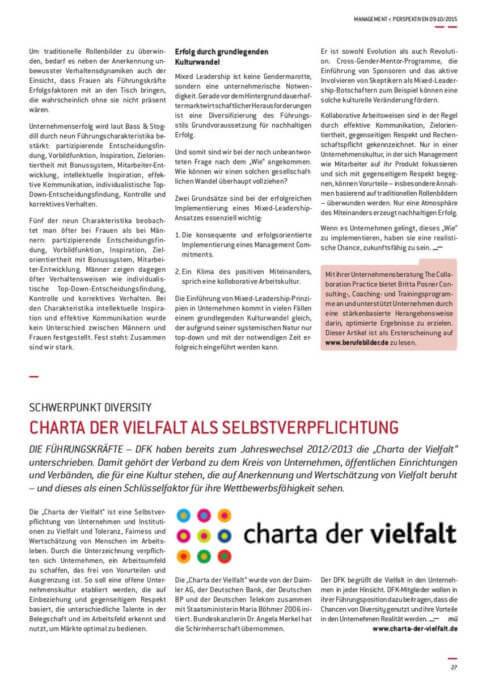 What is this article about?
Best of HR – Berufebilder.de®-Author Britta Posner deals in her article with equal rights and opportunities for advancement of women and - that's what is special about the text - with the advantages that equality also offers companies in management, the so-called mixed leadership.
Among other things, she has worked out two principles of the successful implementation of a mixed-leadership approach:
The consistent and success-oriented implementation of a management commitment.
A climate of positive co-existence, ie, a colloquative working culture.
200 politicians, actors & economists against the right: We'll be there!
The Huffington Post called for the #GutDassIhrHierSeid "campaign this week. Together with 200 top politicians, actors, musicians and economists, including Sigmar Gabriel, Julia Glöckner, Sahra Wagenknecht and Margot Käßmann, we too are making a clear statement against the right and saying: "It's good that you are here - because ..."
Good that you are here!
The issue of refugees moves the country. This is why the Huffington Post has also made a strong statement - with a cover story that explicitly welcomes refugees.
Under the motto "Dear refugees, it is good that you are here because ..." have over 200 people, including many politicians like Bodo Ramelow or Rita Süßmuth, actors like Thure Riefenstein or Mariella Ahrens, journalists like Thomas Knüwer, Jürgen Todenhöfer - and I also made a statement.
In it, we explain why we welcome refugees!
The SPD boss's statement
For example, SPD leader Sigmar Gabriel writes:
"Dear refugees, it is good that you are here because we want to protect you from war, need and persecution. And also a new home. In our country too, there was a time when people had to flee persecution or war. In many families, the memories of it have not been forgotten. Not even how happy our parents and grandparents were when they knew their children were safe. We want you to feel the same. "
A great campaign that sets an example and we need more of it!"

New column in WIRTSCHAFTSWOCHE: career tips from the career ladder
From today, the new regularly appears Best of HR – Berufebilder.de®-Column "Career ladder" on Wirtschaftswoche Online - right next to Miriam Meckel. The topic: Tips for starting a career and surviving in everyday work.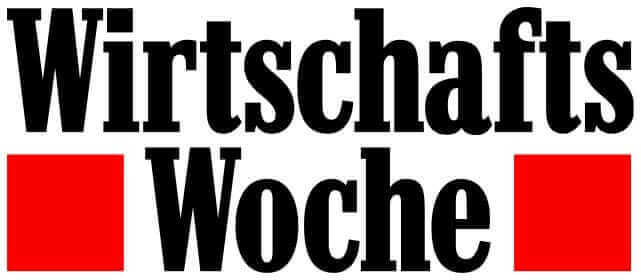 The target group
The column career ladder, which I am writing on a two-week schedule, is directed specifically at university graduates, young professionals and professional young professionals.
I will cover a wide range of topics, from the application procedure to discrimination that you have to deal with when looking for a job, to day-to-day problems such as time management or mastery of the job eMail-Flood.
Theme suggestions are welcome
It's just about everything that interests the target group in the field of job. Topic suggestions are expressly desired.
Quite expressly, I will not only give flat tips, but current trends and developments also times ironically comment. My column is one of the regular columns that run on Economic Week Online.
Excitation for reflection
Because my column should expressly also give thought to the sometimes absurd developments and discussions that take place in the job, career and HR industry.
Therefore, I will start with a post about the everyday eMailMadness - and the sometimes absurd tips that you find the topic again and again. The next column is then about a serious issue, namely discrimination in the job.
Here you will find current posts
You can find me in the overview of the current columnists, among others Miriam Meckel: http://www.wiwo.de/kolumnen/
Under http://www.wiwo.de/simone-janson/11953622.html you will find an overview of the most recent posts of the career ladder column.
One of 77 women entrepreneurs in medium magazine: Do something of your own!
The well-known industry magazine medium magazin presents 77 entrepreneurs in the current issue, more precisely in the title "The Journalist". In addition to WDR Ms. Bettina Böttinger, Ulrike Langer, Sabria David (Slow Media Institut) or Nora Vanessa Wohlert (Edition F), I am also there.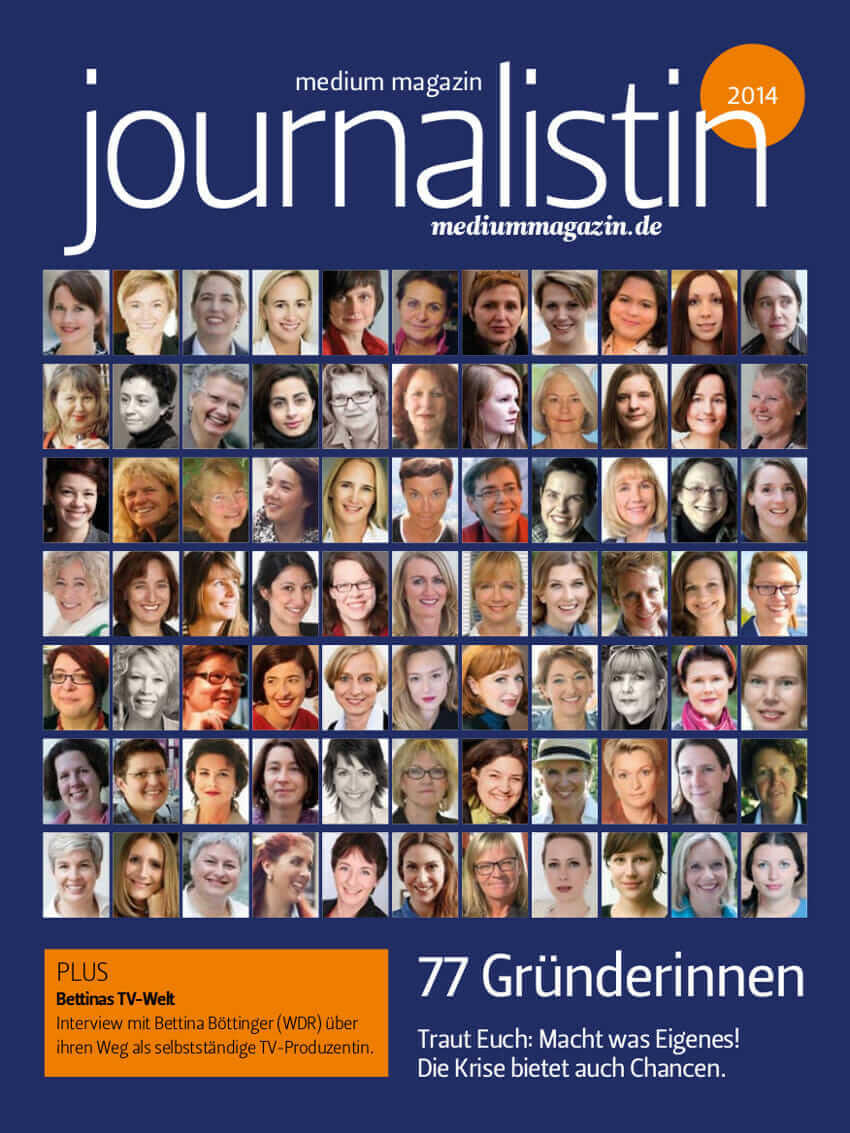 77 women entrepreneurs
The topic of business start-up in journalism and journalistic business models are currently booming. Therefore, the medium magazine also puts its current edition of the journalist under the motto: Make something personal. How fitting!
I answered the interview questions in writing. Since the answers in the output were strongly shortened, I would like to present them again for the sake of completeness in the detailed version here. Below you will find the entry in the picture format. Nice to be there!
Characteristics
Her name: Simone Janson
The company name: Best of HR – Berufebilder.de®
c. Founding year: 2003
d. Number of employees: Over 100 freelancers and authors
e. Internet address:
f. eMail / Phone: editorial staff@berufebilder.de
7 questions about entrepreneurship
Company profile: (What is part of your range of services, what may differentiate your offer from others? What makes your company distinctive?):
According to the ZEIT ONLINE we are one of the most read blogs for jobs, education and careers with a focus on the world of work in digital transformation, training and human resources and leadership issues. We not only offer this target group information, but a complete range of seminars, speakers and suitable locations. We also advise companies and universities on PR strategy and online communication.
Your personal career: (training / employment before company foundation - please tabular in keywords):
Studies in history and linguistics, editor of two magazines of the Federal Employment Agency, then active decision to become self-employed, bestselling author with "Die 110%-Lügen", foundation and expansion of Best of HR – Berufebilder.de® Columnist for the "world", cooperation with the FAZ Institute.
Your company philosophy, philosophy or motto:
Picture your job!
Hence the name of the blog: It's about continuous development, one of the most important career factors in our digital society.
This is how my company was born ... (Motivation of the foundation please max 500 characters):
In the beginning, I only wanted to publish a website with journalistic workplaces, which resulted in the blog, which was developed step by step into a company. I have found: It is very fun to develop ideas and to market them.
What was the biggest hurdle or what should new founders avoid?
Freelance journalists are particularly fond of dressing themselves up as bad editors. Just trust in yourself and have courage for entrepreneurial thinking and new ideas.
What was your biggest success so far?
2009 came to a discussion in the blog, whether in Germany is actually skilled defending prevails, which at that time medial was hardly questioned. I have always followed this discussion and accompanied, until this year an ARD reportage arose from it. Today the topic is strongly discussed in the media and among staff. A good example of swarm intelligence and how to deal with blogs over a longer period of time.
Who promoted them? Were there role models?
There were always inspiring ideas and help from friends inside and outside the media sector.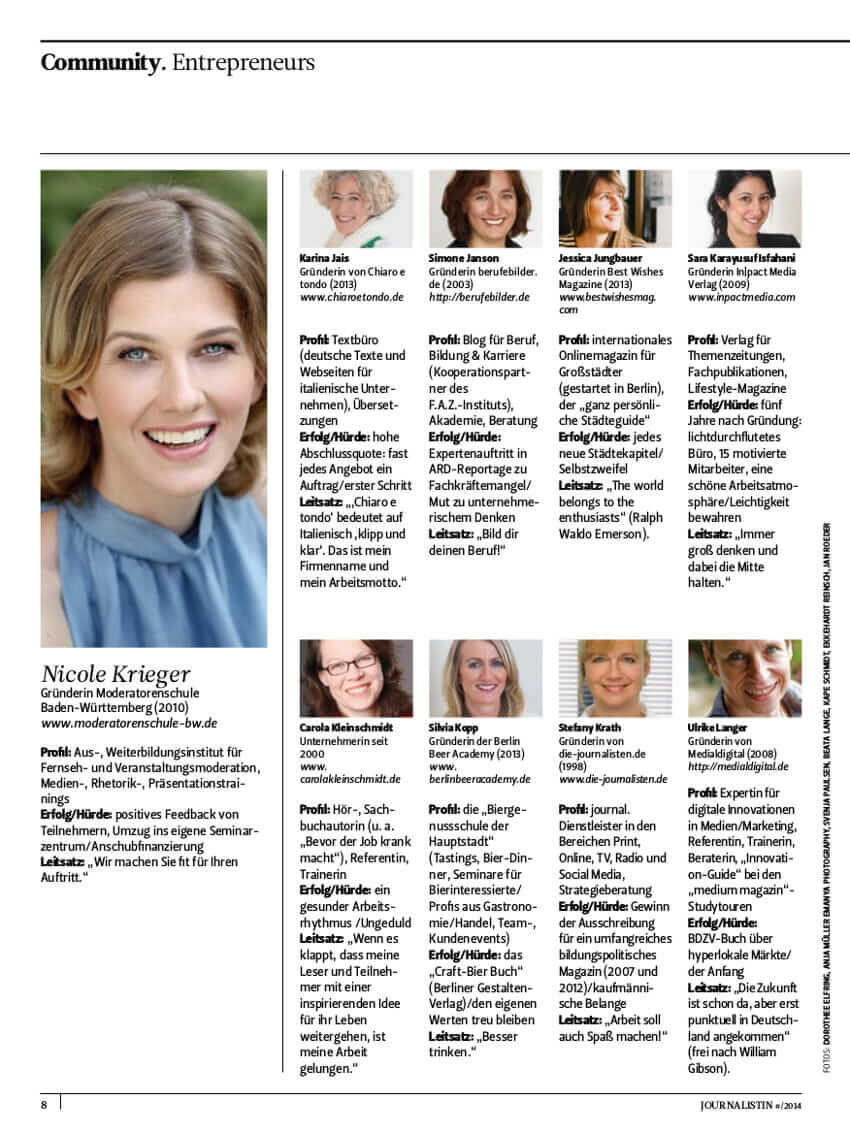 The discussion about the shortage of skilled workers Best of HR – Berufebilder.de®: A summary of my ARD interview
Recently I was interviewed for an ARD report on the topic of a shortage of skilled workers - for discussion Best of HR – Berufebilder.de®, The broadcast will be on 14. Aired on July. Here is the second part of my resume.
Shortage of skilled workers - a word of mouth?
I am disturbed by the fact that the issue of skilled labor has now become a winged word, which must serve as an argument for all kinds of measures - such as the pension with 67 or the women's quota.
The argument of politicians is used in a completely unreflected manner and in an undifferentiated way. As said one of my readers so beautiful: "It's just a complete ignorance of the situation. You only get to know them when you are an engineer yourself on the market. "
Technology vs. training
Job market spiegelt the social and technological change again. One problem is, for example, that technology is developing faster than it can be trained.
An example of one of my readers: A company is looking for a touchscreen programmer. Since touchscreens haven't been around for that long, the number of people who have done this before is rather small. A computer scientist or electrical engineer can very well fulfill this task if he deals with this topic in a company for about 1 year. However, for time or financial reasons, the company cannot invest a whole year in a new employee until they are productive. That is why the company speaks of a shortage of skilled workers, while on the other hand there are many graduates and old engineers who are looking for a job. Here, the companies themselves would be in demand to further educate their employees instead of looking for fully trained specialists.
The 0 risk preparedness of HR departments
The willingness of companies and personnel departments to take risks in new appointments with people who do not fit 100% into the applicant profile is also extremely low - also a consequence of the generally prevailing uncertainty.
Recently, the Institute for Labor Market and Professional Research (IAB), which is part of the Federal Agency for Labor, registeredthat 2013, the proportion of non-permanent fixed-term contracts, has increased to 48 per cent of all employment contracts. While 2001 had around 550.000 of such contracts in 1,3, XNUMX millions last year.
Unjustified time limits are increasing
Above all, according to IAB, companies are reverting to the unconscionable deadline for newly created jobs. However, an increasing number of employers are also making use of the fact that they have already been established. In this way, the probationary period is extended. However, this also shows how much companies are struggling with the changing social framework conditions, the term globalization, and the extent to which uncertainty is felt in German companies:
The IAB considers it unlikely that a ban on time limits will lead to more attitudes. Instead, it is assumed that companies then increasingly resort to cooperation or freelance work in order to check whether a new position is profitable at all. Nobody wants to make the mistake of hiring the wrong employee.
What is the general mood?
During the interview, I was also asked whether there was a mood among the discussants, for example against immigrants. I have a very clear "no".
The people are very differentiated: The anger is directed against the employers, the temporary employment agencies and engineering service providers as well as the Association of German Engineers (VDI) and politics: They are sometimes somewhat polemically accused of deliberately disseminating wrong numbers in order to reduce wages in a targeted manner . On the other hand, there is no public opinion against immigrants - people know that they are least of all responsible for it.
Best of HR – Berufebilder.de® Cooperates with FAZ-Institut: Magazine, Events, Yearbook
Best of HR – Berufebilder.de®.de is now officially cooperating with the FAZ-Fachverlag. A joint magazine, events as well as publication of a yearbook is planned. Interested cooperation partners can get in touch.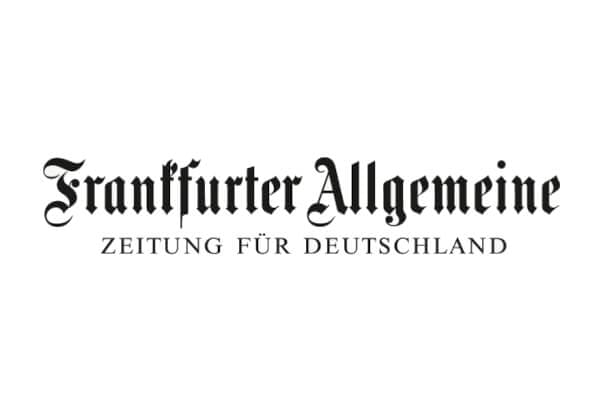 Cooperation with the FAZ-Fachverlag
Together with the FAZ-Fachverlag, I conceived various media, in which I also contribute editorial. In addition, joint events are planned, during which I will give lectures or take over the moderation.
The FAZ-Fachverlag is part of the FRANKFURT BUSINESS MEDIA GmbH, an interdisciplinary finance and economics publisher within the Publishing Group of Frankfurter Allgemeine Zeitung GmbH.
Magazine "Future Manager - Work 2020"
The magazine "Zukunftsmanager", which appears six times a year, is sent to 20.000 subscribers in companies. We design themed supplements on the subject of "The Future of Work".
The magazine bundles under our editorial assistance the most important trends in the areas of HR and career and offers a busy target group in management and companies, demonstrated the active readership of Best of HR – Berufebilder.de®.de, a quick orientation.
Go to content:
Structure, focus and classification in the information jungle
Complete overview of the topic field
Systematic classification of current changes in the world of work with a view to the current most important developments
Compact, easy to understand and easy to understand
Yearbook business meetings
The Annual Business Meetings gives corporate executives an overview of the major national and international business meeting venues.
Revealed for the target group, it presents the advantages and disadvantages of the respective business locations in a clear compendium.
The following questions are addressed specifically:
Which location is suitable for which event?
What are the advantages and disadvantages of the location?
How is the location equipped?
What is the accessibility?
How much are costs?
ARD report is looking for interview partners on the shortage of skilled workers: engineers ahead!
We got up Best of HR – Berufebilder.de® discussed for a long time on the subject of the shortage of skilled workers. Now the ARD has become aware of the discussion and is looking for interview partners. I am also interviewed for the show.
ARD is looking for engineers as interview partners
On Best of HR – Berufebilder.de® has been for years discussedwhether we have a shortage of skilled workers in Germany or not. The issue raises the barricades for many engineers because they themselves suffer from poor working conditions, temporary employment contracts or unemployment.
It is precisely these people who now have the opportunity to make their opinion heard: ARD is looking for the program "Die Story im Erste 'Der Arbeistmarktreport'" among the engineers, interview partners who can say something about the salaries of Germans and foreign professionals in comparison - and in front of the camera. However, the ARD is also willing to obscure the interviewees if necessary.
Contact us
The show is scheduled to be broadcast in July, but the shooting is expected to take place in March and May. I myself am also questioned about the topic and the discussion in my blog.
So if you want to say something about this topic among the engineers concerned in front of a large audience, please let me know as soon as possible eMail Sign in with me editorial staff@berufebilder.de.
Thank you!
Best of HR – Berufebilder.de® sets topics in the media: makes intelligence more successful or not?
The day before yesterday, inspired by a new commentary, I shared an older post again in the social media. Theme: Do the dumb ones have more success? Good 3000 releases, 34 comments and media releases, which I was referred to because of their similarity to my thesis, show: The theme moves the minds.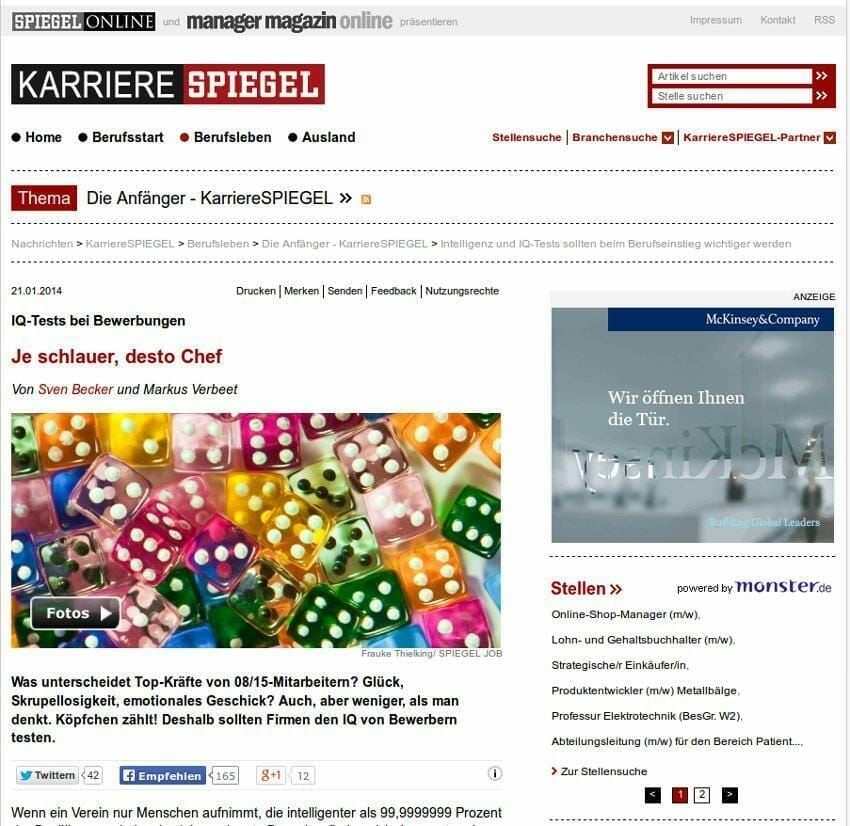 Too smart for success?
"The stupid people are particularly successful - I'm just too smart to be successful" To me that sounds like complaining at a high level. What better way to justify your own failures than by saying, I'm just too intelligent to be successful.?
Robin Brunold wrote this in his commentary - and rekindled the discussion on a topic that had already gone online in April 2010 and already caused a stir then.
We put topics in the media
Because then I brought up the old post again, he was again very heatedly discussed, especially on Twitter and on Best of HR – Berufebilder.de® as well as from various media.
For example, he was hired by media representatives as the career editor of ZEIT ONLINE tweeted (see comments in the post) and at Spiegel Online there was a publication to which I was approached by several readers because the title and also some excerpts took up the thesis of my contribution again, even if Spiegel Online then later informed me via comment (see update below) that it was apparently an older post Spiegel Job, of which I have not yet seen any evidence.
But what I am actually about: I would like the exciting theses of the Spiegel- Contribution, whose authors have of course dealt with the matter in much more detail, take up and discuss. Because here scientific studies were also used to discuss the question of whether IQ tests make sense for applications and - as a result - whether intelligence is better for a career or not.
What studies prove
The authors come to the conclusion that, although initially intelligence is not critical, if one follows empirical studies, but already.
Intelligence is not harmful, but maybe it should not be too much then. And finally, really different factors decide: diligence, charm, unscrupulousness, manners, network, gender or even luck. That's the impression, but the empiricism comes to a different conclusion.
A long-term meta-analysis shows that the more intelligent an employee is, the sooner he will deliver good work and be successful in his career.
Smart disturbance?
That actually sounds logical, and yet they show Spiegel- Authors further down their article that intelligence is a pretty relative thing in this and confirm what that I in my article wrote:
Often intelligent people also disrupt business processes: They are extremely critical not only with themselves, but with others, question work processes, are difficult to adapt, put their fingers on wounds. This makes the bosses nervous, yes, they could even stir up the colleagues. So better fire right away!
For Schlaumeier and Neunmalkluge are unpopular, already in the school and also in enterprise. The high-powered nerd, who can not communicate clearly, has the look.
Therefore also speaks for intelligence, they conclude Spiegel-Author, sometimes backtracking, not showing other people their stupidity and thus not sprinkling salt on wounds.
Adaptation as a sign of intelligence?
Adaptation, then, as a success strategy and the intelligence as a sign that this adaptation is mastered? This may be right in the short term, but whether it is the right strategy in the long term, for one itself, the company and the society, may be questioned.
You could list examples from the history here, but I would rather have one here Blogpost of Svenja HofertIt makes clear how important even the hard-working, unpopular cross-heads are for the long-term success of a company.
Those who are intelligent should not do without them. But it is not only the commentators of the who doubt whether this intelligence can actually be measured in IQ tests Spiegel-Article.
How to cooperate with THE HUFFINGTON POST: My column at the Pulitzer Prize Winner
Since today, HUFFINGTON POST, which reaches 77 million readers worldwide, is also available in Germany. The prominent columnist team includes, among others, our Federal Minister of Education or Telekom CEO René Obermann - and me.
Range: 77 million readers worldwide
According to the market research company comScore, the HUFFINGTON POST had 2013 million monthly visitors worldwide in May 77,2. The taz speaks of the most networked political blog on the Internet. Spiegel Online she calls the most influential alternative medium in the US In 2012 the HUFFINGTON POST won the Pulitzer Prize. Time Magazine lists Arianna Huffington in its 100 Most Influential People list.
Since 2011, the Huffington Post has expanded worldwide, mostly with cooperation with national media houses. Since 2011, there has been a Canadian, British and French Huffington Post, 2012 was added to Spain and Italy, 2013 Japan.
Who writes on THE HUFFINGTON POST?
Numerous celebrities from the fields of politics, journalism, business and entertainment publish in the HUFFINGTON POST. I am writing a business and business travel column in the HUFFINGTON POST with a verifiably great response.
My prominent co-authors include:
Professor Dr. Robert B. Reich, US Secretary of Labor under Bill Clinton
Federal Minister of Labor Ursula von der Leyen
Federal Minister of Education, Johanna Wanka
Telekom boss René Obermann
Management legend Utz Claassen
Art collector and Karstadt owner Nicolas Berggruen
Actors Alec Baldwin
Film director Bruce Cohen
Actress Miriam Pielhau
Technology blogger Sascha Pallenberg from Mobilegeeks
and many others
Federal Association of Secretariat & Office Management recommends us: Best of HR – Berufebilder.de® in the journal tempra365
We are pleased about a recommendation of the Federal Association Secretariat and Office Management and say thank you!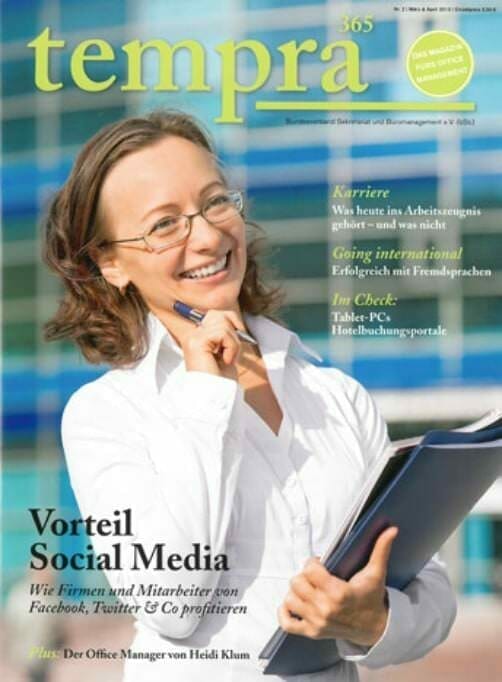 What is the BSb?
The Federal Association Secretariat and Office Management eV (bSb) is one of the largest professional associations for office administration in Europe.
He is also editor of the management magazine for Offce Professionals tempra365, which is published six times a year with an edition of 10.000.
We say "Thank you" for this recommendation!
In the current March and April issue of the magazine, Siggi Weide, bSb board member and head of the online team, recommends my blog. On page 11 read:
"Simone Janson -" DIE WELT "readers known as a columnist - founded" Berufebilder ": one of the most widely read blogs for work and education. In addition to your own, there are texts on current topics by more than 50 authors to read ... "
In the current issue of the journal "Sozialwirtschaft - Journal for executives in social enterprises", which is published by Nomos-Verlag, my contribution "Work ethos - making mistakes fun" appeared on pages 17/18 - appropriate to the topic here with mistakes in the Heading.-)
Why is?
The contribution first appeared at imgriff.com. It deals with the benefits of the internet and networked cooperation, for the use of which a departure from the dogmas of the Protestant work ethic is necessary. Because the digital age requires new skills.
Quality journalism: using potential
In the current issue of October 2012, an interview with me appeared in the monthly issue of the trade union ver.di "M - MENSCHEN MACHEN MEDIEN" on the cover story "Journalism needs qualification offensive"

The interview is about how editorial teams and journalists can use social media for their work, eg for research and in which they take their readers seriously and integrate them more into the work.
The interview was conducted by my colleague Uwe Siewers and can be found on page 15 of the magazine and can be read here again. It was created as part of the Social Media Week Berlin, which we co-organized, on which "Social Media in Journalism" was a focus.
Blog posts by Berufebilder.de printed in mag20: The pursuit of happiness & love at sea
Anyone who has always wanted to read my blog contributions has now the opportunity to do so: My texts Best of HR – Berufebilder.de® are also published in the Swiss weekly magazine mag20.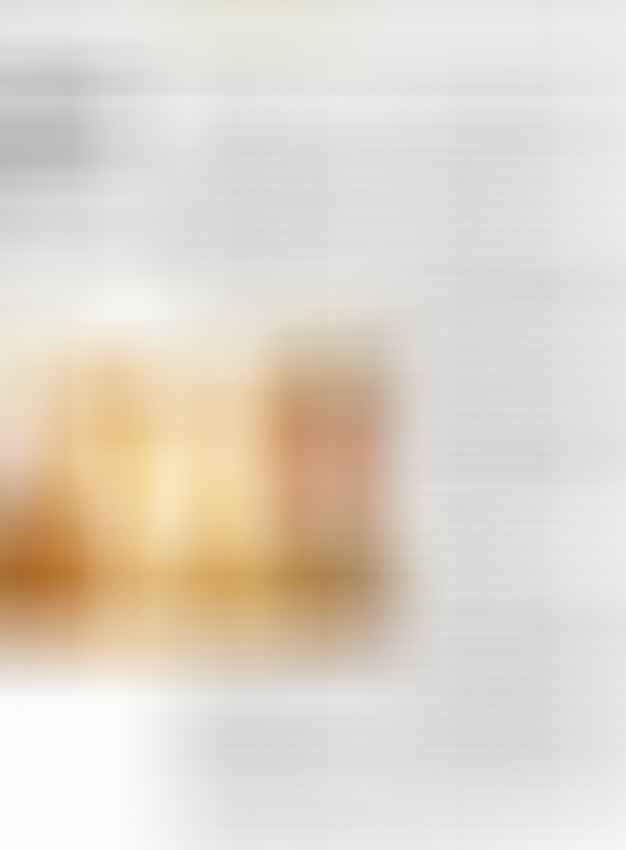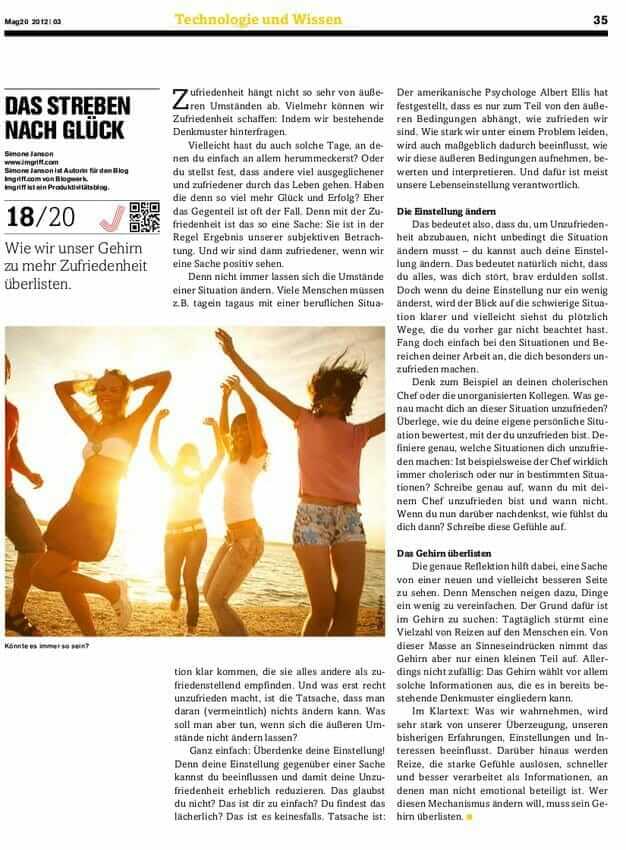 How does Mag20 work?
Mag20 prints the 20 most popular articles every week (circulation: 50 copies). The popularity is determined by the weekly number (≠ total number) of recommendations from the readership via Facebook, Twitter and Google+ controlled.
The magazine is available free of charge as an e-paper or by post (52 .- / EUR 43 postage for 52 editions).
Which articles are available in print?
My first contribution, "The pursuit of happiness", originally appeared under the title "How we outsmart our brains to be more satisfied" on imgriff.com and was published in issue 3/2012 by mag20.com.
Issue 6/2012 is about Princess Kate's breasts - and about "love at sea": My blog post "By profession sailor" was printed about the Swede Bo Ekman and his wife Margaret, who are in the New Zealand capital Auckland lived and had a long-distance relationship for 40 years due to his job as a captain on merchant ships.
Inquiry from Bavarian television on the subject of skills shortages: Interview partners wanted
Some time ago I received an inquiry from the Bavarian Broadcasting Corporation / Bavarian TV on the subject of a shortage of skilled workers. We are looking for an interview partner who is affected by the topic and who reports on his experiences or problems.
Name and contact details of the contact person at the BR are available to me, but I do not want to publish them for privacy reasons. Here is the text of the eMail:
Dear Mrs Janson,
We are currently researching the subject of a shortage of skilled workers for Bavarian television and came across your blog, among other things. You and your readers are also questioning the lack, which is primarily being proclaimed by the VDI. Can you possibly establish contact with one of these "victims", as they call themselves, so that we could have a background discussion with someone affected? That would help us a lot. Thank you once again and best regards.
If you are interested in getting in contact with the BR on this topic, please come to me Best of HR – Berufebilder.de® or by eMail Report. I lead the eMail then continue and ask for your understanding that due to time constraints I can not answer everyone.
In any case, it is nice to see that more and more media is also concerned with the other side of the topic and that the view that there is perhaps no general professional deficit is always drawing wider circles.
What also pleases me personally, is that once again the benefits of a blog as a search help shows: Because only through the search function of Google, the BR-editors have become aware of the many comments and my articles on the subject of skills shortage.
And last but not least, it also shows that it makes sense to deal with a topic in a structured way over the years, to pick it up again and again and to ensure that older posts are transparent and easy to find: The blog becomes a topic archive and as such is obviously also liked by colleagues used."