Many Corporate complain about a shortage of skilled workers. Flexible working hours, trust working hours without Control, as they have already been introduced by companies from Microsoft to Coca Cola, should now make employers more interesting. But the topic of working from home has long been a big PR topic.
Home office - PR against a shortage of skilled workers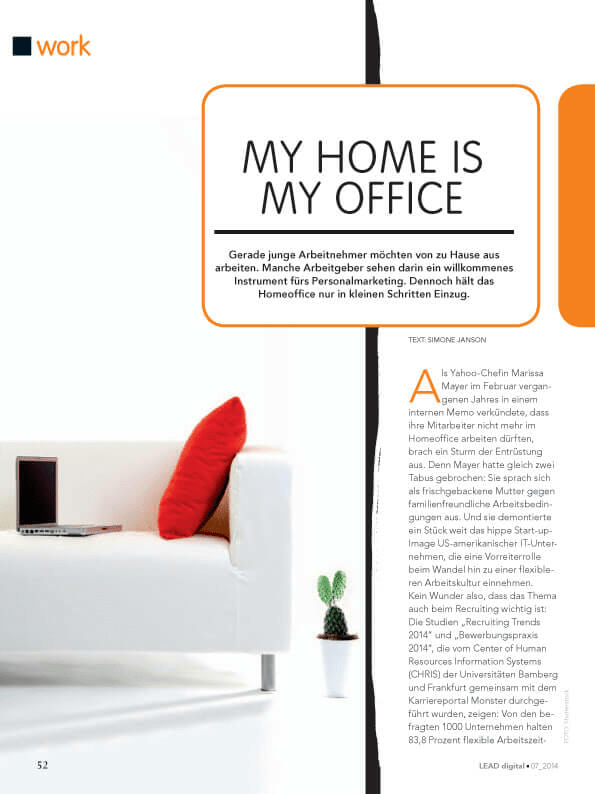 Working from home has numerous advantages: Working from home enables employees to organize their time flexibly, they can save time and Quality of life win. Thanks to less commuter traffic, the CO?-Consumption reduced and the environment protected. Companies, in turn, benefit from happier and more productive employees.
Companies are also increasingly discovering the topic for themselves. Unfortunately, there are often austerity measures or PR interests behind it. But even as a tool against skills shortage, the home office increasingly popular.
Show-Mom dismantles hip tech startup
The books on the subject (advertising)
As Yahoo boss Marissa Mayer in an internal Memorandum announced that their Employees were no longer allowed to work from home, a storm of indignation broke out. Because Mayer had broken two taboos at the same time: she spoke to herself
as freshly baked Mother against
family-friendly working conditions
.
And dismantled them
to some extent the hip start-up
Image American IT-Company,
who play a pioneering role
when changing to a more flexible one
Adopt work culture.
Home office as a recruiting topic
No wonder then that the subject
also at Recruiting important is:
Studies such as the "Recruiting Trends" and "Application Practice" conducted by the Center of Human
Resources Information Systems
(CHRIS) from the University of Bamberg
and Frankfurt together with the
Monster career portal carried out annually
will show again and again:
From the respondents
Hold 1000 companies
83,8 percent flexible working time models for an important measure against the shortage of skilled workers,
rate at the same time from 10 interviewed applicants
85,9 percent generally positive about the home office.
Flexibility as a basic need of Generation Y
Flexible work as a normal case?
Discounts for your success (advertising)!
Flexible working has been around at Coca-Cola Germany since 2012
the normal case: "We have dealt with studies and needs
of Generation Y ", justified
Personnel Director Nadine Ziese. I already had it before
There are regulations for family-friendly work,
but less flexible: "All employees can now
decide for yourself when and where you want to work, provided
the operational priorities allow it. The
Working time is recorded voluntarily. That strengthens personal responsibility ",
she is convinced.
But there are restrictions
as Ziese clarifies: "It is not for everyone
Work from home is the right thing to do: To work in a company
also includes personal exchange, for example
among themselves. You have to on a case by case basis decide,
whether a task can be done at home or
whether agreements the presence in the Office require."
SMEs are having a hard time with the topic
Much more difficult than large corporations are medium-sized companies
Companies with the topic, such as Steffen Schoch,
Managing Director of the Northern Black Forest Economic Development Agency,
states: "Very few have home office regulations,
or if you do, don't comment on it, "says
Schoch and adds:
"Especially in owner-managed companies
there is a special trust between Executive and
employees, which, so the fear, through the spatial Distance might suffer." According to Schoch, flexible, family-friendly working hours could be used, especially in rural areas
Regions a huge competitive advantage for employers
be that for Boy Talents want to be attractive. "But still
Many companies have not realized they will benefit from it
to be able to. "
Flexible working hours required by young employees
Securing skilled workers was also important for the medium-sized company Hansgrohe
the decisive argument in the flexibilization
of working hours: "Our location in Schiltach has
other advantages than a big city.
Working time flexibility
has always been from young applicants, but above all
inquired by our employees that from the
Return to maternity leave, "explains HR manager Thomas
Egenter. Therefore, there are now contractually agreed
Teleworking and flexible home officeSolutions in
all departments except in production - but only
two days a week.
Not announced in every industry
Not just some companies, they too Candidate are
skeptical about home office. Like the CHRIS study
shows that 55,6 percent fear a lack of information exchange,
28,6 percent drop in productivity in the Team and
16,5 percent extra work.
And the consulting agency
Universum Communications determined after a survey
of almost 5000 young professionals:
Of the IT staff, 39 percent wanted flexible working hours,
but only 29 percent of the engineers.
Home office as a PR tool
The annual Home Office Day in Switzerland shows how much the topic has long since become a PR topic. He wants to show that the home office saves time and CO2 emissions - and thus set an example against presenteeism and for happier employees. More than 40.000 companies, employees and self-employed people participate every year and work at home on the day in question.
But you have to know: Behind the actually cool Idea puts a PRSALE – no social initiative. The idea was initiated in 2010 by Microsoft and Swisscom. there is something Attention is appropriate. Because on the official website of the Home Office Day you unfortunately have to search a little until you find out who is behind it. Because the various politicians support the idea, the site looks more like an official Swiss event act, which it isn't!
908 days more for work a year
Nevertheless, the numbers are impressive: Both working time and CO2 reduction was added to make a mark. And that's how it came out: 908 days were won due to the absence of commuting times.
According to the survey, this time is mainly used for work, which contributes to a significant reduction in stress and at the same time increases the quality of life. Projected over a year, the employees who worked at home with one day home office per week contribute to a total CO2 reduction of 9.198 tons.
Most of them already work from home to some extent
A Online-Survey on the topic shows: 67,3% of respondents work at home once a week on average. 6,3% use their home office once a month and 3,9% twice a week. The initiative motivated 22,5% of the people surveyed to work from home for the first time.
69,1% of the participating people are convinced that working from home has a positive effect on their quality of life, 30,8% do not take any
Effects true, and only 0,1% are of Opinionsthat home office is associated with negative effects.
Make more sense of time gained for more productivity
The facts and figures speak for themselves: 47,2% of those surveyed use the time gained due to the lack of commuting for a more flexible daily schedule, 14,3% for Family, friends and general leisure activities and 3,5% to get more sleep.
24,9% estimate that they have more time to work, which leads to a reduction in their stress, and 10,1% said they use the time gained overall for their work.
Read text as PDF
Acquire this text as a PDF (only for own use without passing it on according to Terms and conditions): Please send us one after purchase eMail with the desired title supportberufebilder.de, we will then send the PDF to you immediately. You can also purchase text series.
4,99€Buy
Advice on success, goal achievement or marketing
You have Ask round to Career, recruiting, personal development or increasing reach? Our AI consultant will help you for 5 euros a month – free for book buyers. We offer special ones for other topics IT services
5,00€ / per month Book
Book eCourse on Demand
Up to 30 lessons with 4 learning tasks each + final lesson as a PDF download. Please send us one after purchase eMail with the desired title supportberufebilder.de. Alternatively, we would be happy to put your course together for you or offer you a personal, regular one eMail-Course - all further information!
29,99€Buy
Skate eBook as desired
If our store does not offer you your desired topic: We will be happy to put together a book according to your wishes and deliver it in a format of yours Choice. Please sign us after purchase supportberufebilder.de
79,99€Buy