Many People would like to do something creative professionally – in the direction of design. This applies to both young Young Professionals as well as for older workerswho want to reorient themselves professionally and finally want to realize their dream. 6 tips!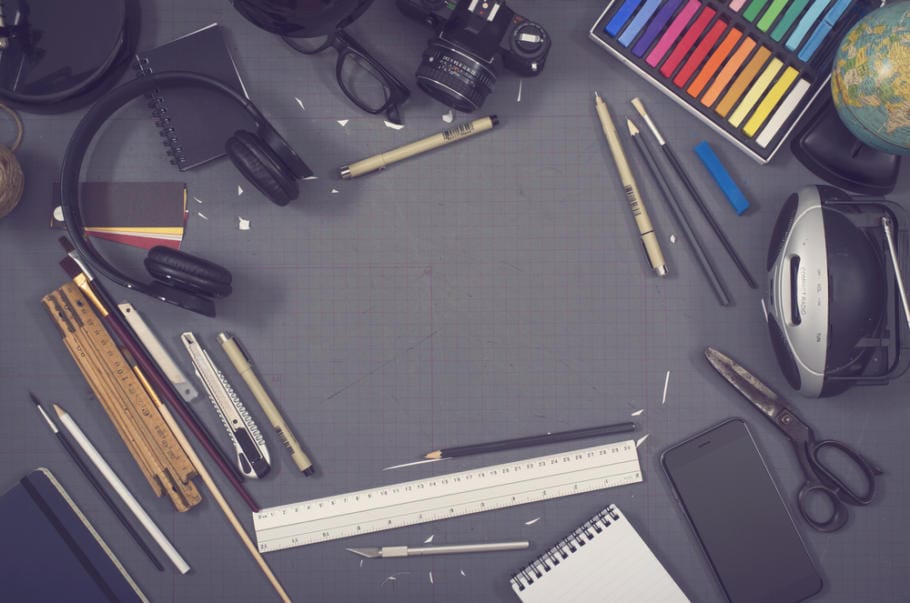 Is design really a "breadless" job?
Be it fashion design, product design or another division: Although these professions sound very attractive in terms of content, they have the reputation of being little in demand. It is therefore worth taking a closer look at the topic.
So many interested parties in the relevant professions are put off by the myth that only a few designers would actually be able to make a living from their job. So if you want to do something creative, you have to be very good - the best - or have the rest of your life with part-time jobs.
What does it mean to be a designer?
The books on the subject (advertising)
But is that true? Of course this may apply to some professions and not all types of design are in demand in the job market right now. But there are by all means numerous creative professions as designers that offer excellent prospects and are at least as popular as many other professions. So if you actually have a creative streak and would like to live it out professionally, you should take a closer look at the following design professions, because these are currently the most sought-after designers on the job market.
There is no uniform Definition for what it means to be a designer and the Job has evolved over the past two decades from a role focused on visual appearance and image to one that encompasses many disciplines, from user experience and interaction design to Marketing and branding.
What tasks does a designer have?
So let's first look at the Tasks of a designer: A designer is someone who can help visualize what needs to be developed or created. Designers are able to turn a design into a tangible product. You can add a background in the fields Technology, drawing, architecture or product development, but their primary focus is on visualizing a product before it is created. Designers are for them Implementation of ideas in a meaningful way.
Design is a necessary link in our daily life and in ours Society. In addition, design is one of the most expensive production factors. Therefore, the value of design cannot be underestimated. Because of this, designers need to be professionals and have a clear awareness of their profession. How to become a professional designer
An overview of 6 design professions from gamification to medicine
Discounts for your success (advertising)!
The design profession is very diverse. We would therefore like to present an overview of 6 professions.
1. Interface designer
Digitization has brought forth numerous new areas in recent years, in which designers are now needed. One of them is the so-called interface design. This involves the design of user interfaces, i.e. the interfaces between man and machine. In addition to the pure appearance, usability plays a major role, i.e. interaction must light Be understandable and effective so that the operator makes better operational decisions. The interface or user interface designers are therefore responsible for optimally designing interactive surfaces and need not only creative but also (psychological) logical ones Competencies.
It is therefore an exciting profession with excellent future prospects, because digitization will require more and more such interfaces in the long term and therefore more and more designers who specialize in them will be needed. Although there are certainly lateral entrants in this area, the classic educational path leads via one Study in the field of communication or media design. A corresponding Vocational Training does not (yet) exist, but some interface designers also take the path of an apprenticeship in the field of computers and design in order to then switch to the "UI" field, as it is called.
2. Game designer
This job should sound like an absolute dream job to many enthusiastic gamers. In fact, the game designer's primary job is to create games for consoles, the Internet, smartphones or the computer to develop. He can be more active in the area of ​​ideas and conception or increasingly in the concrete design and programming of the games. So if you want to become a game designer, you can develop storylines here, 3D models of game characters draw up, design game worlds and take on many other exciting and creative activities.
Due to the increasing popularity of such games, career opportunities for game designers are in Future very good. Demand will most likely continue to rise and the job description could diversify. However, the competition is also fierce because, as I said, many (young) people see game design as their dream job. In addition, most of the major developer studios are not based in Germany, at least not until now. There should therefore be a certain willingness to move to the USA or Asia.
As in many design professions, there isn't just one path to success Career as a game designer. One possibility is private training at an appropriate academy, where the budding designers acquire both theoretical knowledge and practical experience. But a game design degree is also possible, or you can take a related degree such as media technology or media informatics.
3. Energy efficiency designer
But not all design professions with a future have to design digital products. Instead, there are other, innovative job profiles in the creative field that can also achieve good things. At least with the energy efficiency designer. As the name suggests, it is responsible for designing buildings, products and other goods so that they are not only attractive, but also climate-friendly and therefore energy-efficient.
The profession is still relatively unknown, but it will become so Significance increase in the future due to climate change. The quickest way to become an energy efficiency designer is to do a degree, as more and more universities are offering the course. But architects, supply engineers, civil engineers, mechanical engineers, building physicists or environmental engineers are also often active as career changers in energy efficiency design.
4. Packaging designer
Many classic activities such as packaging design are also still in demand. In this case, the designers are responsible for giving products a face, i.e. making them appealing and doing the desired message to mediate. Because the design of the packaging determines to a large extent what (potential) buyers associate with the product and whether they buy it or not. At the same time, the packaging must also be functional and meet physical requirements - for example, the packaging must be optimally sized and easy to handle, must also be visually appealing, Keep food fresh and be water-repellent ... or something like that, depending on the product.
It is therefore a profession that combines creative and technical aspects. It's about making the most of the minimal space that Brand to represent and at the same time ensure that the product stands out on the shelf. The designers need an understanding of colors and shapes, short slogans and the Combination of materials. All in all, the packaging designer is a real all-rounder and is currently in high demand on the job market. After all, the competitive pressure is not only increasing because of the growing e-commerce. In order to become a packaging designer, you can take a relevant degree. But lateral entry is also conceivable by studying communication design or at an art college with a focus on packaging design.
5. Industrial designer
The profession of industrial designer is very broad and therefore offers a wide range of activities. In principle, the designer is of course active in industry - however, it can be anything imaginable Company act. Does it produce laptops, LED lamps, cars or toasters, for example? In each of these processes, a designer is required to give the products an appealing look in combination with optimal functionality.
Anyone who is interested in the design of everyday objects will certainly find a job to their liking in the broad field of industrial design. What he has to bring with him for this job is beside the point creativity also a technical understanding and the ability to work with different materials and to be able to empathize with the target groups. Then he finds an exciting job with many faces.
The path to becoming an industrial designer is through a degree. Here, too, there are now special courses at various colleges and universities. However, as in almost every design profession, it is also possible to start as an engineer, designer, mechanical engineer or from other design areas such as glass design.
6. Medicine designer
And last but not least, the medical designer should not be missing from the list of the currently most sought-after and most exciting design professions. After all, this is one too Industry, which will grow rather than shrink in the future and experience a variety of innovations in the process – for example through the use of 3D printers. In principle, the medical designer is therefore responsible for the design of all types of medical products. These can be prostheses as well as hospital beds. Objective is not only good ergonomics, but also an appearance that the patient does not care about Anxiety or, to stay with the example of the prosthesis, is as lifelike as possible.
If you are interested in this career, there are unfortunately only limited possibilities, because the degree in medical design has so far hardly been offered. However, this does not mean that the profession cannot nevertheless be undertaken through a related degree or training in medicine or design.
Conclusion: breadless? Are you kidding me? Are you serious when you say that!
So there are many ways to work as a designer and find a sought-after and well-paid job - so that you can live from your creative work without worries. In addition, there is of course always the option of self-employment, which is more risks but at the same time there are (even) more opportunities for your own creativity to develop. Ultimately, there is probably a suitable one for every aspiring designer Solution!
Read text as PDF
Acquire this text as a PDF (only for own use without passing it on according to Terms and conditions): Please send us one after purchase eMail with the desired title supportberufebilder.de, we will then send the PDF to you immediately. You can also purchase text series.
4,99€Buy
Advice on success, goal achievement or marketing
You have Ask about career, Recruiting, personal development or increasing reach? Our AI consultant will help you for 5 euros a month – free for book buyers. We offer special ones for other topics IT services
5,00€ / per month Book
Book eCourse on Demand
Up to 30 lessons with 4 learning tasks each + final lesson as a PDF download. Please send us one after purchase eMail with the desired title supportberufebilder.de. Alternatively, we would be happy to put your course together for you or offer you a personal, regular one eMail-Course - all further information!
29,99€Buy
Skate eBook as desired
If our store does not offer you your desired topic: We will be happy to put together a book according to your wishes and deliver it in a format of yours Choice. Please sign us after purchase supportberufebilder.de
79,99€Buy