New work, new ways of working the way you want, are an important trend. What is often neglected: the question of what it actually means to have one dream job to have - and how to get there on often stony roads.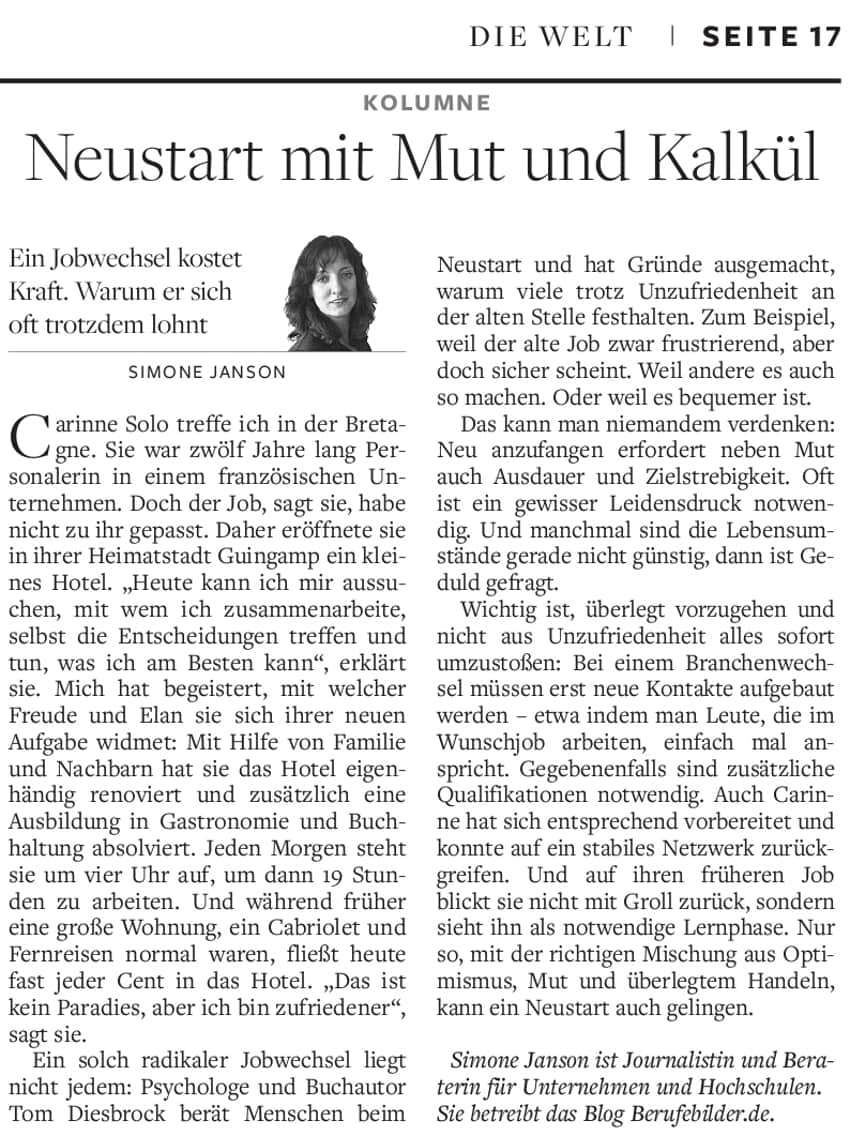 Trend themes new forms of work
Because the topic of new work, new forms of work is always popularly propagated in the media - I'm just thinking of the many features about travel bloggers Spiegel On-line. It also sounds great and cool to work flexibly when, how you want and to be able to choose your tasks.
Also at "Zukunft Personal", the largest European trade fair for personnel management, the topic of new forms of work is being rolled out more and more every year - and is thus setting the direction for the personnel area.
The lure of the dream boy
The crucial question, however, is: is it really so tempting to pursue a dream job? After all, Confucius is credited with the saying: "If you love what you do, you will never work again." So off to a dream job?
In fact, I often read in the media about people who have found their dream job, such as dropouts in the South Seas or freelance artists. What these stories have in common is that the protagonist quits his old job, often overnight, and not infrequently started something radically new. The dream of many stressed-out people who love their Manager better today than tomorrow Termination slam on the table.
Behind the scenes
Sounds simple, but it is not, if you take a closer look. The Dane Jesper Voss, for example, was headhunter in Luxembourg. To get more exercise and fresh air, today's 50 2005 gave up his stressful job and his home in Luxembourg - and instead founded his small tourism company Fanø Sport and Event on the Danish North Sea island of Fanø. Even today, he is sometimes stressed by the customers, working ten hours a day and more. But he is out and about, and can, among other things, follow his passion for Nordic cuisine during oyster safaris.
In order for things to get going, however, Voss had to build up its local contacts step by step. And that shows the weakness of the media dream job stories: They like to keep silent that even new starts are not always a treat. And that this includes more than "no longer want."
To the new beginning in the dream job belongs more
In the first step, a new start requires honesty, great courage, a structured approach, contacts, not infrequently financial reserves for the beginning and often also more work as well as discipline to implement a project.
There is no doubt that new forms of work or rebooting in a dream job can be liberation and solution if the existing situation is really untenable. For me personally, changes have always been improvements, from which I have learned something.
Change or stay
But it doesn't have to be that way: You can also understand Confucius like this: Simply find joy in what you do, annoying bosses and colleagues See from a different perspective and - as boring as it sounds - maybe be satisfied with the given situation.
Stay or start again - the path to the dream job has many faces and the decision is up to everyone. Ex-HR manager and hotel manager Carinne Solo also had the courage to make a well-prepared new start.
A job that didn't fit
She was a French human resources specialist for twelve years Companies, But the job, she says, didn't suit her. So she opened a small hotel in her hometown of Guingamp. "Today I can choose who I work with, make the decisions myself and do what I do best," she explains. I was thrilled with the joy and vigor with which she devotes herself to her new task:
With the help of family and neighbors, she personally renovated the hotel and also completed training in gastronomy and accounting. She gets up at 4 a.m. every morning to work 19 hours. And while in the past a large apartment, a convertible and long-distance travel were normal, today almost every cent goes into the hotel. "It's not a paradise, but I'm happier," she says.
Why people get stuck in spite of all dissatisfaction
This is not for everyone: psychologist and book author Tom Diesbrock advises people on a new start and has identified reasons why, despite great discontent, many prefer to sit on dead horses than to switch over:
For example, because the old job may seem frustrating, but it is safe. Because others do the same. Or because it's more convenient. Nobody can blame that: starting over is not easy. In addition to courage, it also requires perseverance and determination. A certain amount of suffering is often necessary. And sometimes the living conditions are not favorable, then patience is required.
Important: do not knock everything over
It is important to act carefully and not to immediately overturn everything out of dissatisfaction: When changing industries, new contacts have to be established - for example, by simply speaking to people who work in the job they want. Additional qualifications may be required.
Carinne has also prepared accordingly and was able to achieve a stable Network To fall back on. And she does not look at her previous job with resentment, but sees it as a necessary learning phase. Only in this way, with the right mixture of optimism, courage and considered action, as well as an appropriate network, can a new start succeed.
Buy text as PDF
Acquire this text as a PDF (only for own use without passing it on according to Terms & Conditions): Please send us an eMail with the desired title to support [at] berufebilder.de, we will then send the PDF to you immediately. You can also purchase text series.
3,99€Book now
Find out more - our books on the subject
Or for a little more directly buy a whole book or eCourse on this topic, read on. Here you will find a suitable selection.
Buy eCourse on Demand
Up to 30 lessons with 4 learning tasks each + final lesson as a PDF download. Please send us an eMail with the desired title to support [at] berufebilder.de. Alternatively, we would be happy to put your course together for you or offer you a personal, regular one eMail-Course - all further information!
19,99€Book now