The Write to is, in addition to a convincing CV, the heart of a good one Application. There isn't one correct cover letter. The following 8 tips and Pattern-Templates are to be observed as a matter of principle.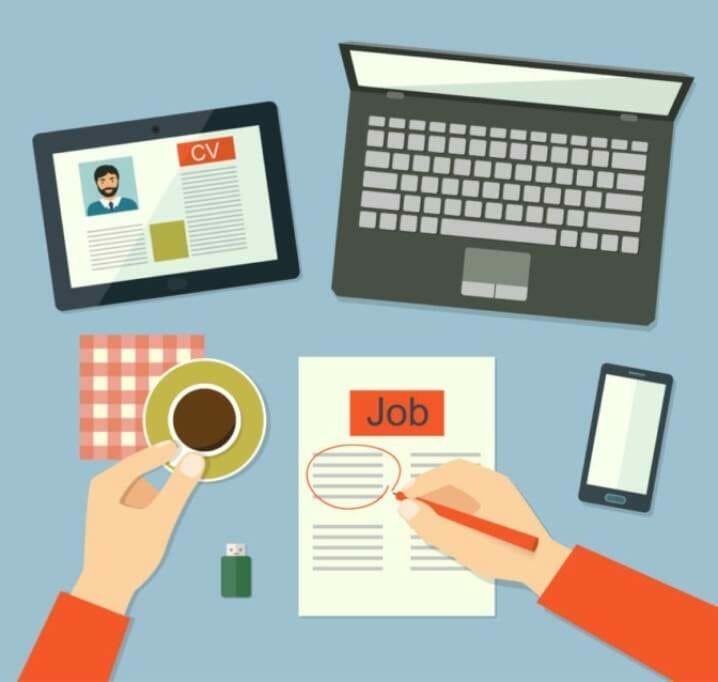 8 Tips for the perfect job application
Some may be a matter of taste, others differ depending on the country Industry. Nevertheless: There are a few basic rules that apply to all applications and that you should definitely observe. Because your application may be the ticket to your dream job. The most important Tricks and tips for a convincing cover letter:
1. The Basics
A good cover letter is short, concise and precise. Also, it is well structured for the reader to follow easily. The supreme discipline is within a given framework Personality to show and such HR to be remembered. The text is less convincing through random details, but rather through specifically built-in details that run like a red thread through the application. These details can be shared with the personal Motivation or have special skills to do, but there are no specific guidelines.
Important: class instead of mass. To come up with a cover letter Success to have, you should prepare it anew for each individual application. Anyone details on Company, the advertised position or the field of activity in the text shows that he has dealt with his dream employer and his own future role. With copy and paste, however, you will not get an individual, successful cover letter.
Spelling and grammar should be applied correctly. No matter how compelling the resume, sloppy errors in form will disqualify even the greatest talent. The reason is as simple as it is understandable. Personnel transfer formal negligence to the Candidate: Anyone who sends sloppy applications does not work carefully.
2. Format, templates and patterns
Including signature and listing of facilities the cover letter should not be longer than one DIN A4 page and be in PDF format. For the Structure and the layout can be used as a template. Good templates can be found online at Staufenbiel, among others.
Formal standards for the cover letter: Font size 12 in a legible font like Arial or Calibri, 1,5-fold line spacing, 2,5cm wide margin on the left. All attachments should be in PDF format and should be clearly named, for example: Application_Position_Vorname_Nachname.pdf.
In principle, it is always possible to add a personal touch to the layout of the application. However, particularly creative and unusual applications are not welcome in every industry. Who is at Style of the application and the cover letter based on the company, goes on number for sure. In the creative industries is conspicuous mandatory, the application should still be coherent and error-free.
3. The construction: subject line and letterhead
Your own contact information is in the header. Always includes first and last name, eMailaddress and phone number. Following the contact details of the company follow in the address field.
Before the actual cover letter starts, the date is on the right margin. The subject is always greased, but the word "subject" does not appear.
4. The introduction to the application letter
In the introduction, the applicant reveals how he found the position or the company I aufmerksam became. In addition to a job advertisement, one thing can happen product or a previous internship. Already had it over the phone Contact us with the company, the introduction is the right place to start. A typical formulation could be, for example:
"... because of your good reputation, your company is an attractive employer for me. I would like to take on a new professional challenge."
5. The main part: motivation and abilities
The central role should be played by the applicant's personal motivation and qualifications. Nobody wants to read a retelling of the CV. Skills and specialist knowledge that match the job profile should be worked out - this is the only way for the reader to get an impression of whether the applicant is the right one Candidate could be for an open position. A mere listing of one's own qualities is not the means of the Choice. Instead, skills should be backed up by experience or hard facts. Experience with agile software development? Then the corresponding should Projects to be named for this. Details that refer to individual stations in the CV give a more meaningful picture of the applicant's expertise and increase credibility. References from former superiors can also be used for this purpose.
It is important that HR managers can clearly read the personal motivation for the application in the company from the application letter. Why is the specific position a further development for the candidate? If you want to reorient yourself, what is it Objective? Only those who have their own interest in the role and the company clear makes can be considered as a candidate for an open position. A typical example formulation could be:
"With me, your company will gain an open-minded, structured and cooperative Employees. I would particularly like to emphasize my customer orientation, my willingness to take responsibility and my resistance to stress. I was able to prove this in my previous job with the XY project. I am also fluent in English and French. I dedicate myself to my new Tasks and challenges always with great motivation and full commitment."
6. Content presentation and availability
If salary expectations are explicitly asked, these should be included in the final part of the cover letter. Often forgotten, but very important: information on availability. What is the earliest possible date for the first day in the new job? Without this binding information, the HR department does not know what timeframe to calculate with in case of doubt. This could be a typical sample formulation:
I am available to your company from now on. I am aiming for a gross annual salary of 50.000 euros on. I am happy to change my place of residence for this interesting job. If my application has aroused your interest, I would be happy to receive an invitation to a personal meeting Conversation.
7. Digital signature
Even if the application is sent digitally, the cover letter should be signed. A digital signature can be created with various tools (including freeware) draw up. If in doubt, you can also use paper and pen: sign on a white piece of paper, take a photo and insert it into the document in high resolution (300dpi), then save it as a PDF. Attention: The eMail including the application documents in no case.
8. Application via online portal
If you apply via an application portal, your own requirements often apply Regulate. Depending on the portal, explicit specifications are made as to the form in which applicant information is to be submitted. A digital signature is often omitted here. If a cover letter is required, the same rules and principles apply as for the application by eMail.
Whether an application is successful, of course, depends primarily on qualification and personal suitability. If you follow the above tips, increases but in any case the probability of standing out among numerous applications and being invited to an interview. I wish you success!
Top books on the subject
The books on the subject (advertising)
Read text as PDF
Acquire this text as a PDF (only for own use without passing it on according to Terms and conditions): Please send us one after purchase eMail with the desired title supportberufebilder.de, we will then send the PDF to you immediately. You can also purchase text series.
4,99€Buy
Advice on success, goal achievement or marketing
Discounts for your success (advertising)!
You have Ask about career, Recruiting, personal development or increasing reach? Our AIAdviser helps you for 5 euros a month – free for book buyers. We offer special ones for other topics IT services
5,00€ / per month Book
Book eCourse on Demand
Up to 30 lessons with 4 learning tasks each + final lesson as a PDF download. Please send us one after purchase eMail with the desired title supportberufebilder.de. Alternatively, we would be happy to put your course together for you or offer you a personal, regular one eMail-Course - all further information!
29,99€Buy
Skate eBook as desired
If our store doesn't offer you your desired topic: We will be happy to put together a book according to your wishes and deliver it in a format of your choice. Please sign us after purchase supportberufebilder.de
79,99€Buy