In 2019, Barack Obama, the 44th President of the United States, will give the opening speech at the Bits & Pretzels start-up festival in Munich, Europe's leading festival for start-ups. Hollywood star Jessica Alba will speak at the end of the event.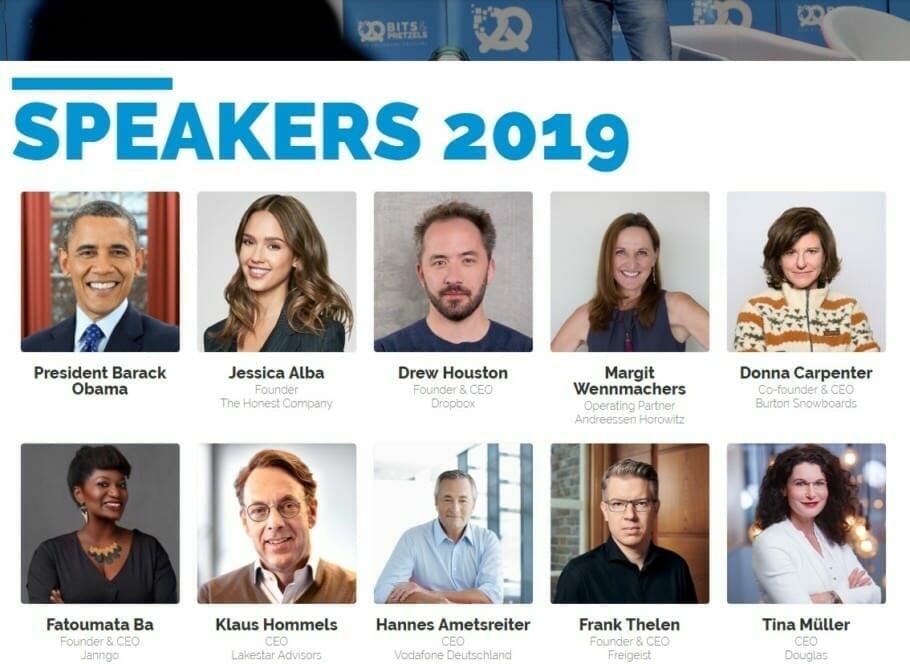 Bits & Pretzels Founders Festival: From Richard Branson to Barack Obama
The Bits & Pretzels start-up festival in Munich lasts three days during the Oktoberfest every year, this year from September 29 to October 1, 2019, which started in 2014 as a start-up breakfast. Meanwhile 5.000 founders and investors come together here every year to talk about their ideas and get inspiration.
In only a few years, the festival gained international attention with top-class speakers such as Sir Richard Branson (Founder Virgin Group), the now publicly disgraced Oscar winners Kevin Spacey, Tarana Burke (founder of the #metoo Movement), Nathan Blecharczyk (founder of Airbnb), Nico Rosberg (F1 world champion and investor), Werner Vogels (CTO Amazon), Philipp Lahm (former captain of FC Bayern Munich).
Best of HR – Berufebilder.de® reports live on site
Many more CEOs have chosen Bits & Pretzels' stages to share their stories and insights into their entrepreneurial experience.
Best of HR - Berufebilder.de® will be there this year and report live from the event and above all from Barack Obama's speech.
Barack Obama talks about the leadership of the world
Barack Obama at his conference opening in a moderated discussion, President Obama will talk about his time in office and his thoughts Guide address in the world. When he was elected on November 4, 2008, he assumed the presidency in a crisis unlike anything America had seen in decades - a nation at war, a planet in peril, the American dream itself threatened by the worst economic misfortune since the Great Depression.
Tip: Text as PDF (please read the instructions!) or to this text complete eCourse or series Download. Actions or news via Newsletter!
And yet, despite political obstacles, Obama's leadership helped save the economy, revitalized the American auto industry, reformed the health system to care for an additional 20 million Americans, and kept the country on a rigorous course toward a clean future Brought energies - all while driving the largest job creation initiative in American history. Since the end of the presidency, President Obama continues his lifelong Objective continue to empower people to change the world as a community.
Hollywood star Jessica Alba talks to Tina Müller about her business
Hollywood star Jessica Alba, who is best known for her role in "Dark Angel" and Hollywood blockbusters ("Sin City", "Fantastic Four"), will also speak at Bits & Pretzels October. Alba founded The Honest Company in 1. The one founded on conviction Company manufactures natural personal care products and housewares for a wide variety of consumers.
As an avid advocate of safe baby products, Alba is the driving force behind the brand. She directs the overall vision for The Honest Company and controls the business in collaboration with CEO Nick Vlahos.
Cooperation with Douglas
Starting with only 17 products, the former startup developed into a successful concept with a portfolio of 100 different products in the categories of baby, beauty, household, vitamins and dietary supplements.
In her speech, the actress, who has primarily become an entrepreneur, introduces her personal journey as the founder of a reportedly billion dollar company. In an interview with Tina Müller, CEO of Douglas, Europe's leading beauty retailer, she presented the exclusive partnership between the two companies. Douglas introduced the Honest beauty products to the European market.
Skate eBook buy according to your requirements
Would you like a book on a topic of your choice? We would be happy to put together a book according to your wishes and deliver it in a format of your choice. Please write to us at support [at] berufebilder.de
62,61 €Book now
Corporate publishing and advice
Do you want to publish, increase your reach or address applicants as an employer? We offer specials for these and other topics Consultant packages (overview) - For example, a personal phone call (price is per hour).
179,99 €Book now