Exciting crowdsourcing campaigns are story-telling and do not have to be expensive. But not every one Corporate realizes their potential. 3 exciting examples of more or less successful campaigns.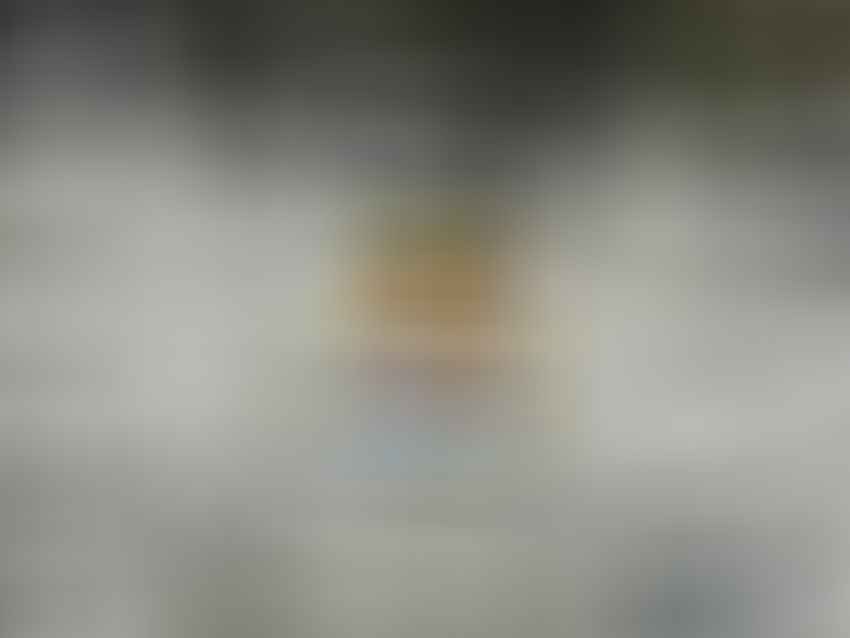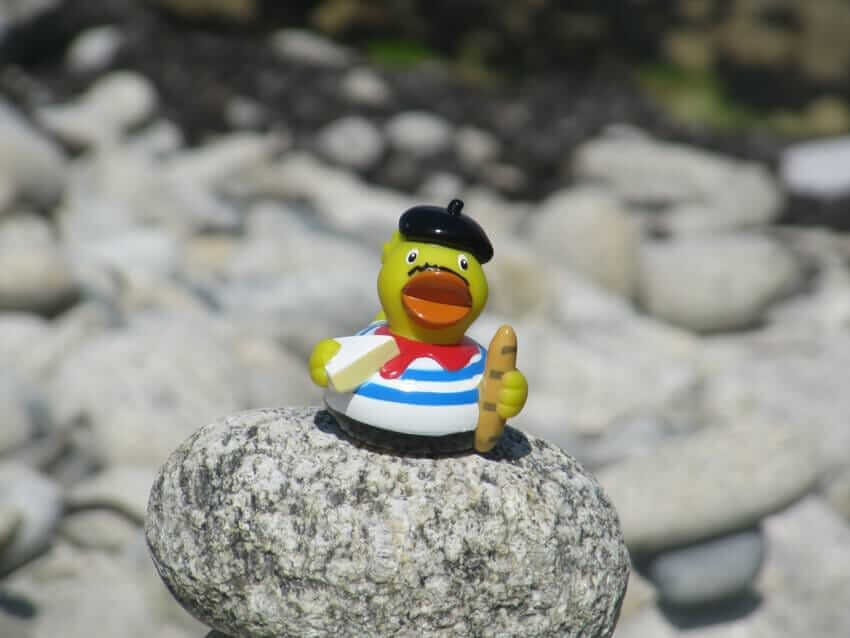 Everyone is talking about viral Marketing, all the time I get links to supposedly great ones Recruiting– and sent marketing videos, which are usually very expensive to produce.
A viral effect can often be achieved very easily and also more cheaply: Namely simply with a good, funny Idea. creativity instead of coal! Unfortunately, not everyone sees the potential.
The action of Atout France
For example with this one SALE from Atout France: Marie, Claude, Gérard and Paul are the names of the French rubber ducks, of which the French National Tourist Board, ATOUT FRANCE, has distributed 500 pieces. Each of them with typical French outfits and the appropriate names: "Marie, the glamorous Parisian", "Claude, the artist", "Gérard, le français" (here in the picture) and "Paul, the gourmet".
By the way, those who didn't get anything from the distribution campaign can also photograph their own duck in France. The prize is two tours of France for two people each. How to participate and that gewinnen, says the ATOUT FRANCE website:
Funny action
The idea was funny. ATOUT FRANCE writes:
Take one of ours or your own rubber duck with you on your next vacation in France. Photograph your travel companion at your favorite place and post your picture in the gallery of our "duck photo contest". The Facebook-Community then takes the most beautiful rubber duck snapshots. Of course, you can send in your photos until the end of the competition. Among the 10 most popular pictures we are giving away two "duck" jaunts for 2 people each: With Air France we go to Paris and from there on to Burgundy or Normandy... of course in proper style in France's most likeable vehicle, a "duck" (Citroën 2 CV)!
The disadvantages of Facebook
A successful campaign and the photos on Facebook do Lust for more. It's just a pity that ATOUT FRANCE is so clearly based on Facebook and not, for example, building a community on your own website.
Because that Objective The crowdsourcing campaign, besides tourism marketing for France, is clearly the promotion of the Facebook-Page. But this is exactly where the limits of Fac showebook with the design options:
Only too stupid to search?
Although the event was via Facebook announced, but the corresponding post has long since run through, you can't keep it on the start page. And there is a special app with a picture for the competition, but the conditions of participation or the corresponding website are missing.
Conclusion: I had to search for information on how to participate for a long time and finally had to go to Google, where the search for "ente frankreich facebook"Brought the hoped-for hit. But maybe I'm just too stupid to find the clues?
April Foundation: Financial fitness against money illiteracy
This action by the April Foundation can also be described as successful: It started with the result of a study by the European Union. This showed that 80% of Europeans are so-called financially illiterate. "This can not be!" said a group around biscuit baker and dream job advisor Beate Westphal - and founded a non-profit foundation with the aim of improving financial fitness in Germany.
One often says: "About Money you don't talk" and if you don't talk about it, nobody will notice. "Poor but sexy" once said a politician, but who wants that? = being financially illiterate From this came the idea: Westphal, as a former competitive athlete in hurdles, came into the Sinnthat a training program the situation fast could improve. 30 days, i.e. 1 month of financial fitness training.
The film "The 8 Money Types" reports on the experiences, exciting insights and amazing results. A companion book is created for this, in which the 30-day training program can also be found. So everyone can take part themselves and it is easy to give away so that our friends can also be financially happy. In the conception, dramaturgy, the Technology and the effort during the shooting days as well as the film editing and then yes also for the layout of the book, 10.000 euros were invested, which were collected through crowdsourcing.
Video Note: If you don't see a video here, you have to activate the option "Watch videos" at the end of the page under "Privacy and Cookies"!
Many heads think more than one
By the way, crowdsourcing has to do with open journalism, participatory journalism & citizen journalism or grassroots journalism. This is a form of journalism in which citizens can participate in social discourse through their own media - via Twitter, Facebooks and blogs.
The idea behind it, true to the motto "Thousands of heads think more than one": The more People participate in finding the truth, the greater the probability of actually finding it. Finding the truth by crowdsourcing, so to speak.
By contrast, journalists like to sneer at this form of journalism, dismiss it as irrelevant, or consider it a cheap competitor. But what is more obvious than to use crowdsourcing specifically for the research and marketing of media?
An old story creatively retells
The Guardian, known for the purpose of using Open Journalism specifically for reporting, has now launched a TV spot that amusingly explains the advantages of Open Journalism.
The sheet took the well-known story of the Three Little Pigs and the Wolf, who blows the house away - and turned her around creatively. In the video, little pigs have to answer to a court for murdering the wolf.
Everything is different than you think
And while a heated debate about whether the pigs are now innocent or not, The Guardian, with the help of its multi-layered channels of communication with readers and users, brings the truth to light:
The three pigs are insurance fraudsters, the wolf had asthma and could never have blown away the house of the three. Victory for the swarm intelligence from the Internet! And victory for The Guardian, which is pretty creative on the possibilities of participatory journalism I aufmerksam power.
More actions planned
Incidentally, The Guardian is planning further creative action in connection with the campaign. The spot by director Ringan Ledwidge is broadcast by British TV channels such as Channel 4, E4 and Film4.
A poster campaign is running in British cities and they even want to take over the British website from YouTube for 24 hours.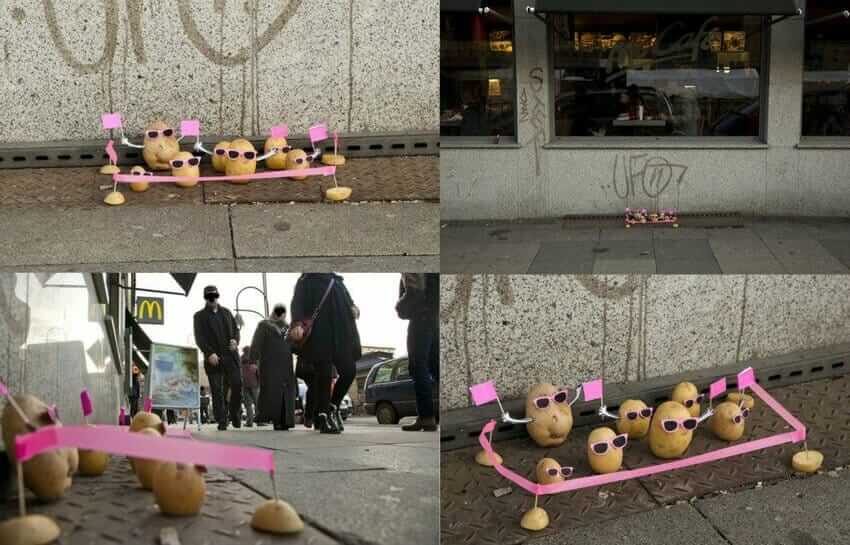 By contrast, McDonalds missed the chance for viral marketing. And that, without having initiated a corresponding action at all.
I feel natural clearthat artist Peter Pink no marketing action im Head had when he lined up his potatoes in front of McDonalds on Hermannplatz in Berlin Neukölln. More likely an anti-McDonalds action.
2000 likes on Facebook
However, the funny action at Facebook So far, a good 2000 likes, was shared 644 times and commented on around 30 times, and you can find it in various blogs. McDonalds, on the other hand, lived up to its nickname McDoof, like the photographer at Facebook tells:
"The action ended with that one Ms. got out of McDonalds and swept away the protesting potatoes. She said 'You can't do that here with the potatoes.' "
Potential of the action not recognized
Well, McDonalds apparently did not recognize the viral potential of such an action. From an artist's point of view, one can probably be happy about that. From a marketing perspective, that's just plain stupid.
Apparently, they preferred to continue shooting elaborately produced, boring videos. While the rest of the World amused by potatoes.
Read text as PDF
Acquire this text as a PDF (only for own use without passing it on according to Terms and conditions): Please send us one after purchase eMail with the desired title supportberufebilder.de, we will then send the PDF to you immediately. You can also purchase text series.
4,99€Buy
Advice on success, goal achievement or marketing
You have Ask about careers, recruiting, personal development or increasing reach. Our AIAdviser helps you for 5 euros a month – free for book buyers. We offer special ones for other topics IT services
5,00€ / per month Book
Book eCourse on Demand
Up to 30 lessons with 4 learning tasks each + final lesson as a PDF download. Please send us one after purchase eMail with the desired title supportberufebilder.de. Alternatively, we would be happy to put your course together for you or offer you a personal, regular one eMail-Course - all further information!
29,99€Buy
Skate eBook as desired
If our store does not offer you your desired topic: We will be happy to put together a book according to your wishes and deliver it in a format of yours Choice. Please sign us after purchase supportberufebilder.de
79,99€Buy