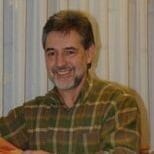 Employed at Woolworth for 36 years, dismissed for economic reasons, and then, after 40 applications, no prospect of another permanent job - that was my situation. I was in front of a pile of work.
Hartz IV or founding?
My name is Hans Ifkowitsch from Völklingen, since September 58 I am 2009 owner of "Window Decorations Hans Ifkowitsch".
It didn't look so rosy at the beginning: The question I asked myself was: Either Hartz IV or pull yourself together again, take the magazine into your own hands and yourself independent . make
Every beginning is difficult
In the beginning it was not easy to think about self-employment, and then at my age. Although I wanted to be in a permanent position, but then saw in the start-up a new career opportunity. Not least by my daughter, who made the topic tasty for me. She is the owner of a successful retail business and works as a freelancer at the start-up bureau GraL - founded by passion.
Thus, the contact with the GraL consultants Reinhard Butz and Thomas Katmann came about, which supported me in the start-up phase. Her experience shows that there is a good chance of success especially among older people who have founded their own business. They often bring their own customers, have a lot of life experience and therefore very good starting conditions.
Good contacts are important!
But I also brought good contacts myself. Today I'm already out of four Company commissioned with decorations and have also already won their own customers. That puts me in an up to 80 percent utilization. I feel good in my skin now, because I decide on my own success and do not have to accept anything that others pretend to me. In addition, I now know: my company pays off.
Tip: Text as PDF (please read the instructions!) or to this text complete eCourse or series Download. Actions or news via Newsletter!
My background is training as a retail merchant and 36 years of work experience at Woolworth. I know all the problems from A to Z that can crop up: the suppliers and the fabrics, patterns and colors. But I had no idea about current business matters, about taxation, depreciation possibilities but also about other topics like: what does a flyer that appeals to my customers look like?
Advice before starting is important!
In order to find out about such topics, I applied for an advisory grant before founding. Over a period of six months, I discussed with my consultants in five meetings the relevant topics for him.
At the beginning of our consultation were simple W questions such as:
Why do I even want to start a business?
What personal Motivation lies behind this? Can the corporate concept be financed?
And what about the support from the family? "
In a second step, the consultants examined in which areas exactly I needed support. Then there were topics like the creation of a business plan. This includes, for example, sound financial planning, but also the clarification of the founding formalities and which legal form should be chosen for the company.
Just do not be blue-eyed
My conclusion today: Of course, I now sometimes have to work twelve hours a day. But I can also meet my wife in town one morning for that. I am my own Manager, have my own clientele and several pillars.
It is very important not to simply go into self-employment with blue eyes, but to seek sound advice. That's how I learned that I get a start-up grant from the state for the first nine months to make a living. Or that I can voluntarily insure against unemployment. That calms me down a lot.
Buy text as PDF
Acquire this text as a PDF (only for own use without passing it on according to Terms & Conditions): Please send us an eMail with the desired title to support [at] berufebilder.de, we will then send the PDF to you immediately. You can also purchase text series.
3,99 €Book now
Find out more - our books on the subject
Or for a little more directly buy a whole book or eCourse on this topic, read on. Here you will find a suitable selection.
Buy eCourse on Demand
Up to 30 lessons with 4 learning tasks each + final lesson as a PDF download. Please send us an eMail with the desired title to support [at] berufebilder.de. Alternatively, we would be happy to put your course together for you or offer you a personal, regular one eMail-Course - all further information!
19,99 €Book now