An efficient meeting also requires an optimal preparation and follow-up - only then can a meeting be really efficient. Part of this should also be the question of whether a meeting is necessary at all.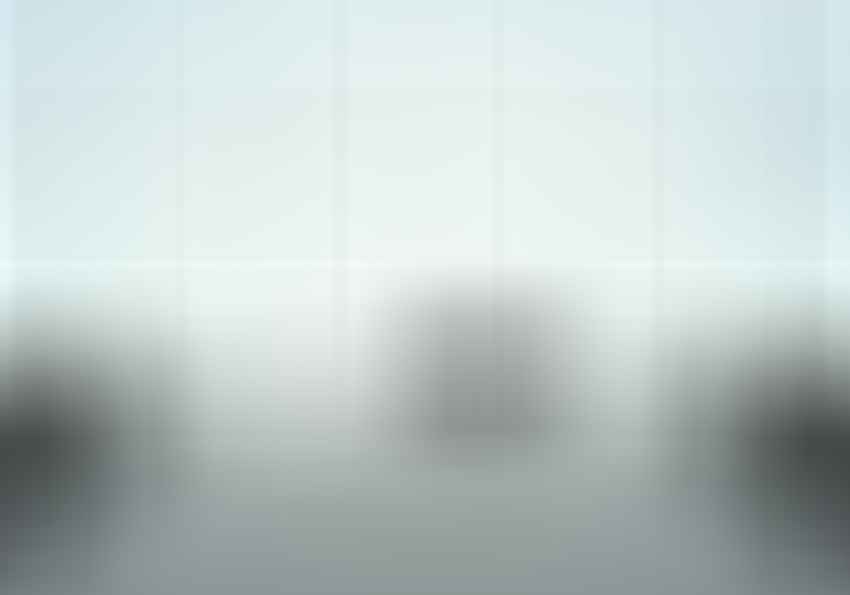 Alternatives to the classic meeting
In addition to the large meeting rounds with several discussion partners, also set them up System for individual discussions with individual employees. This can lead to unexpected increases in efficiency.
Because this consultation system serves you on the one hand Information, the discussion of assessments and factual aspects, but also for the purposeful Communication with your individual employees, about personal aspects such as mood, Motivation and mood.
Why two-talks?
The books on the subject (advertising)
In a one-on-one conversation, it falls to you Employees easier to address certain issues and open up to a different perspective.
The two-person meetings are also about reflecting on individual questions that Preparation and coordination of rounds of talks in a larger circle and to build trust.
7 tips for optimal preparation
What else do you need when preparing a Meetings should bear in mind, here are a few tips for you:
Is the meeting really necessary or are there other options? For example, if you just want to share information, then you can also do one eMail or write a memo in which the most important things are, that is much more economical and saves time.
Have you invited the right participants, who can give input and can also make decisions? Keep the number of participants generally small. Think carefully about who really needs to be there. You can also take participants to specific agenda items.
Always prepare meetings carefully. These include the planning of the premises, adequate seating, visualization possibilities, functional technical equipment, a written agenda with the scheduling of the agenda items, the planning of the appointment and the timely invitation of the participants.
If possible, familiarize yourself with the most important agenda items for the meeting. What is your contribution? Is it about information, problem solving or decision on the individual topics?
Make it clear to yourself and the participants what your goals are at the meeting, and act in a targeted manner during the meeting.
Ensure that all participants have their say. How this is done is a question of your leadership style or moderation. It is important that the meeting contribute to an exchange, a discussion or a problem solution.
As the moderator of the meeting, you are there to ensure that the goal of the meeting is not out of focus. If you observe that articles are drifting away from the topic, make it polite, but definitely alert. For example, say: "Mr. Meier, what you say is certainly important. But let's get back to our key point… "
7 Tips for the follow-up of the meeting
Discounts for your success (advertising)!
After the meeting is before the (next) meeting. Therefore, every meeting also requires good follow-up work - with minutes, Feedback and evaluation. When it comes to wrap up your meeting, here are 7 tips.
Use the possibility of the topic memory. If aspects are mentioned in the discussion which can not be dealt with for time or thematic reasons, then write them visibly on a separate flipchart sheet with the heading "Topic memory".
Structure individual sections through your summaries and transitions: "I think we have now heard the most important points on the topic…. What follows is the question of how we can deal with it… "
No meeting without result log. In short, the answer to the questions is who does what with whom and when.
You can massively reduce the time needed for your meetings by making a meeting of a meeting. For your next meeting, simply take bistros instead of the comfortable conference chairs, and the implementation time will decrease significantly - with the same result quality.
Provide the opportunity for a feedback system so that you can exchange information with your employees on a regular basis in the four-eye conversation.
Ask the participants for feedback and explain to them yourself, what could go better next time.
Create an agenda for the shared meeting.
Rate moderation: Template
If you want to know how the participants rate your moderation, you can use the rating for which we have the Vorlage deliver, send. Below is the resolution.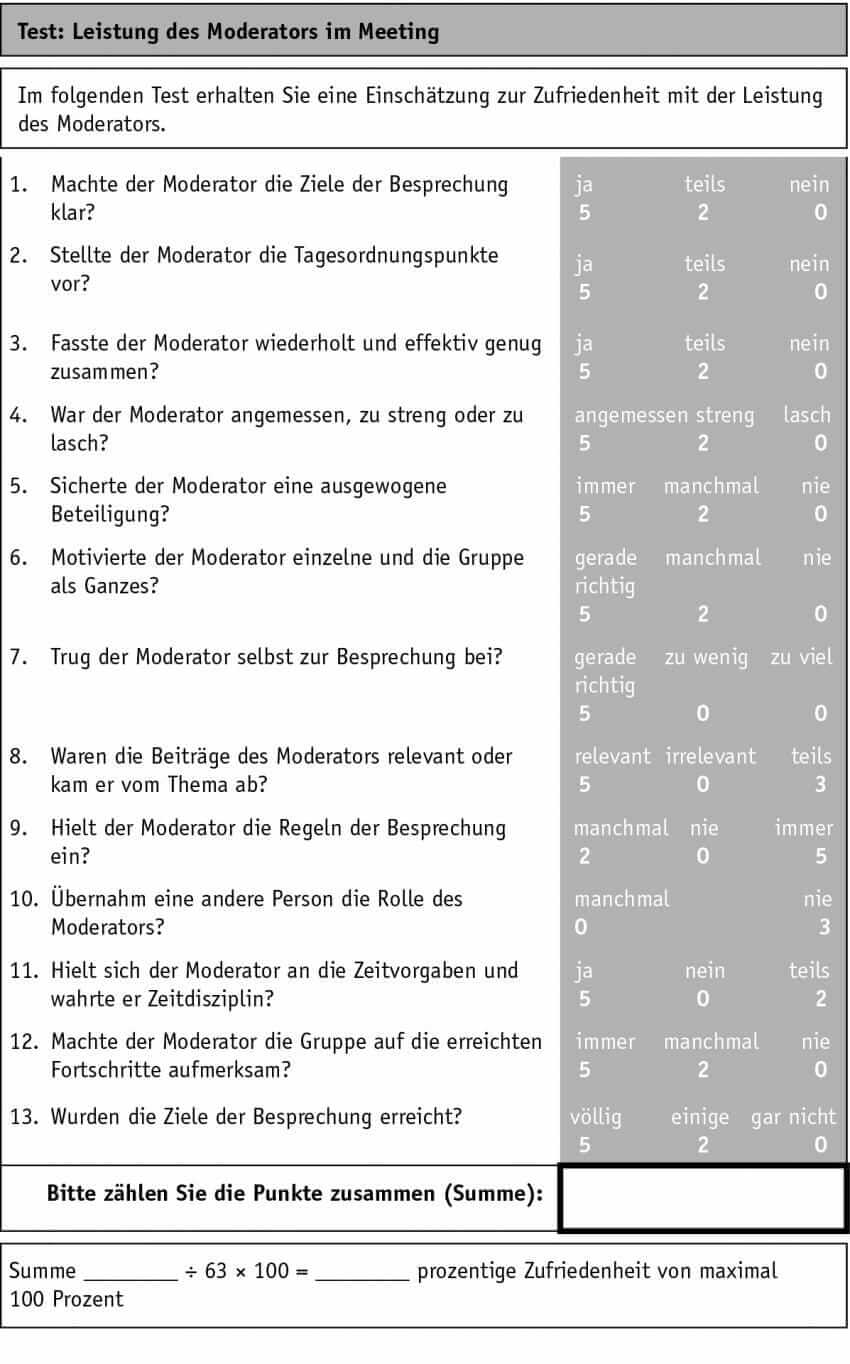 Feedback and interpretation
If you want to evaluate how the meeting has run under your moderation, the text above will help you. Here is an evaluation:
54 to 63 percent: They act very well as a moderator. Stay tuned.
41 to 53 percent: They are on the right path, but still show development potential as a moderator. As a first step, work on the aspects of the questionnaire where you have achieved 0 points and improve them.
27 to 39 percent: Apply the recommendations in this section to improve your performance as a moderator and attend a training course.
Up to 26 percent: You should be aware that your performance as a moderator does not meet the requirements. As an immediate measure, you should use the recommendations in this chapter in your daily work. In a second step, find a coach who will help you develop your skills in this area.
Read text as PDF
Acquire this text as a PDF (only for own use without passing it on according to Terms and conditions): Please send us one after purchase eMail with the desired title supportberufebilder.de, we will then send the PDF to you immediately. You can also purchase text series.
4,99€Buy
Advice on success, goal achievement or marketing
You have questions about Career, Recruiting, personal development or increasing reach? Our AI consultant will help you for 5 euros a month – free for book buyers. We offer special ones for other topics IT services
5,00€ / per month Book
Book eCourse on Demand
Up to 30 lessons with 4 learning tasks each + final lesson as a PDF download. Please send us one after purchase eMail with the desired title supportberufebilder.de. Alternatively, we would be happy to put your course together for you or offer you a personal, regular one eMail-Course - all further information!
29,99€Buy
Skate eBook as desired
If our store does not offer you your desired topic: We will be happy to put together a book according to your wishes and deliver it in a format of yours Choice. Please sign us after purchase supportberufebilder.de
79,99€Buy