As funny as it sounds – giving and receiving presents can be done especially among colleagues fast lead to upsets. Because not every gift causes joy in every addressee. We give tips on what you should consider so that a harmless gift does not become a career trap.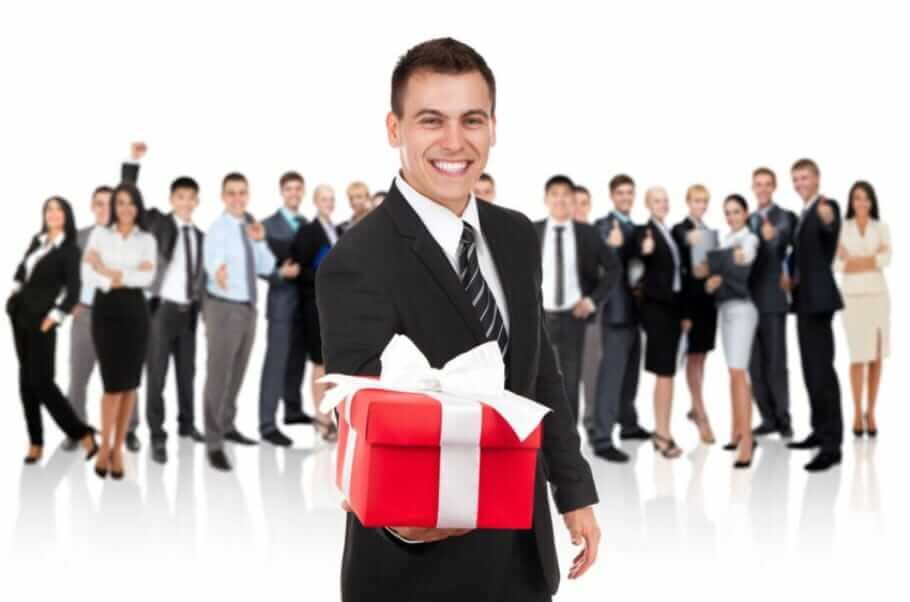 Help, I have to give something away
"And everyone brings a gift…" this harmlessly thrown-away sentence triggers a big one for many colleagues Stress out of. Because what gift is received? And what gift makes you look stupid? Because giving presents is more than just a chore mandatory: A gift is also a way of showing appreciation and appreciation to colleagues Respect for your work.
Conversely, this also means: If you are dissatisfied with your gift, you can quickly not be recognized enough and humiliated in front of others feel. It is therefore important, especially in a professional context, to Wahl of the gift to consider carefully.
Various variants of gift giving
For gifts you have to differentiate basically different variants:
1. Blind gifts - pros and cons
This variant can often be found at company parties. Here, all gifts are thrown into a sack and everyone pulls one. The advantage is that no one goes out empty when the donor is ill.
The downside is that everyone has to find a neutral gift that will not kick anyone. The gift may not be too cheap, for example, that could offend the gifted. It must be gender-neutral: Even if there are only a few female colleagues, it is risky to give a tie. Finally, it must also take into account the background of the colleagues.
For example, chocolate pralines filled with alcohol can become a problem if colleagues are Muslims – or just want to lose weight. But all Problemsthat anyone with the well-intentioned gift could have cannot be foreseen. That's why you always have an excuse when playing blind sprites if it doesn't fit despite all your efforts: After all, good intentions also count.
2. Gifts for special colleagues
The second variant is actually better because it protects against unpleasant surprises: you know the name of your colleague beforehand and then buy a gift for a specific person. If you know the recipient's environment, you can make inquiries about his preferences, hobbies, favorite travel destinations or clothing habits and put them in writing to make his ideas to develop.
But even this variant has problems, for example, if it was drawn, who gives something. What do you do if you do not like your colleague? In any case, one should resist the temptation to avenge oneself with an inappropriate gift - because that can backfire, because one suddenly stands there as a slob.
What really matters when giving
It is much more important to give the recipient the feeling that the gift was chosen especially for him. One should never give the impression that it is only a form of duty fulfillment, which indicates disinterest or even lovelessness.
It is equally important not to surrender to exaggerated expectations that the recipient will share their own enthusiasm for the gift. It may well happen that is not the case with all honest effort.
The don'ts when giving and being gifted
You should also refrain from allusions: a colleague who is always late should not be given an alarm clock and should not have a mouthwash for someone who has bad breath. Completely reproached are also sexual allusions, above all from Manager an female subordinates
But also the recipient should do his part to the success of the party Wichtel: He should hide his possible disappointment as possible. Because it pleases the donor when he can determine that his gift arrives. And duty is in any case a word of thanks. On the other hand, it is considered tasteless to inquire about the price of the gift or even to name it.
8 tips for the next colleague gift
Help, colleague X's birthday party is already the day after tomorrow. But what do you give colleague X or colleague Y as a present? And what better not? 10 fast Knigge-Regulate at the giftsselection.
No innuendo: A gift in a professional environment may not be so personal that it alludes to a weakness or secret preference.
Choose a neutral gift: A voucher for a book or restaurant visit or a ticket for cinema - everyone can choose what he likes.
Be careful with edibles! Even though chocolate and cake are ideal gifts, not everyone likes them and not everyone is allowed to eat them.
No sexual connotations: Avoid any kind of sexual connotations - such as men giving women, ambiguous garments. This is interpreted as sexual harassment.
Not too personal: Avoid too personal gifts such as perfume - even if these are otherwise a classic among the gifts.
Gadgets: Especially suitable for men are technical trifles, such as a USB stick, which can usually be used well for work.
Do not call the price: Make sure that the price is no longer present on the goods and give it away under any circumstances. You could embarrass yourself and the recipient!
No less is more, but small is more: Oversized gifts and packaging should be avoided. If you have to transport your present to work or home, you should choose something handy.
Read text as PDF
Acquire this text as a PDF (only for own use without passing it on according to Terms & Conditions): Please send us one after purchase eMail with the desired title supportberufebilder.de, we will then send the PDF to you immediately. You can also purchase text series.
4,99€Buy
Book eCourse on Demand
Up to 30 lessons with 4 learning tasks each + final lesson as a PDF download. Please send us one after purchase eMail with the desired title supportberufebilder.de. Alternatively, we would be happy to put your course together for you or offer you a personal, regular one eMail-Course - all further information!
29,99€Buy
Skate eBook as desired
If our store doesn't offer you your desired topic: We will be happy to put together a book according to your wishes and deliver it in a format of your choice. Please sign us after purchase supportberufebilder.de
79,99€Buy
Corporate publishing and advice
You want to publish, increase your reach or as an employer Candidate speak to? For these and other topics we offer special Consultant packages (overview) - For example, a personal phone call (price is per hour).
299,00€Buy