More than 20.000 users daily, Top10 blog, corporate publishing & PR, among others for government agencies and companies such as Samsung, OTTO, Randstad (References), Partner BMI & ZEIT-Verlag, received ao in Wikipedia, ARD, Wirtschaftswoche, WELT, ZEIT, with celebrities like Barack Obama. Here are our statistics for Google Analytics:
Top 1 rankings on Google, snippets and increased visibility
We are represented in first place on Google for a large number of relevant topics or search queries, our content is highlighted as snippets in the search engines and, thanks to the star rating, ensure increased attention. Just try the searches below: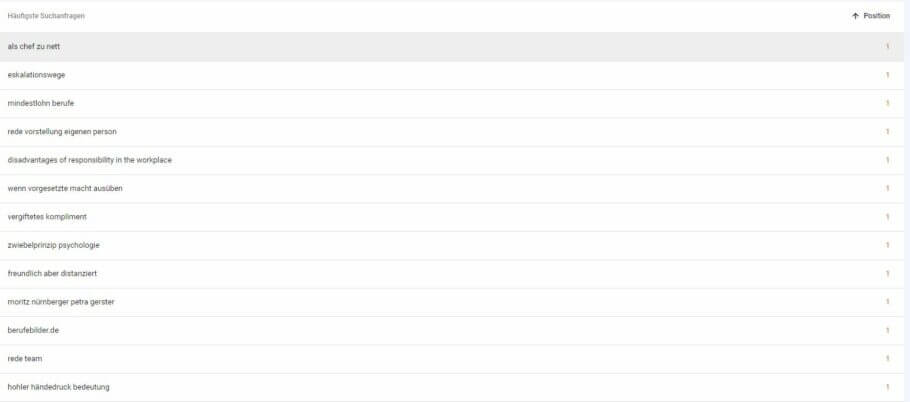 Overview of facts and figures about the publisher
Simone Janson is loud Blogger Relevance Index, Wikipedia and Zimpel with Best of HR – Berufebilder.de® to the 10 most relevant German bloggers and is referenced in ZEIT, WELT or Wirtschaftswoche.
We offer readers 3411 topics, plus over 500 books and hundreds of eCourses. Some numbers:
Over 30 million visitors in total, sometimes up to 90.000 page views per day. Our most-read articles have reached more than 100.000 readers. The range is measured with Google Analytics (see graphic above).
50 million + Shares, likes and comments on the site or in social media,
4 core target groups which we have identified as our most important readers and customers and for which we prepare content in different colors. More about this below Target groups.
30% Bounce Rate: This is our average bounce rate according to Google Analytics, the average length of stay per page is 5 minutes.
Top 50 placements for our books at Amazon.
Since 20 years on the market: in this time eg ARD report an der Best of HR – Berufebilder.de® was significantly involved through mediation of interlocutors and research and so the general opinion Has. We were repeatedly represented in media such as FAZ, ZEIT, WELT Wirtschaftswoche, t3n or W&V.
500+ Authors: Our authors are internationally known, present their own TV shows, and can be found time and again on the top bestseller lists (Spiegel and Co) and also advise heads of state.
5 Prozent We use - at least - the proceeds from the sales of our books to promote sustainable and social commitment, for example in the form of grants through our Institute.
We offer our readers numerous opportunities to subscribe and contact us, including, for example, topic-specific groups on social media.
All subscribers at a glance
In a detailed overview with all topic groups
We reach another 10 Xing groups with 100.000+ members: topics such as HR, leadership, careers, digital, advanced training or MICE.
We reach another 30 focus pages and groups with 1 million + members: topics including HR, future, innovation, entrepreneurship, career, digital, further education or MICE.
We reach another 45 groups with 700.000+ members: topics including HR, future, innovation, entrepreneurship, career, digital, further education, leadership, health, travel or MICE.
We reach another 20 topic boards with 75.000+ followers on topics: HR, future, innovation, entrepreneurship, career, digital, further education, leadership, health, travel or MICE.
Our 4 core target groups are broken down by color
We have identified 4 core target groups among our readers and customers, for whom we systematically create content in the advice section of the blog, in the academy and in the publishing house, and color them accordingly. These are:
1. Manager and employer (red)
Our readers include federal ministries and top managers from companies and institutions.
Best of HR – Berufebilder.de® is used by companies such as Microsoft or Siemens, IBM, Bertelsmann, Würth, SAP or Daimler received and actively discussed - see also the graphic below. We are also a partner of the Federal Ministry for Education and Research and the ZEIT publishing house.
Our readers are important employers and decision-makers from the highest management level as well as from human resources, communication, marketing, further education, consulting - from companies, government institutions and universities. You are quality-conscious and committed with a great interest in technology, recruiting, career, economy and lifestyle - e.g. a federal minister or the HR director of a well-known DAX company:
2. Leaders and innovators (blue)
Best of HR – Berufebilder.de® sets trends in the media and is also relevant for people who are innovators looking for inspiration and business ideas.
Denn Best of HR – Berufebilder.de® influences media reports and opinions, has been mentioned several times in the Wikipedia references and will detectable by media representatives such as Spiegel Online, the world, DRadio knowledge, ZEIT ONLINE, or the science department of NDR television received and used for research.
By reception in the media, in university publications and textbooks, by lectures among others at Deutsche Bahn, Bundeswehr o. Various universities and through the organization of international Events the blog multiplies its reach.
3rd career climber (green)
Lots of people trust Best of HR – Berufebilder.de®when it comes to your own career. You are specifically looking for information that promotes personal progress and further development.
Trust that pays off: the publisher Best of HR – Berufebilder.de® is funded by the state for individual projects and also by Professoren and university representatives as well as by institutions and universities recommended.
Our newsletter is subscribed to by Press and Information Office of the Federal Government. These include the Anhalt University of Applied Sciences, the Berlin University of Applied Sciences and the Heinrich Böll Foundation.
4. Job seekers and beginners (orange)
Best of HR – Berufebilder.de® is made explicitly by ZEIT ONLINE Recommended for young professionals and offers extensive material on topics such as application, job search, career entry, career orientation and high potentials. With our institute we also offer young people financial support in the form of a Scholarship.
Best of HR – Berufebilder.de® also works internationally and offer texts in English language and thus reach 2 million users worldwide - including top international celebrities such as Barack Obama.
We offer our readers that in detail
We help our readers and customers to find the information they are looking for even faster! Here you will find an overview of our additional offers.
What forms of advertising are there?
We are already working with numerous cooperation partners such as Coca Cola, Samsung, o2 or Olympus, to name just the best known. You can find a full overview of ours here Sponsors, We offer the following cooperation possibilities:
At Linktausch- or Affiliate-Angebote we are Not: interested. Corresponding inquiries are considered spam - with all legal consequences!
Banner links as well as the links contained in editorial advertising are always given the attribute rel = "nofollow"!
2. High quality editorial articles, reviews and product reviews
We offer you the opportunity to reach your target group with editorial contributions. A sponsored post, so-called native advertising, is a marked sponsored guest post, an editorial contribution or an interview Best of HR – Berufebilder.de®.de, which, unlike the advertorial, is not a flat advertising text, but must meet high quality standards and offer added value for the reader. Some examples at a glance:
3. Unsolicited broadcasts - including books - costs 50 €!
Please send us Test equipment, product samples and review copies not without prior consultation. This applies in particular to:
Books
Catalogs and similar printed matter
Food of every kind
nice meant giveaways
Others
Receipt and storage incur high costs, which we unfortunately have to pay for 50 € per shipment.
Banners can be booked in different sizes and at different locations. We offer advertisements and sponsors numerous marketing opportunities - exclusively: at a fixed monthly rate.
5. Sweepstakes
We offer selected cooperation partners the opportunity to present their products to readers in the form of a prize draw. You can find more information about this here .
6. No press releases
Please do not send us any press releases as we see them as undesirably sent advertisements and follow the legal consequences.
Benefit from the range at a fixed price
Do you want to increase your reach in the target group that is exactly right for your topic? For this purpose we have put together our range package for you. It includes the following services:
Viral Seeding: We analyze and identify the exact target group for your topic.
Reach: Distribution of your text in our network: 2 million users in social media, 25.000 reader hits per day, 500+ eBooks international in sales, 500 + authors.
Title selection: We select the appropriate title for your contributions based on years of analysis of the most-read contributions.
Keyword and hashtag analysis: We analyze the appropriate, frequently used keywords and hashtags for you to reach a higher reach.
Picture selection: Based on years of analysis, we select the highest-reach image motifs for your contribution.
English version in English networks: We automatically translate your texts into English and also divide them into English channels for more coverage.
Reporting and Benchmarking: Your contribution will be in over 70 social media channels divided. We create an overview report of the most important channels for you about the reach of your posts or, if you wish, a complete reporting of all channels - both for an extra charge.
Price validity: Price is for a one-time implementation, discount for regular implementation possible.
399,00 €Book now
Individual partnerships, sponsorship and advertising inquiries
You want to make your brand more comprehensive and unique in the media? Then we should talk about an individual cooperation.
We would be happy to make you an individual offer for the development of a corresponding cooperation. Please write to: Redaktion [at] berufebilder.de