Collaboration means working together instead of against each other - across all departmental boundaries. We need inspiring friends, reliable allies and helping companions in an increasingly interconnected world World"Cross-fertilization" is what Apple calls it.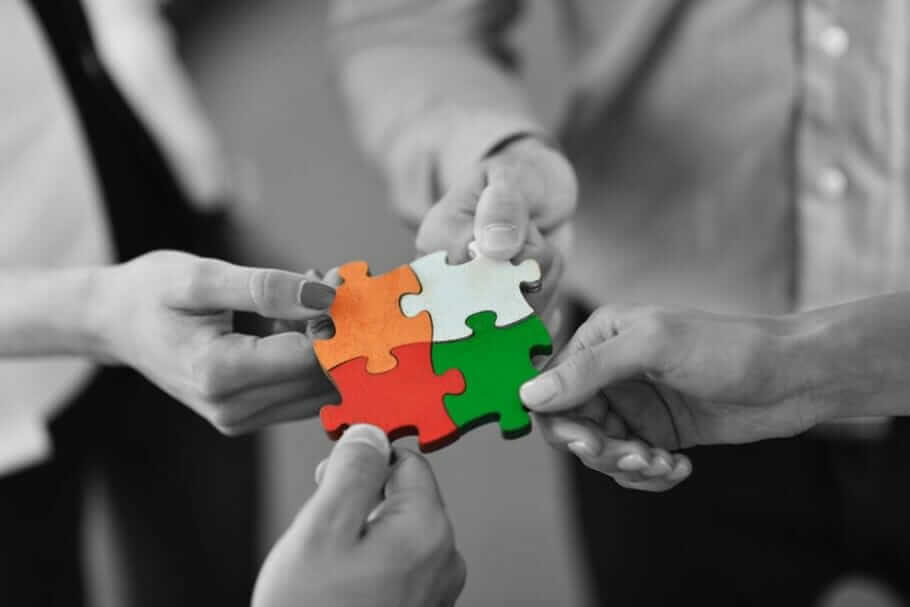 The chance for serendipity is increasing
If Reset but networked, this can lead to the most amazing destinations. For example, the innovative power increases with the number of people involved on an equal footing.
And this in turn increases the chance of the so-called serendipity effect: the stumbling over happy coincidences, which is favored by the participation of many.
Account points and pointsman
Therefore need Company In touchpoint management, there are also no consultants who infiltrate their "exclusive" wisdom via monolithic leadership in order to let them spill down.
Rather, they need junctions, which ensure optimum interconnections as a softening plate.
Create opportunities
And they need input providers who act as catalysts to bring about the collective Intelligence of the best advisors out there: your own Employees and the socially connected customers.
Everywhere in the company, "potential spaces with an obligation to innovate" must be created, in which self-initiative, self-responsible action takes precedence over directives.
When everyone fights for the fattest piece
If, on the other hand, business organizations are built on competition instead of collaboration, then "the others" are necessarily seen as competitors, if not as enemies.
They scrambled away, gave up false information, refused help under stupid grounds, and allowed supposed counterparts to run into the open knife.
Cooperative packs do nothing
Just so they don't gain a head start. Everyone fights for the fattest piece of the resource cake, for the next career step - and for Status of course, too.
"Working together" appeals bring nothing at all as long as such systems are kept on the go by racing lists, ego-based incentive programs and profit center thinking.
Farewell to resort thinking
A smooth, smooth interaction of the internal service chain demands that you finally say goodbye to departmental thinking and in-house rivalries.
Because this only promotes departmental selfishness and does not serve the customer. In any case, he notices it very much fast, if a company does not function as a single entity.
Employees must pull together
If companies are to function well, the employees must pull together. For this purpose, mission statements must be rethought and organizational structures rebuilt. How does it work?
The scrub of standards and norms has to be thinned, the matted contrasts of responsibility have to be verticalized, and the domestic political drift has to be confined.
Visualization of customer orientation
For example, until today, hardly any company that focuses on customer orientation in large letters has actually shown the customer in the organizational chart.
However, anyone who speaks of Customer Centricity, ie places the customer in the center of attention, must also make this visually apparent. In the form of a customer-centered relationship network.
Self-glorification programs of the leaders
Pyramidale Topdown organigrams, on the other hand, are a pure self-glorification program of leaders. They focus on power and not on the market.
They cement hierarchy, rigidity and conformity. Like the monocultures in our forests, formally organized members of the organization are unhealthy, and in the long run unable to survive.
3 tips for vivid organizations
Such more or less dead order systems do not have a chance in the digital storm. Therefore, take the following tips:
Bring liveliness into the shack and swarm intelligence in your organization chart!
Let your people out of the boxes, make you out of square and angular round and colorful!
Share your people around customer groups and customer projects. This is how you form modern networks.
And you know what: Network structures already exist in every company. They are the most lively unofficial networks of relationships. They are the real power structures of everyone Organization.
Read text as PDF
Acquire this text as a PDF (only for own use without passing it on according to Terms & Conditions): Please send us one after purchase eMail with the desired title supportberufebilder.de, we will then send the PDF to you immediately. You can also purchase text series.
4,99€Buy
Book eCourse on Demand
Up to 30 lessons with 4 learning tasks each + final lesson as a PDF download. Please send us one after purchase eMail with the desired title supportberufebilder.de. Alternatively, we would be happy to put your course together for you or offer you a personal, regular one eMail-Course - all further information!
29,99€Buy
Skate eBook as desired
If our store does not offer you your desired topic: We will be happy to put together a book according to your wishes and deliver it in a format of yours Wahl. Please sign us after purchase supportberufebilder.de
79,99€Buy
Corporate publishing and advice
You want to publish, increase your reach or as an employer Candidate speak to? For these and other topics we offer special Consultant packages (overview) - For example, a personal phone call (price is per hour).
299,00€Buy