Working or exclusive Meetings in a small circle on the Alm at 1600 meters, rustic and yet comfortable with a hay bed and sauna, good food and fast WiFi, plus horseback riding, hunting, carving or cooking courses as a supporting program - everything is possible at the Moserhof in Carinthia. An overview.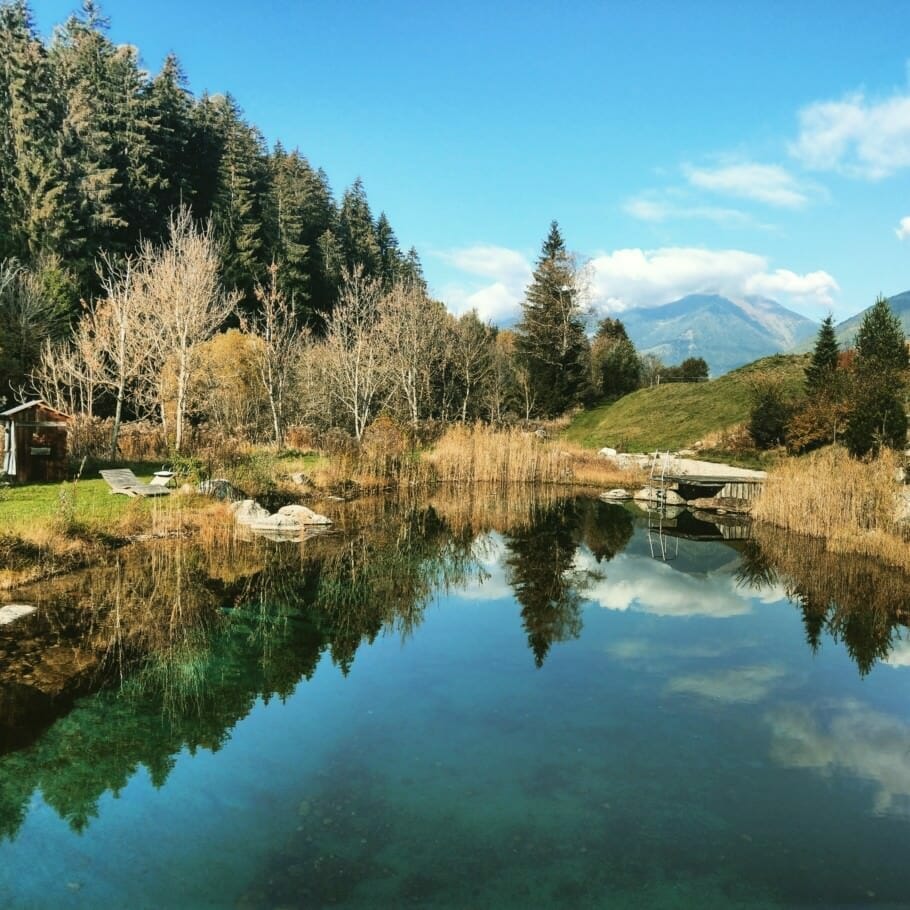 Happy work on the mountain pasture
"Happy Work" names Family Hartweger you Concept, with whom she has lured mainly self-employed in the off-season on the Moserhof to Penk in northern Carinthia. Because they appreciate the outstanding service, the warmth of the hosts paired with peace and seclusion in the middle of the Hohe Tauern National Park for relaxed work.
There are also several holiday homes or holiday apartments in the manor house available on the Moserhof estate - including an alpine chalet at an altitude of 1600 meters. And: Solo travelers who rent a room here to work, for example, even get a discount here.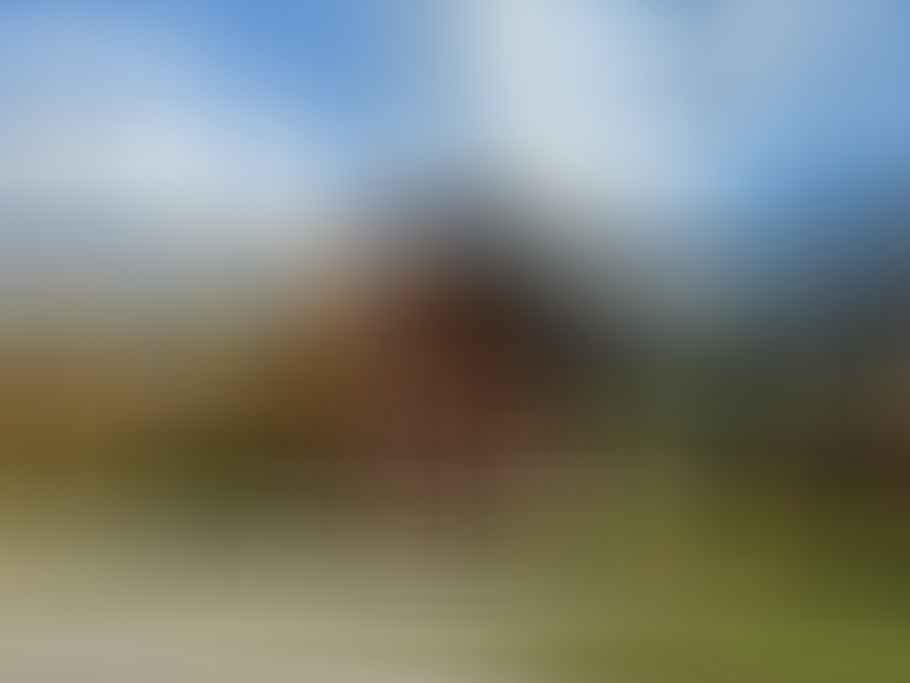 Coaching and yoga on the mountain meadow
It fitted in well here Coaching- to hold a seminar. Theme: WorkLife-Balance. Under the guidance of Heike Kluska, Therapist for Integral Dance and Expression Therapy®, we use the great surroundings, the forest, the rushing water, the picturesque mountain scenery to find out about ourselves and ours Set clear to become - and to decelerate. Including aperitif by the campfire as well as yoga and meditations on the mountain meadow. A really great experience.
Farmer Heinz Hartweger, who has won several awards for ecological forestry and tourism, among other things, has his very own philosophy on the subject of work-life balance: If he can't get on with one job, he simply does another one to get the job done Head to get free again. Variety at work is the crux of successful work, he reveals.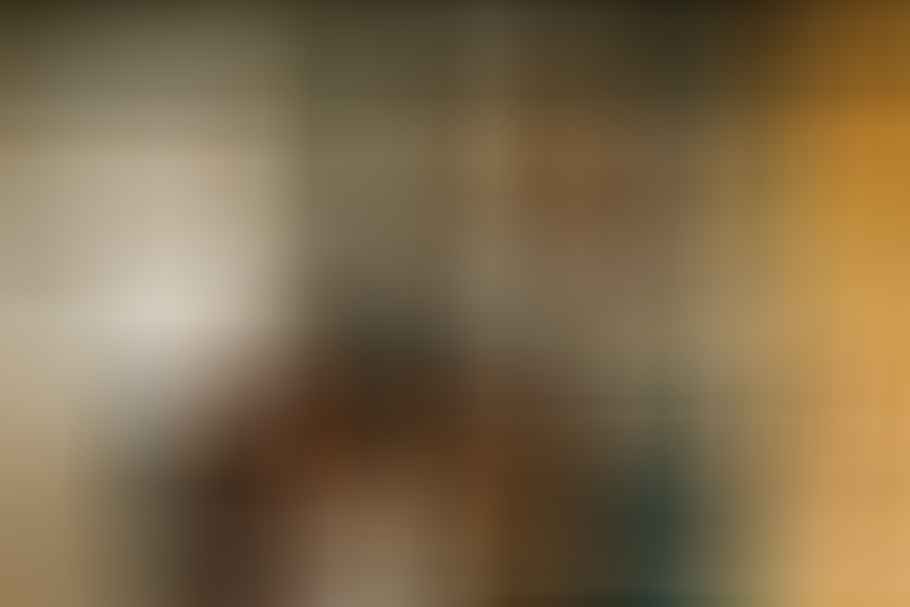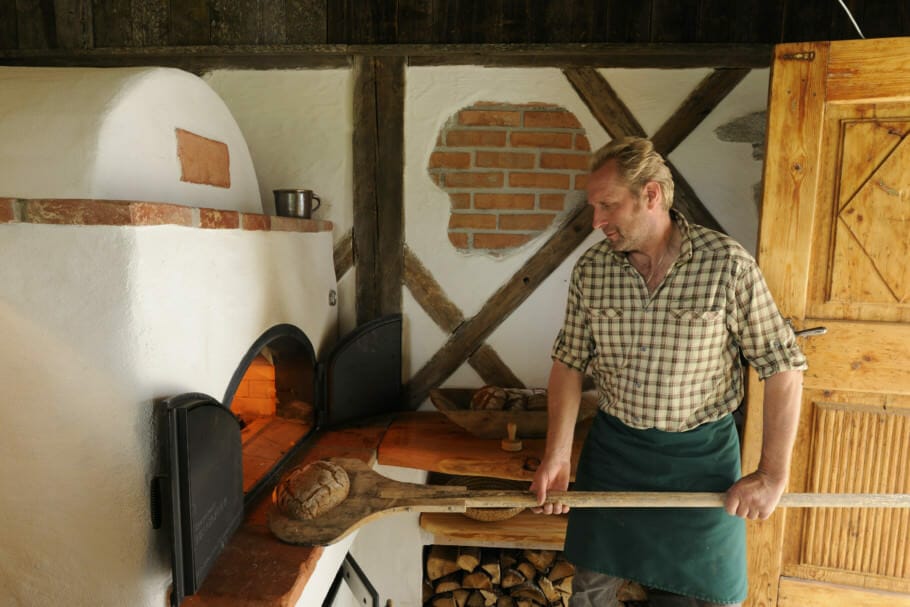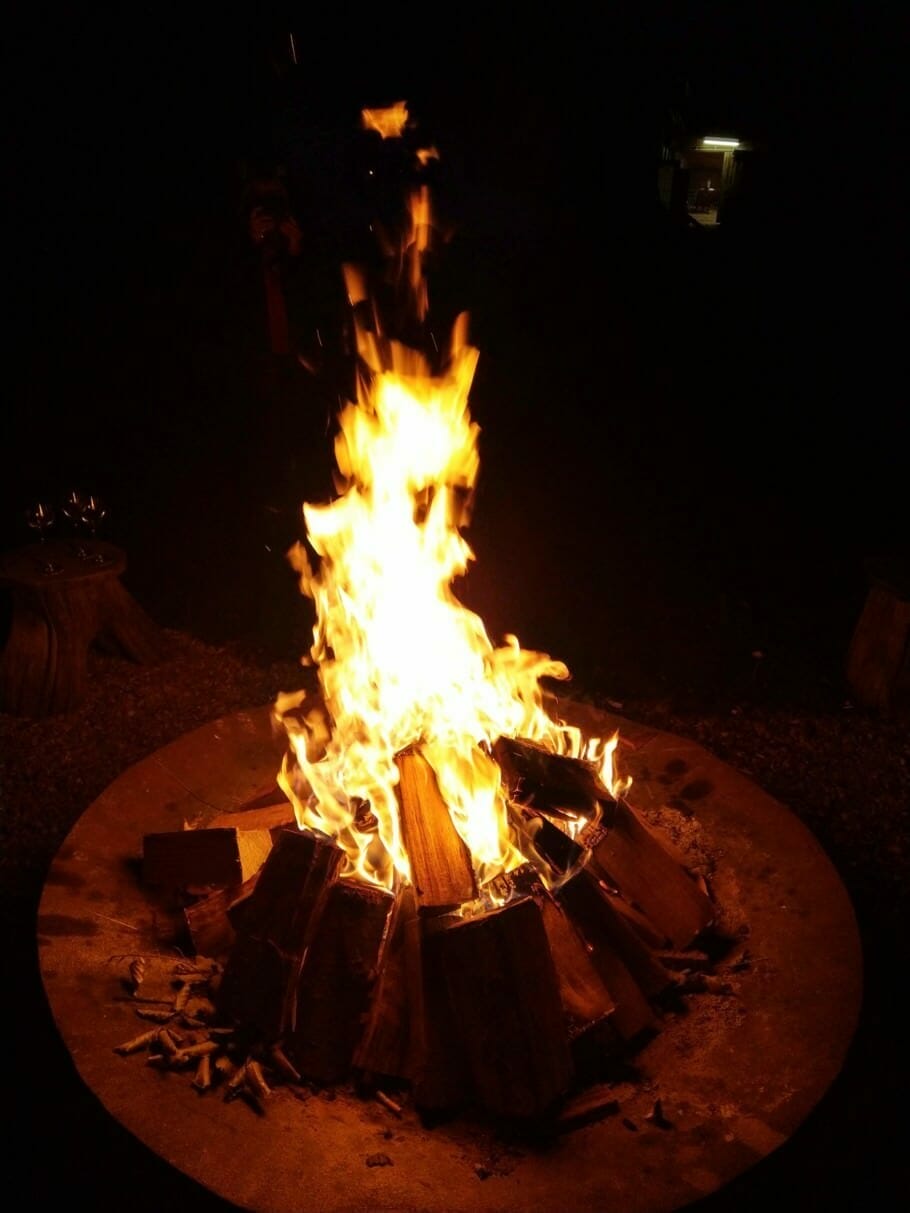 Work-life-balance through multitasking?
In fact, he is a real all-rounder who can look over his shoulder while working: in his own workshop, he makes everything that is needed from local wood - from handy hearts as souvenirs to home-made furniture and entire huts. And it's exactly this variety that guests will find on the Moserhof.
In February 2004, the 800-year-old farm that Heinz and Gerhild Hartweger had taken over from their parents in 1990 burned down completely - one Crisis, which the Hartwegers saw as an opportunity to realize an innovative tourism concept: The Combination of a chalet village with a living working farm.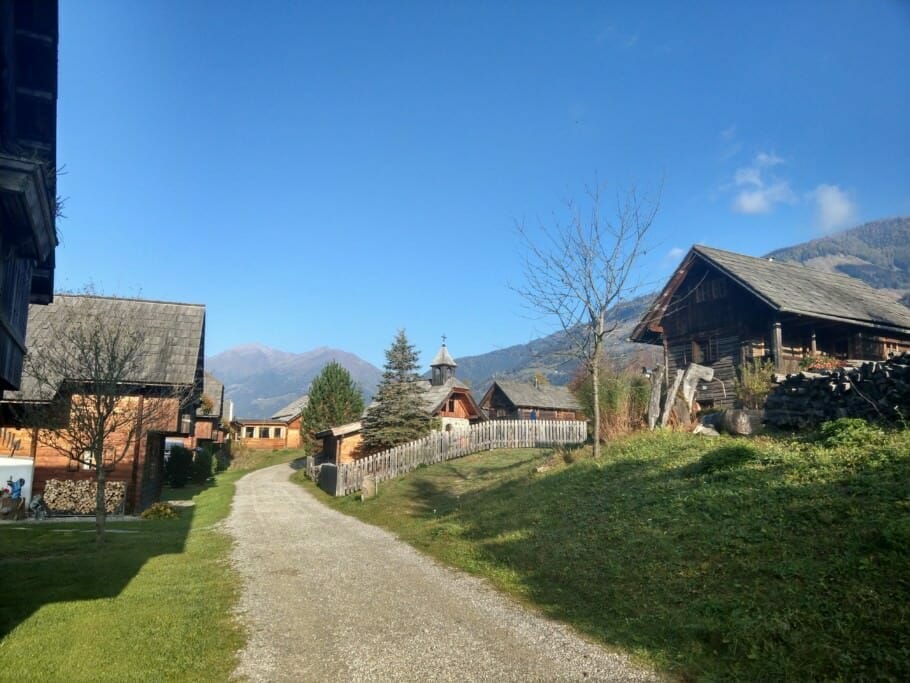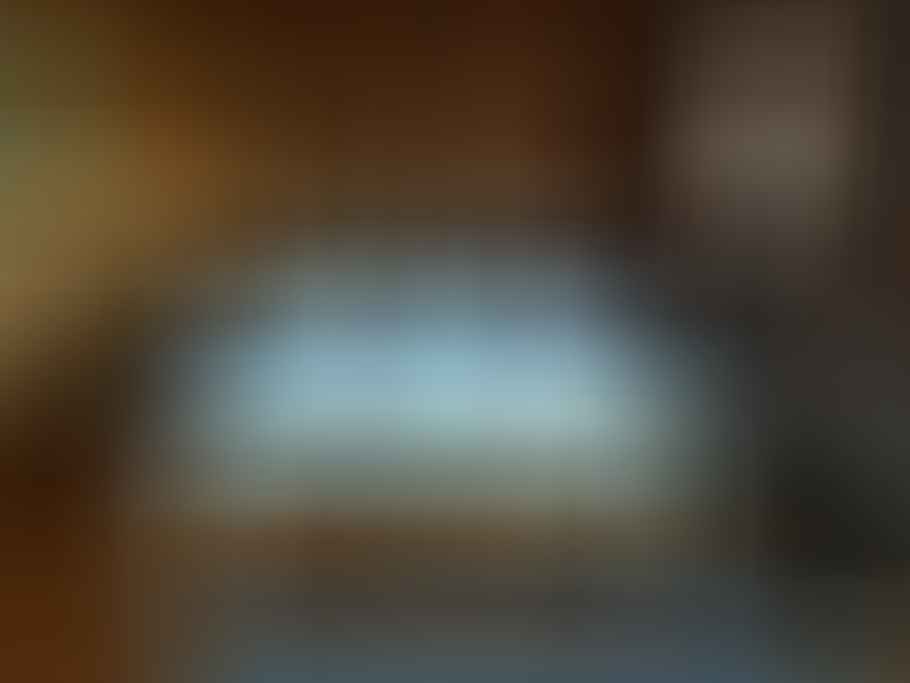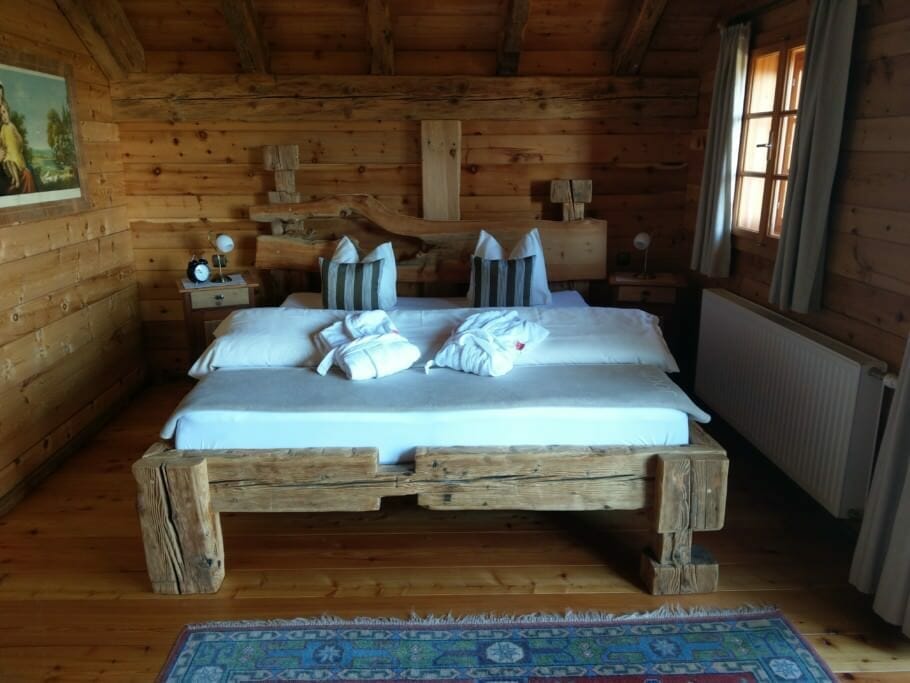 Chalet village with farm
In June 2005, 6 rustic yet high-quality organic solid wood holiday homes in the traditional Carinthian style for up to 8 people, 3 traditional alpine huts for 2 to 5 people, a bathhouse with sauna and massage rooms and a small chapel were opened on the village square directly on the river Möll . As an alternative to the detached chalets, there are also holiday apartments in the manor house for 2-5 people. For this they were now 5 flowers, a kind of starqualification for tourist farms, rewarded.
There is also plenty of variety in the activities: So you can care for animals in the petting zoo, participate in the daily animal feeding, mowing with farmer Heinz hay, splashing in the lake or can be edited by the excellent masseuse.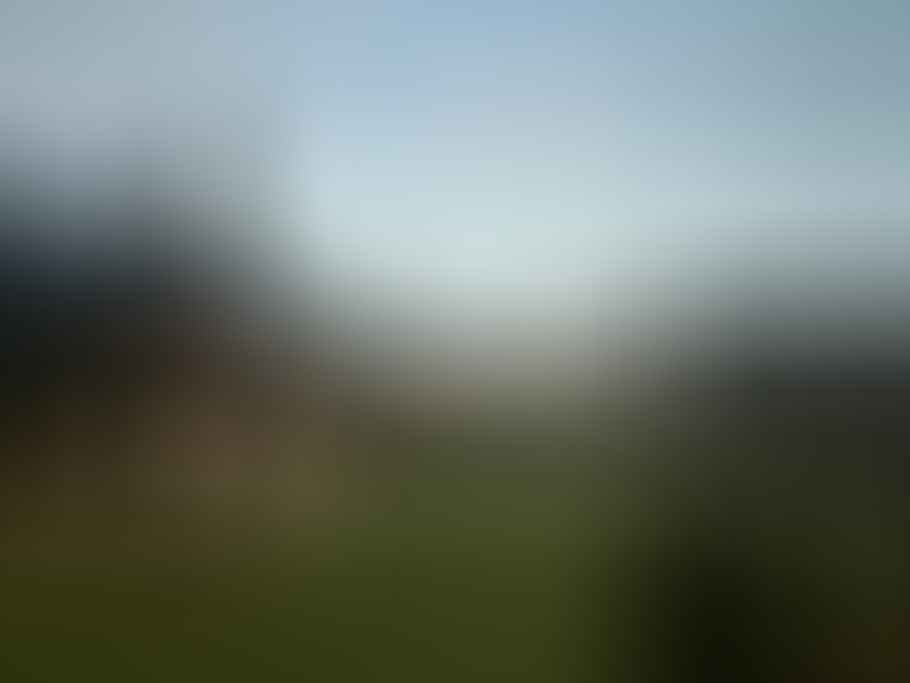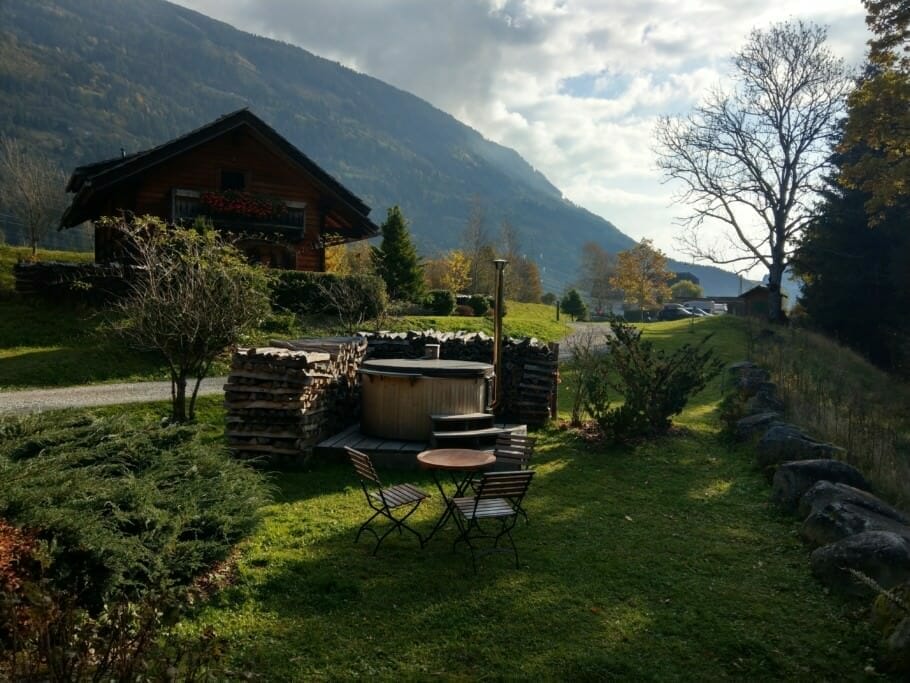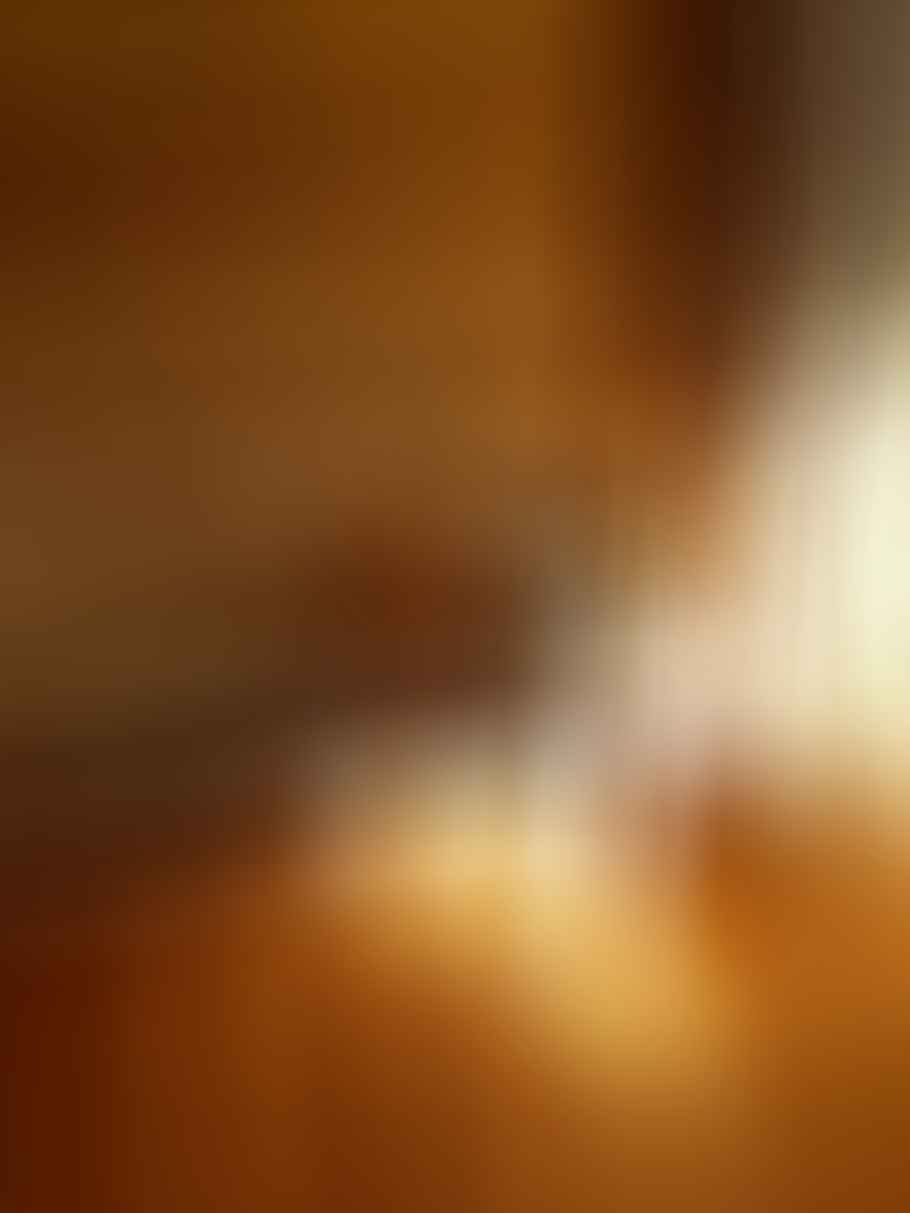 Horse riding, fishing, golf and water sports
A stud has been around since 1995. Today the Moserhof is a professional riding school with riding school operation. For riding on the site there is a tournament hall (20 x 40 m) and an open riding arena with obstacle course. Riding lessons are offered by trained beginner and advanced instructors, there are currently 40 horses, but guests can also bring their own horses, which will receive a spacious box with paddock and full board during their stay. We also offer guided tours in different levels of difficulty, one or more days, in the 200 km long bridle path network.
Holders of a fishing card, which guests of the Moserhof receive at a discounted daily rate, will find rainbow and brown trout as well as grayling here. And not just as anglers. But also in the supreme discipline fly fishing, which enjoys increasing popularity among managers.
But golf and various water sports are also possible in the area: There are three golf courses (20-hole, 40-hole and 9-hole system ) with a wonderful panoramic view. If you like it more turbulent, you can go rafting, canyoning or canoeing.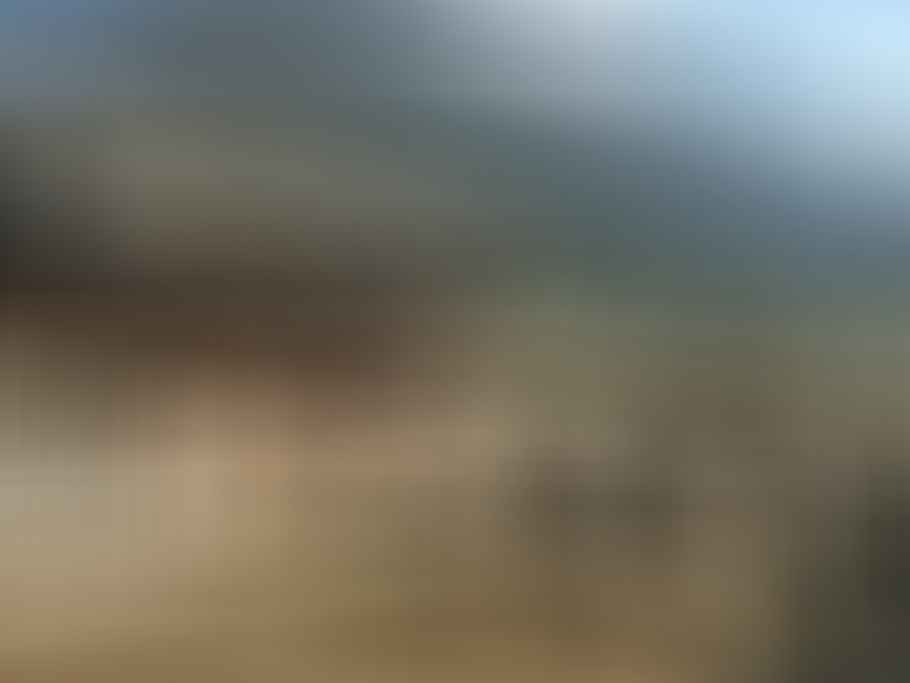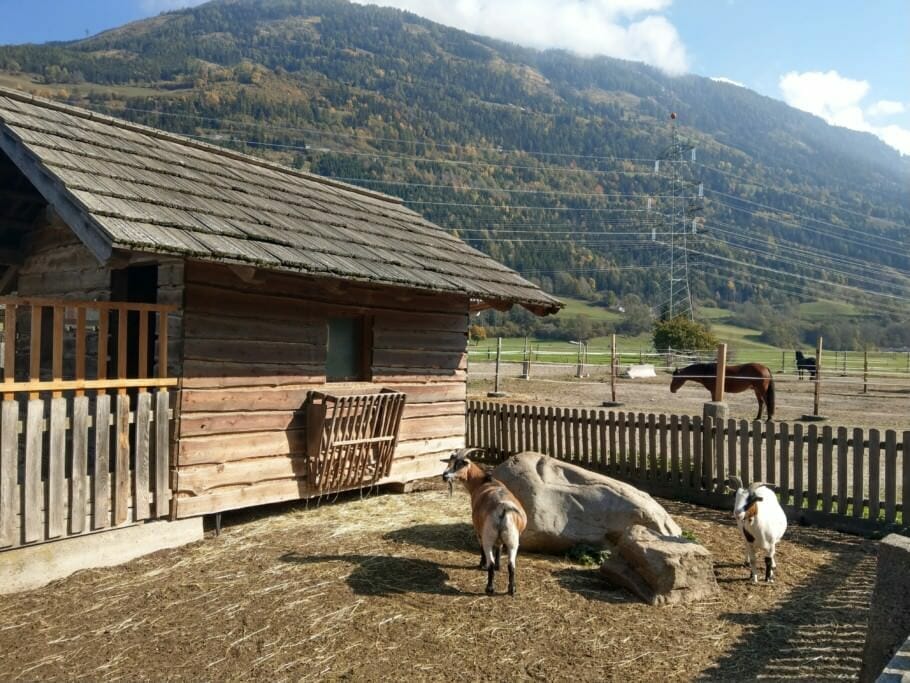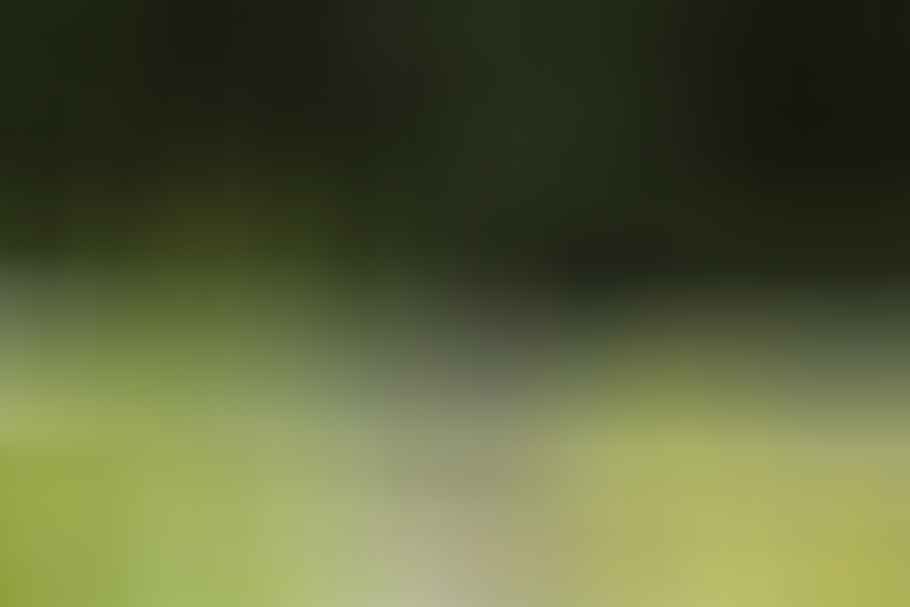 Hunting and wildlife observation: experience pure nature
Special extras to Dazubuchen are guided Wildtierobachtungen, stalking and hunting with Heinz Hartweger, who is in the company of his welding dog Heiko regularly in his 22 hectare territory on the way.
You can also experience pure nature on your own: Around the Moserhof, the Hohe Tauern National Park stretches with the Grossglockner, the highest mountain in Austria with 3.798 m. With a total of 300 peaks that are over 3.000 meters high, the National Park offers countless opportunities for hiking, mountain biking and rock climbing from spring to autumn. In summer there is a daily hiking bus.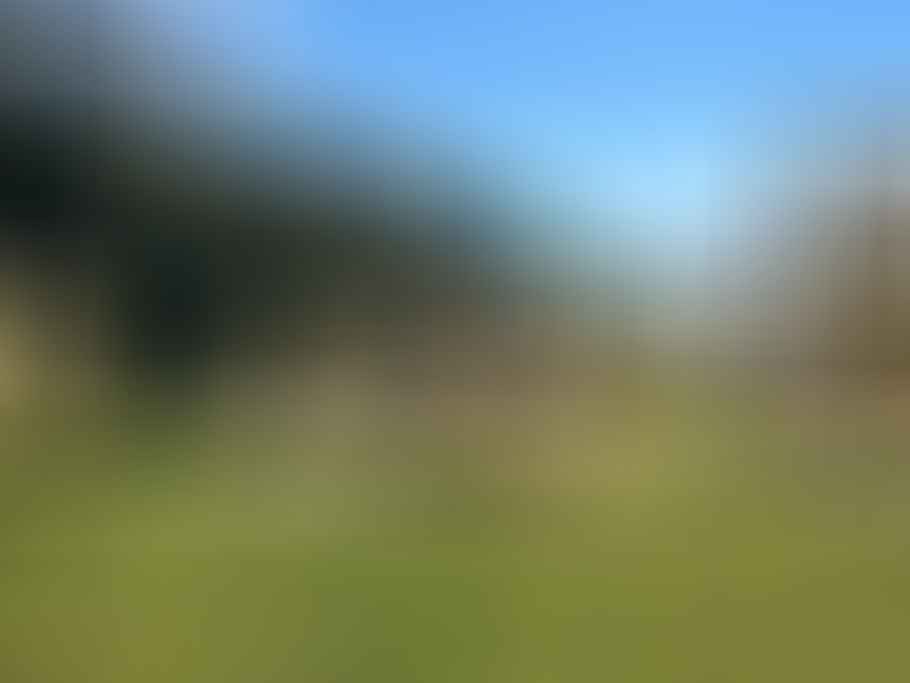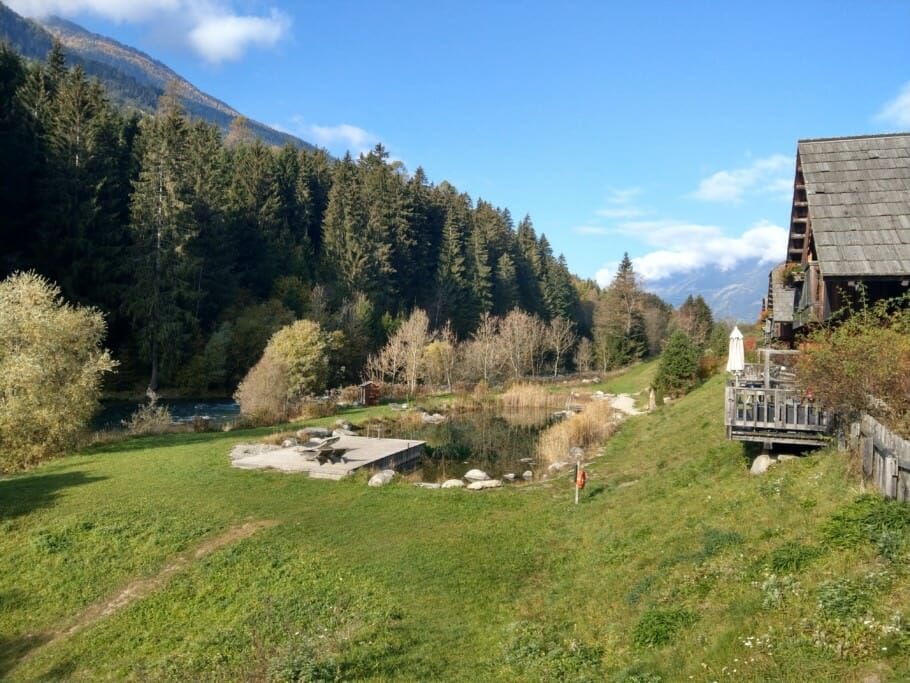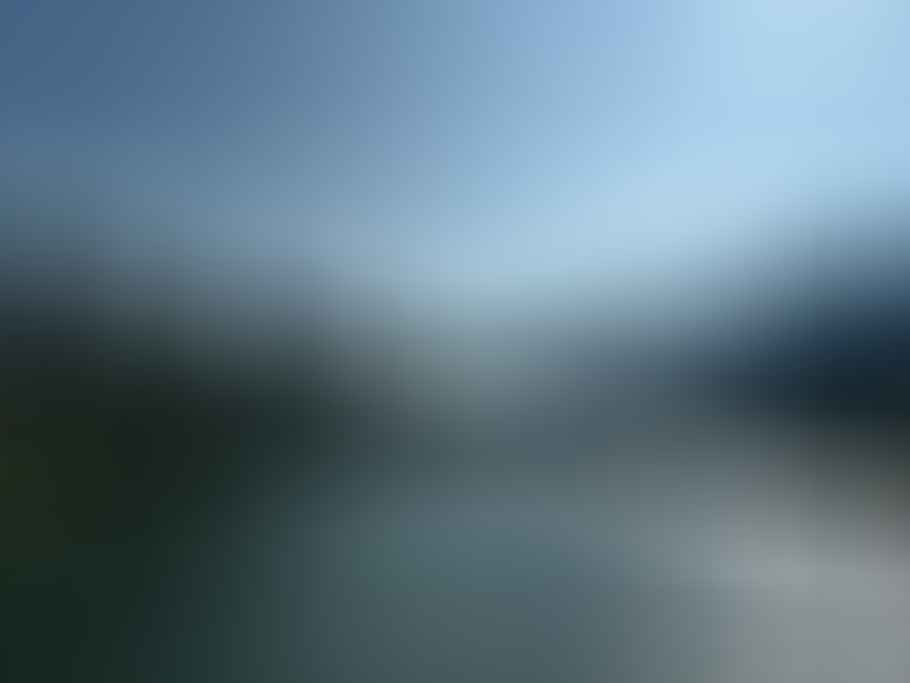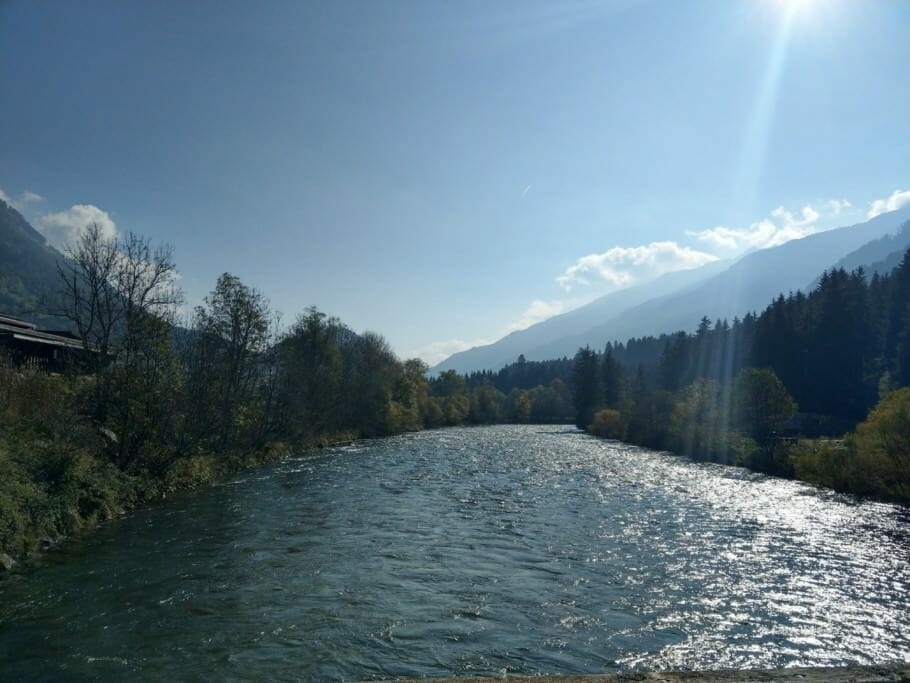 Skiing and snowshoeing
In winter you can explore it with snowshoes or skis. Four ski areas are easily accessible from the Moserhof estate with your own car or ski shuttle. The closest are the Mölltal glacier and the Ankogel ski area, both about 15 km away and guaranteed snow. The sunny Goldeck area and the areas in Heiligenblut and on the Katschberg lead guests to other charming ski destinations. The downhill season on the Mölltal Glacier is 3.000 days long under the motto "Experience 365".
In addition to alpine skiing, freeriding and snowboarding, visitors will find ideal conditions for cross-country skiing, snowshoeing or winter hiking. Ski tourers experience around the Moserhof one of the most beautiful touring areas in Austria. At the Moserhof rides in winter and warm packed the snowy landscape enjoyed on the back of the horses.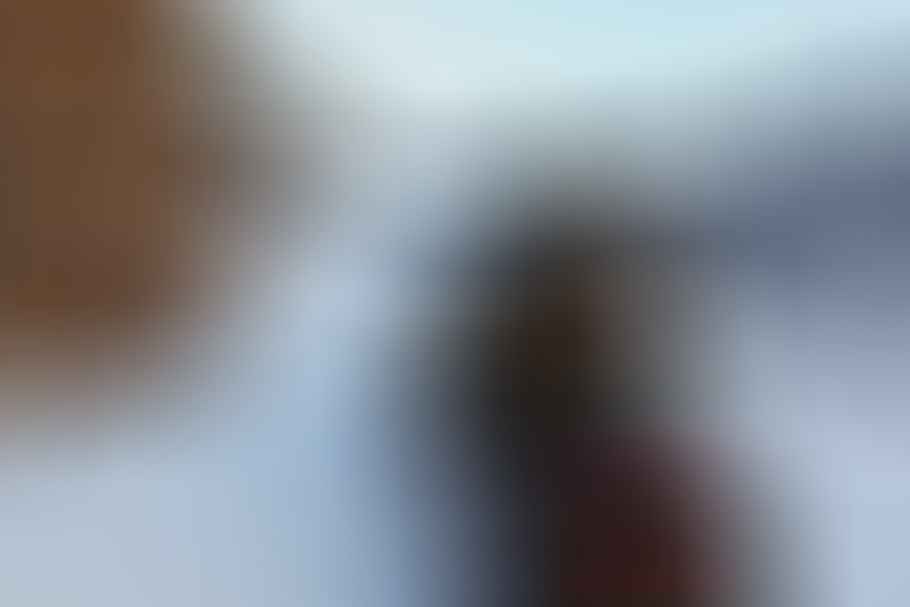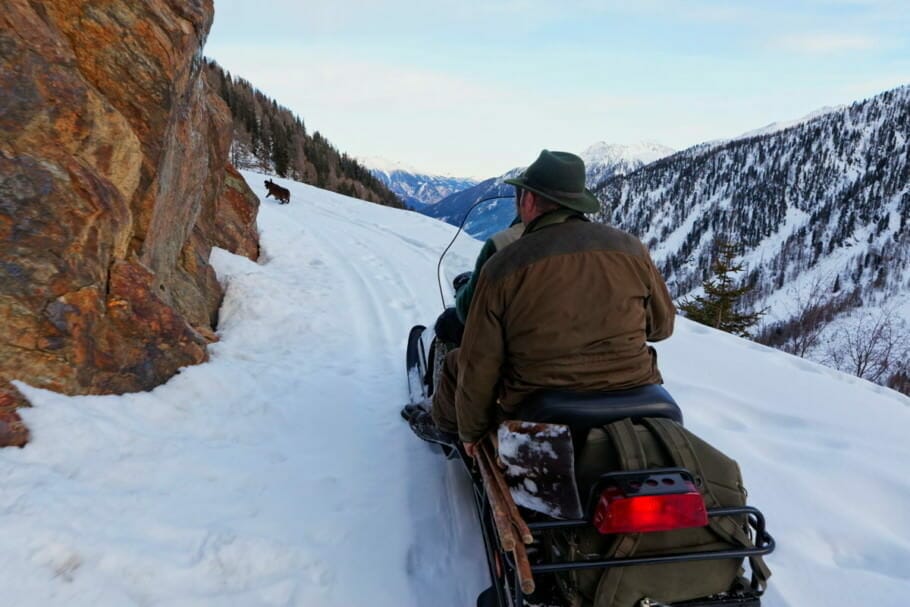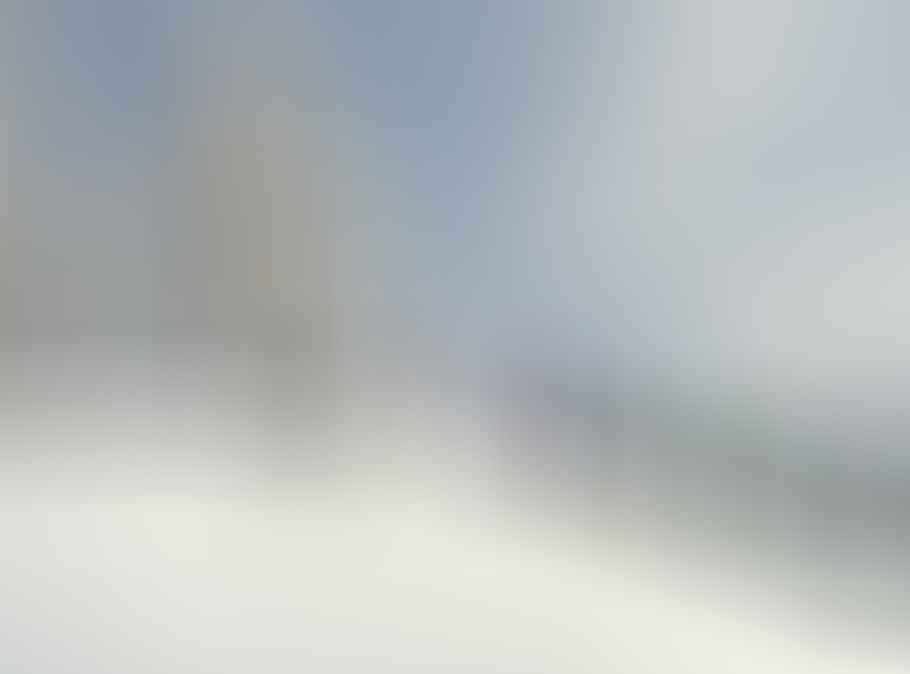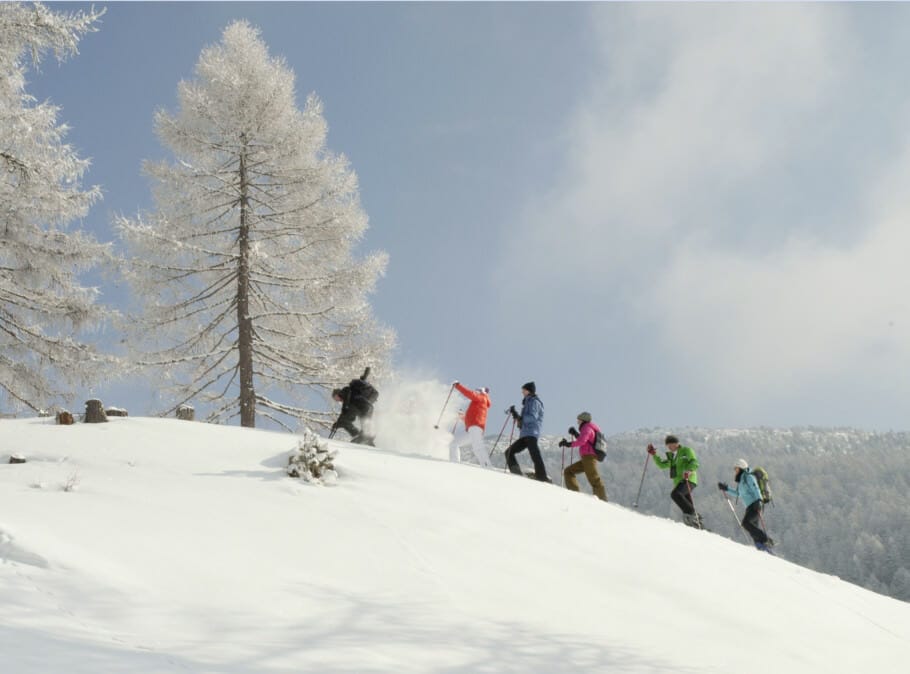 Culinary: Main thing homemade
But also for culinary care is taken care of: guests can, for example, barbecue and hack the wood for it or bake bread with Gerhild Hartweger in the specially designed bread bakery or the hostess and her pastry chef in the new, glazed dairy over the shoulder. In general, own and regional products on the Moserhof are capitalized: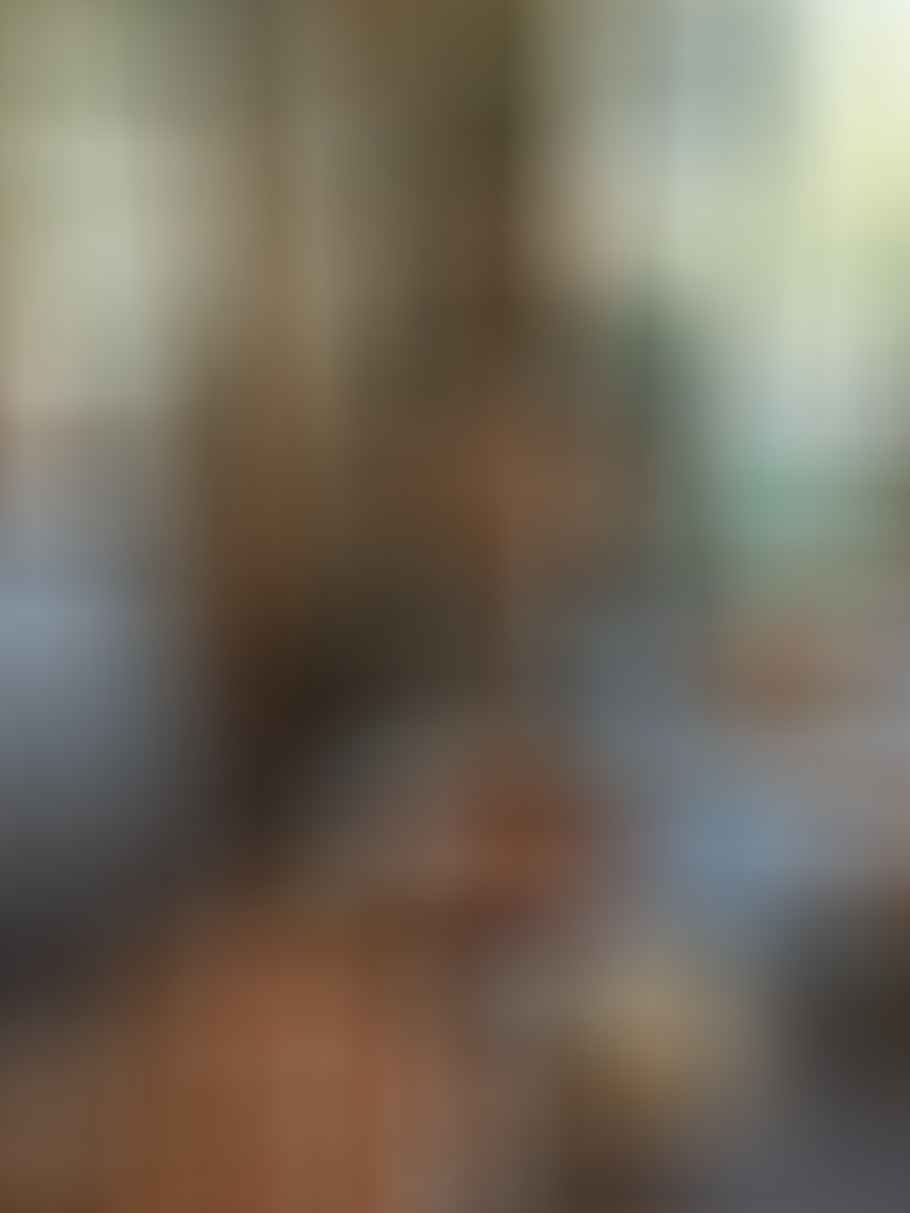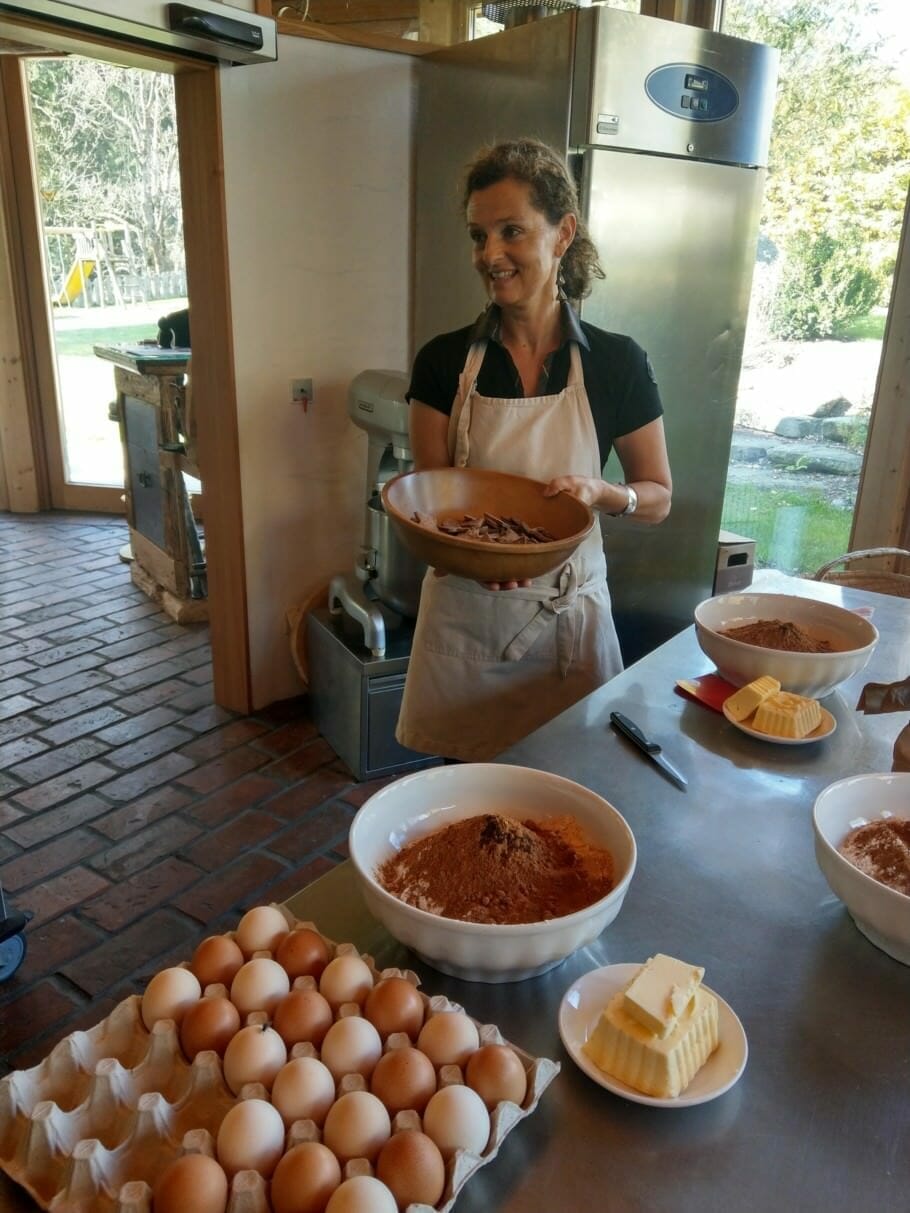 The meat in the restaurant was partly killed by Heinz Hartweger himself, vegetables and herbs come as often as possible from Gerhild Hartwegers large kitchen garden. In her traditional recipes, the farmer's wife also addresses the incompatibilities or wishes of her guests and plans soon to publish a cookbook.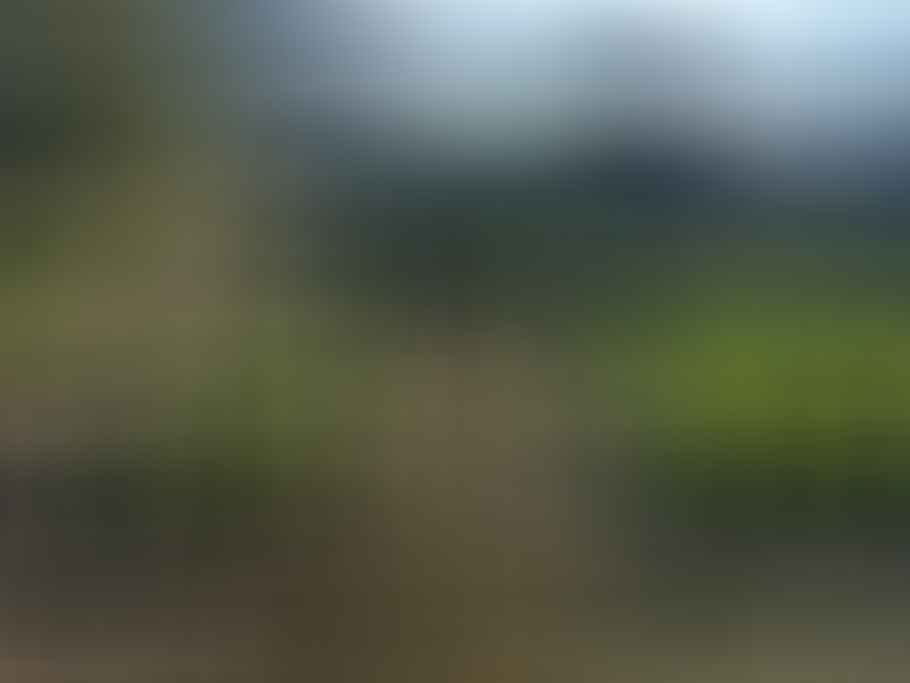 All holiday homes can be booked seasonally as self-catering or with catering. If guests take advantage of the culinary offer of the estate, a stay with a breakfast package and Moserhof pampering package is available Choice. Depending on your wishes, the Hartwegers can even bring breakfast, barbecue packages, fondu or a farmer's snack to the alpine huts. The unpaved road is quite steep, although sufficiently wide.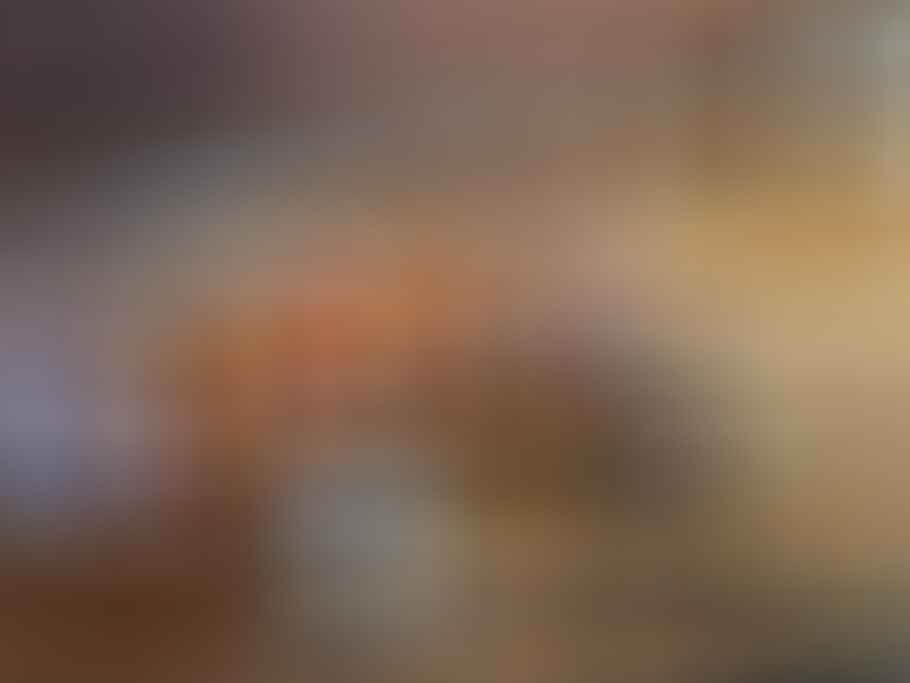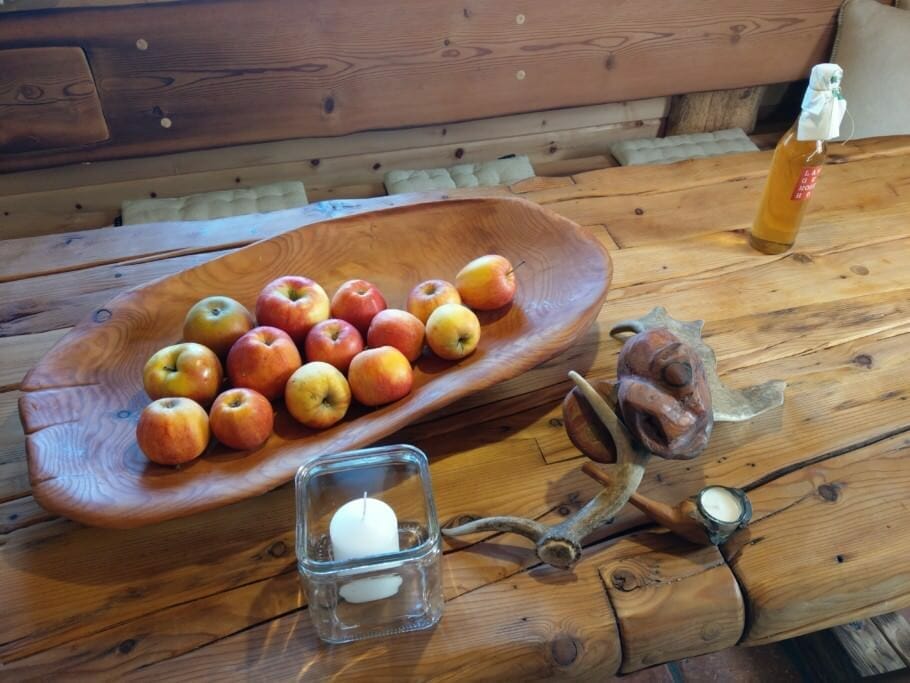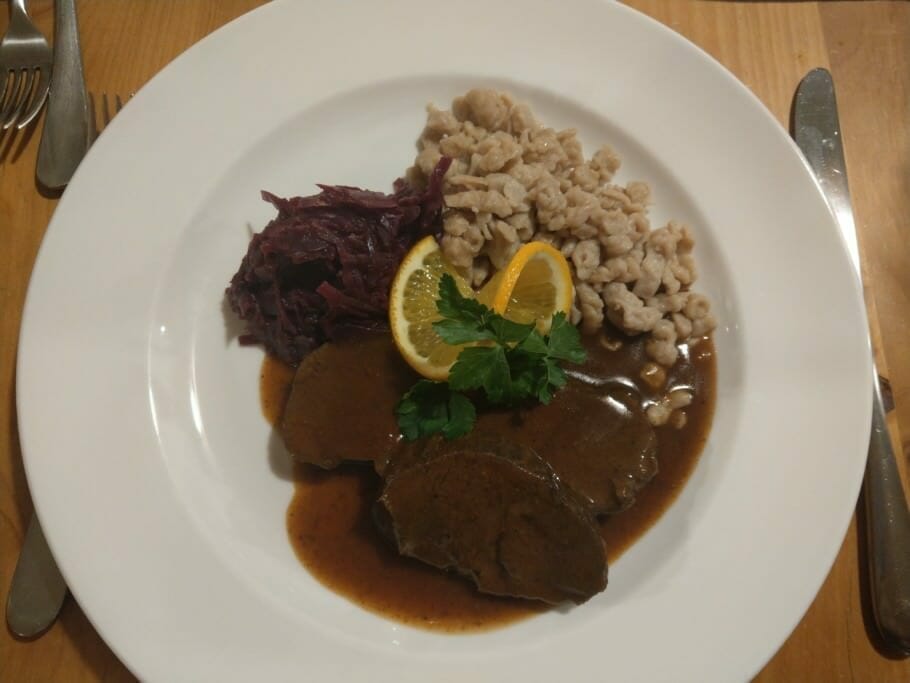 Higlight: relax at the alpine hut
In general, the alpine pastures. They were my personal highlight - not only because of the fantastic view, but also because of the peace and quiet up here. For example, the "Bloatschtrattenhütte" is located at 1800 m, a 150-year-old, original alpine hut made of solid wood for a maximum of 5 people with a cozy kitchen, spacious family bedroom with 2 beds, 3 additional beds in the loft and its own bath house with panoramic sauna.

At an altitude of 1600 m, in the midst of a fantastic mountain backdrop, is the Moseralm mountain chalet, which due to its facilities is also ideal for secluded strategy meetings for up to 8 people. Because where there used to be a simple alpine dairyman's hut, which Heinz Hartweger used for his hunting trips, a 150 m2 year-round habitable retreat in the noble alpineStyle built. The eat-in kitchen, with a wood-burning stove that supplies the entire house with heat in addition to the basic heating (electricity), merges into a living room with an open fireplace, cozy sofa and flat-screen TV. On the ground floor there is also a double room, bathroom with shower and separate toilet.
The eye-catcher upstairs is the bedroom with floor-to-ceiling panoramic windows, calming pine wood walls and pull-out sleeping couch. Also upstairs is another double bedroom and a bathroom with shower and toilet. Special attention was paid to organic building materials such as solid wood, hemp, sheep wool, terracotta tiles and felt.
All furniture was designed by Heinz Hartweger in the farm's own workshop and built from its own wood. On the ground floor, an outdoor terrace has been created for relaxing hours and barbecues outdoors. Wellness features include an alpine bathhouse with a free-standing tub, a wood-burning stove and a glass-enclosed sauna as well as a natural bathing pond and an attic with a fragrant Alpine hayloft.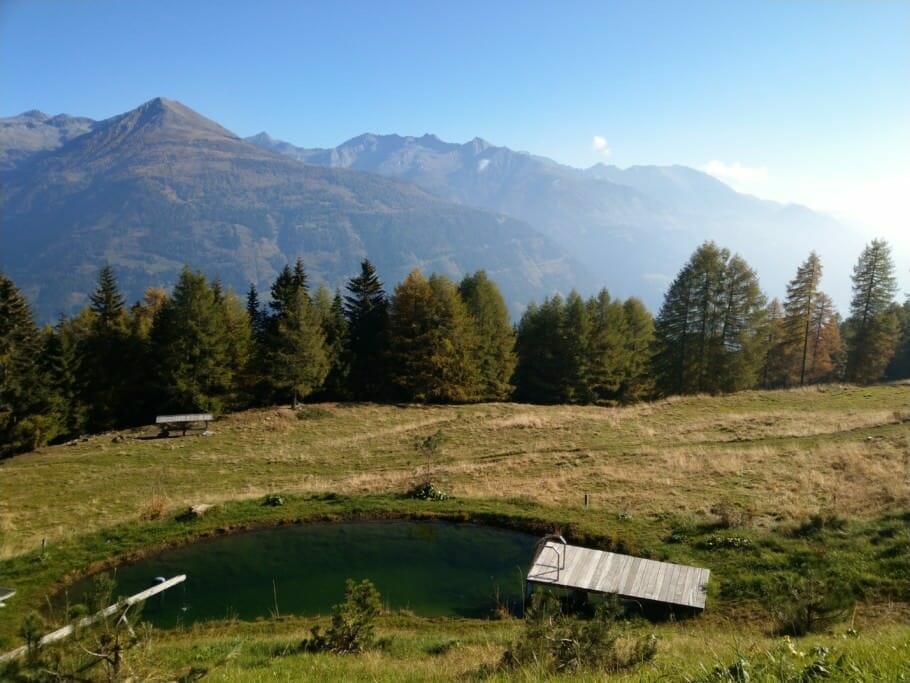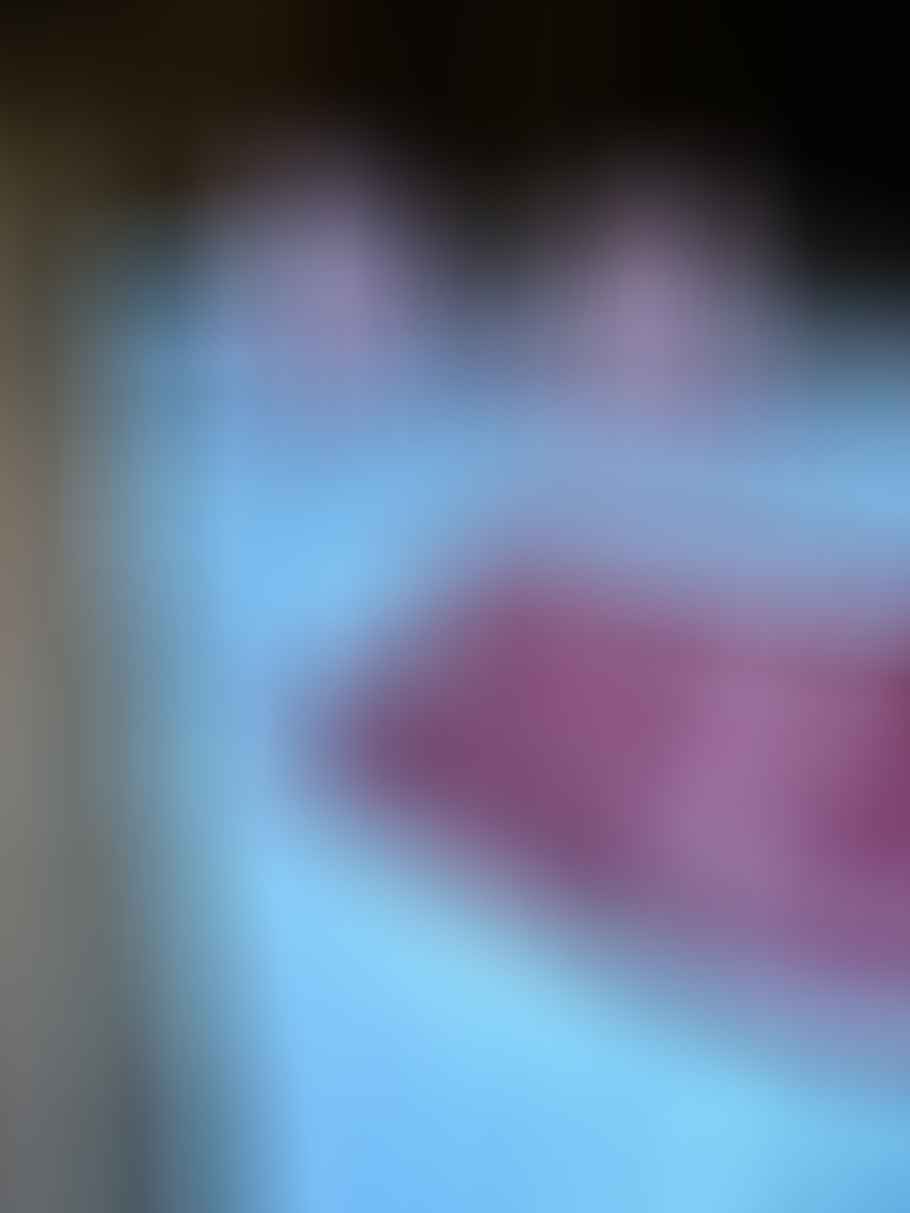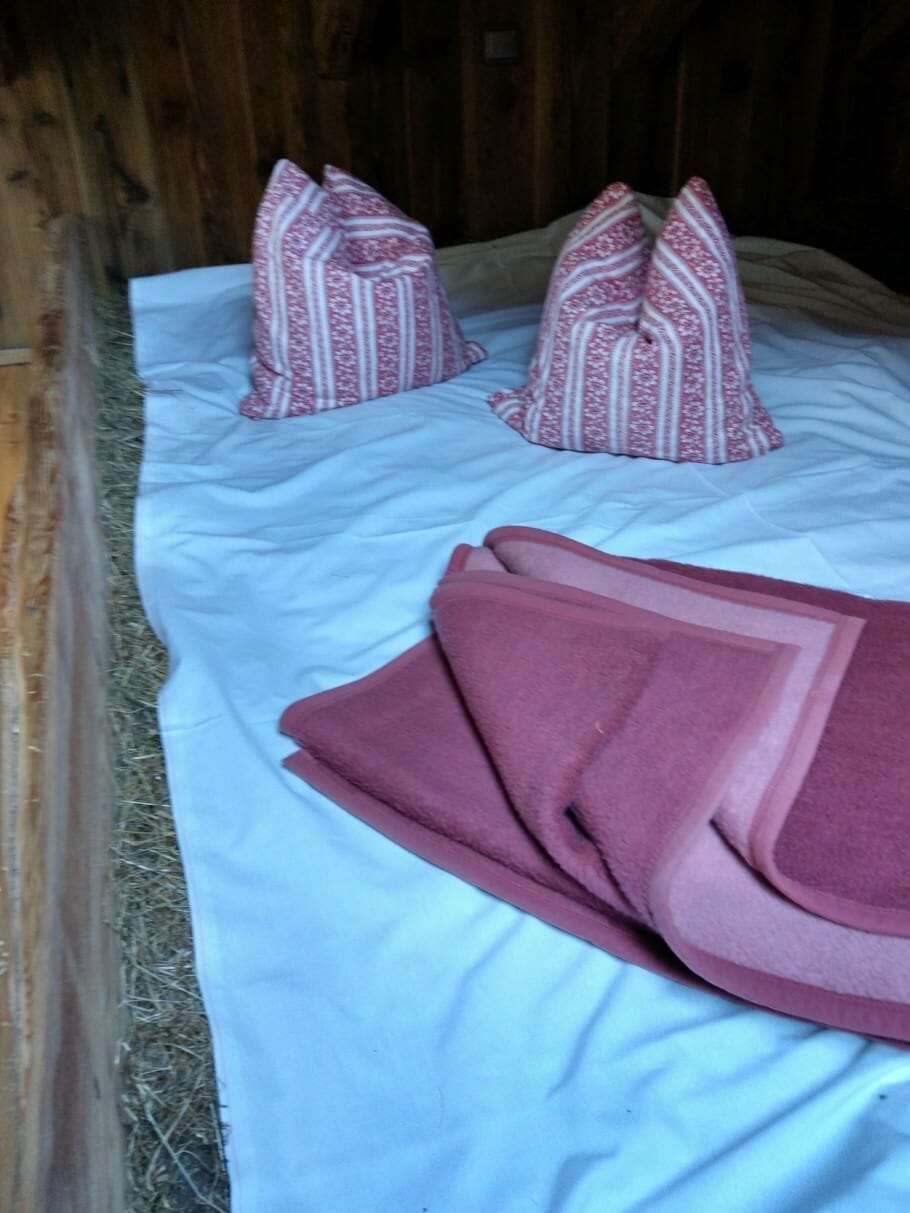 Seminars with Alpine panorama and prices
On the Moseralm you have a lot of luxury and yet nobody will disturb you. However, a seminar room for up to 30 people is also available downstairs in the manor house for seminars and meetings. Laptop, beamer, screen, flat screen, flip chart, pin board and media case are available. The conference flat rate included Technology A threeCourse lunch menu, two organic snacks (sandwiches, cakes, snacks) as well as tea, coffee, water, juices and fruit is 55 euros per day and guest.
Overnight stay for conference guests 130 Euro per person in a double room and 150 Euro in a single room, including breakfast, dinner and conference package. The overnight prices in the estate start at 160 Euro per night in the apartment, 205, - Euro per night in a historic mountain hut and 225 Euro per night in an alpine chalet.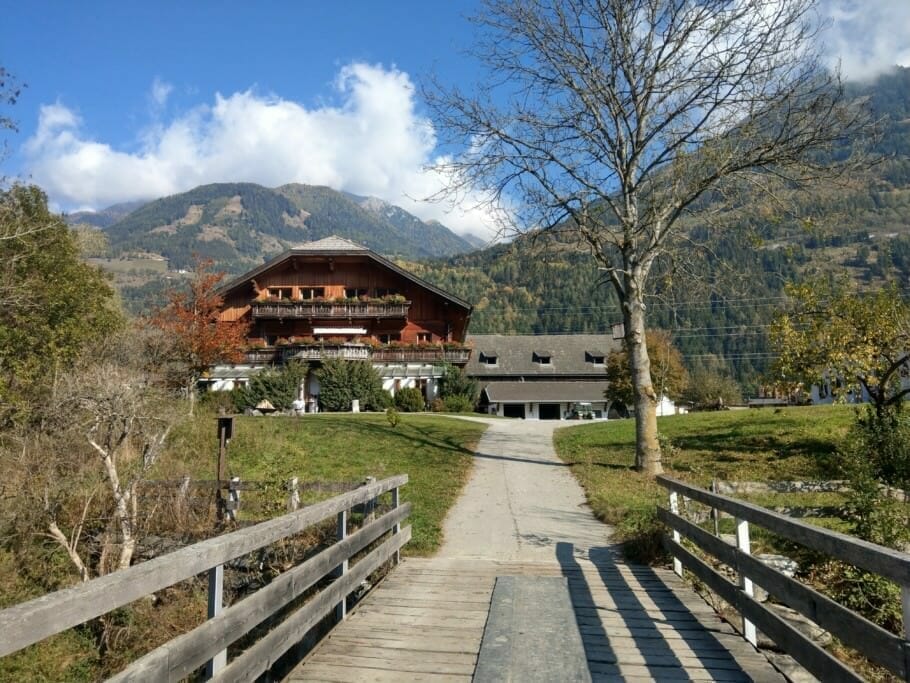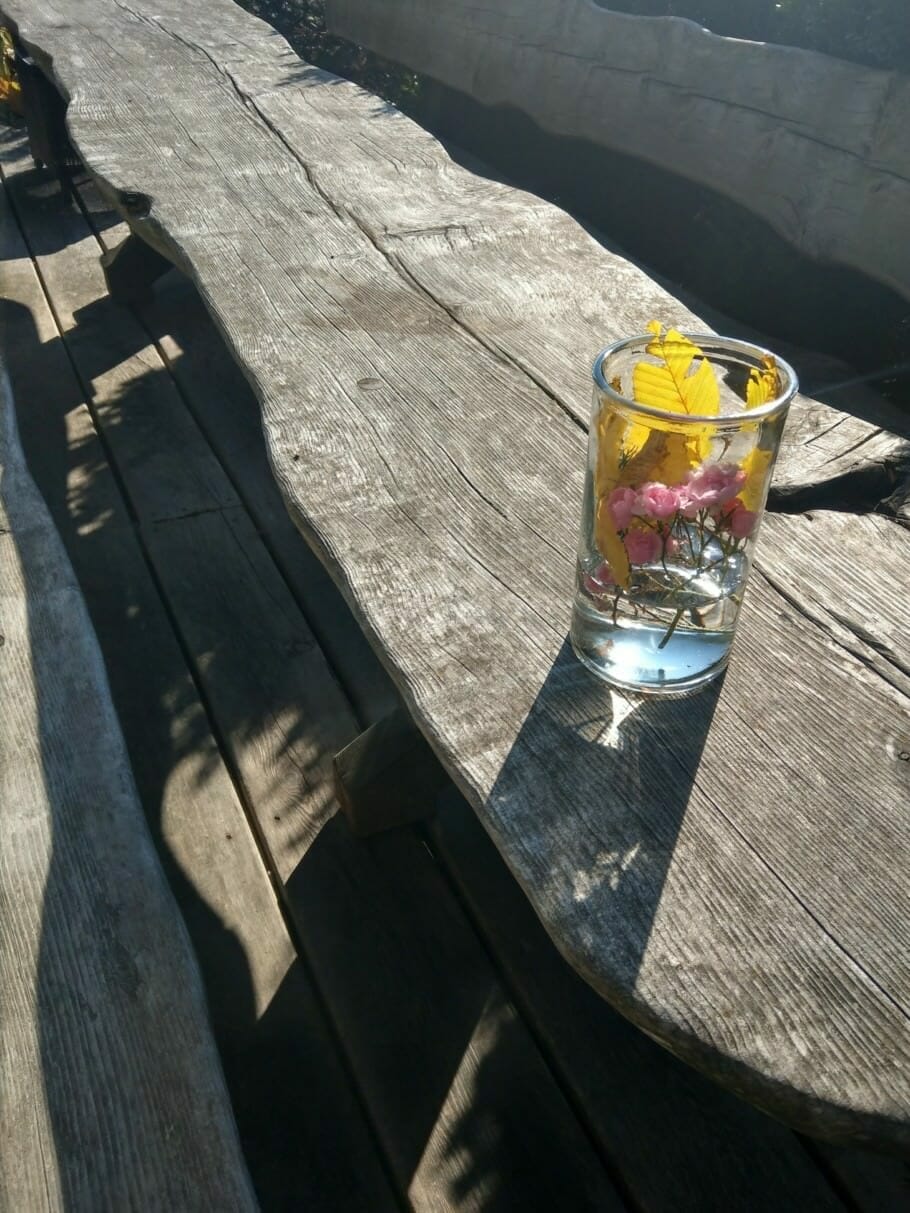 Buy text as PDF
Acquire this text as a PDF (only for own use without passing it on according to Terms and conditions): Please send us one after purchase eMail with the desired title supportberufebilder.de, we will then send the PDF to you immediately. You can also purchase text series.
4,99€Buy
Individual travel planning & reader trips
We offer our readers exclusive travel packages on this and many other topics.Planning as well as numerous specially designed ones Reader journeys.
5,00€ / per month Book
Skate eBook as desired
If our store doesn't offer you your desired topic: We will be happy to put together a book according to your wishes and deliver it in a format of your choice. Please sign us after purchase supportberufebilder.de.
79,99€Buy