Our brain has a very effective mechanism that is often used when confronted with a fact that is in contradiction with elementary beliefs and needs: it hides them and does not take them into account.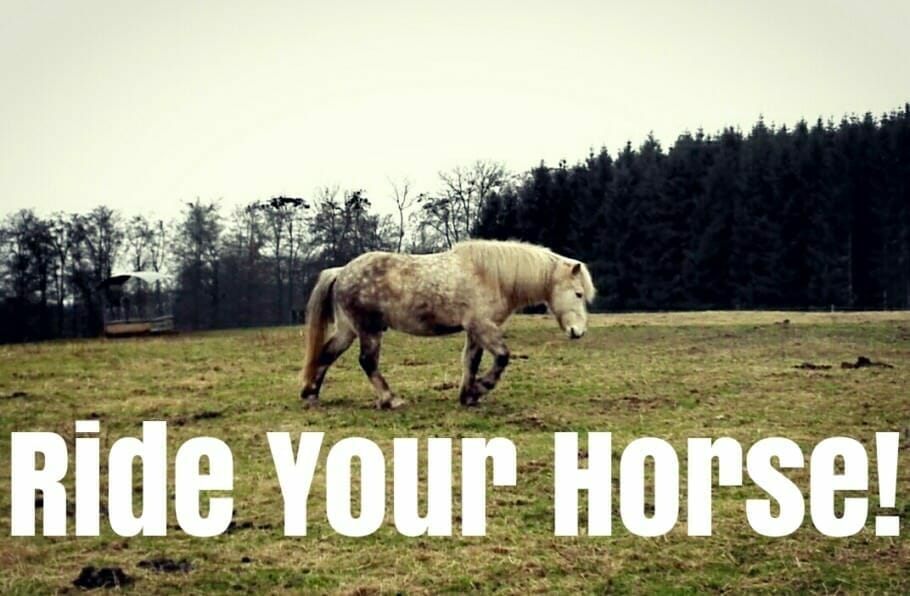 My horse is not so dead
One of the typical phrases we say when we try to deny the problems in a situation:
"My job is okay. Sure, I'm sometimes a bit unmotivated and haven't been happy for a long time. It is a difficult time. But why should I look for another job? No, no, my job is okay. "
The internal and external signs that tell me that I should urgently think about career changes may clash with my need for security or my belief that I will never find another job. The solution: I'm not that dissatisfied after all. My horse is not that dead at all.
When the inner balance tilts
This strategy has only one disadvantage: Since my dissatisfaction tends to get bigger rather than smaller, the pressure to change increases in me. My inner balance between "finally do something!" and "Better leave everything as it is!" threatens to tip over - then I could no longer look past the fact that I really have a problem.
If, however, I manage to discharge the pressure in a harmless way (as by the overpressure valve of a steam cooker), I could maintain this state until the last day. There are two simple and quite popular solutions: pondering and complaining.
brood
Pondering is an extremely unproductive way of thinking. In doing so, I move thoughts, dreams, wishes, ideas like a tough-liquid porridge around in my brain; from left to right and back again.
Everything I have thought of infinitely often - but I do not gain any new aspects, do not penetrate deeper and always come back to the starting point. An internal blockade is solidified by persistent pondering, since no solutions arise because the thought process would have to open up and deal with new aspects.
The git has it feeling, his situation is hopeless. But brooding is exhausted psychic energy and relieves internal pressure. The longer I ponder, the less likely it is that I will act.
complain
The complaining could be described as an "outward brooding": I repeatedly express the same negative thoughts about my situation. Other people might feel asked to help me with good advice.
But since I think by my pondering yes, to know every possible solution, of course, I do not accept anything that could interfere with my ingrained lines of thought. Who complains, does not want to hear that there are ways out! But it reduces pressure.
The ideal strategy to change nothing
And everything remains as it is, because I continue to concentrate fully on my lousy situation and hold on to not being able to change it. A very "effective" strategy.
Do you know people who often complain about their job, but apparently never make an effort to look after a better one? Are you not so sure about your own job? Ask yourself how dead your horse might be? Perhaps you have avoided an honest answer to this question so far?
Read text as PDF
Acquire this text as a PDF (only for own use without passing it on according to Terms & Conditions): Please send us one after purchase eMail with the desired title supportberufebilder.de, we will then send the PDF to you immediately. You can also purchase text series.
4,99€Buy
Book eCourse on Demand
Up to 30 lessons with 4 learning tasks each + final lesson as a PDF download. Please send us one after purchase eMail with the desired title supportberufebilder.de. Alternatively, we would be happy to put your course together for you or offer you a personal, regular one eMail-Course - all further information!
29,99€Buy
Skate eBook as desired
If our store doesn't offer you your desired topic: We will be happy to put together a book according to your wishes and deliver it in a format of your choice. Please sign us after purchase supportberufebilder.de
79,99€Buy
Corporate publishing and advice
Do you want to publish, increase your reach or address applicants as an employer? We offer specials for these and other topics Consultant packages (overview) - For example, a personal phone call (price is per hour).
299,00€Buy