Recrutainment is almost old hat, but now there is histotainment: groups, for example Candidate one Company, must be in historical context Tasks get over. It can be bizarre, like in Estonia, where groups are put in jail and shoot with a real Kalashnikov.
Video Note: If you don't see a video here, you have to activate the option "Watch videos" at the end of the page under "Privacy and Cookies"!
Soviets, gas masks and Kalashnikov
Imagine driving as a group in a bus through the Estonian capital Talinn. He is suddenly hijacked by men in Soviet uniforms. They are handcuffed and locked up in an old, dilapidated prison, the Patarei Sea Keep.
There you must, among other things, use gas masks to fake a fake gas attack (it is a matter of artificial nebulae) or shoot a cardboard target with a real Kalashnikov - in Estonia, shooting with real weapons is permitted in contrast to Western Europe. In the end you have to escape in a boat across the East Sea.
Note: The Bond video that I wanted to post here is unfortunately blocked by the Gemma!
Assessment Center as at James Bond?
Could be such a new kind of Assessment-Center look? And would that make sense? Or is it too wacky and tasteless? At least that's what it looks like Teambuilding– and entertainment from the Estonian agency Blue Drum.
Deren Executive Olavi Andla swears the Soviet and James Bond programs are big hits. What he told me and what the photos reveal (see video) is a little less martial than my little summary suggests, Andla stands for fun and entertainment value for them customers in the foreground, the provocation is also a Marketing-Gag. The only thing I find violent and dangerous about the guns.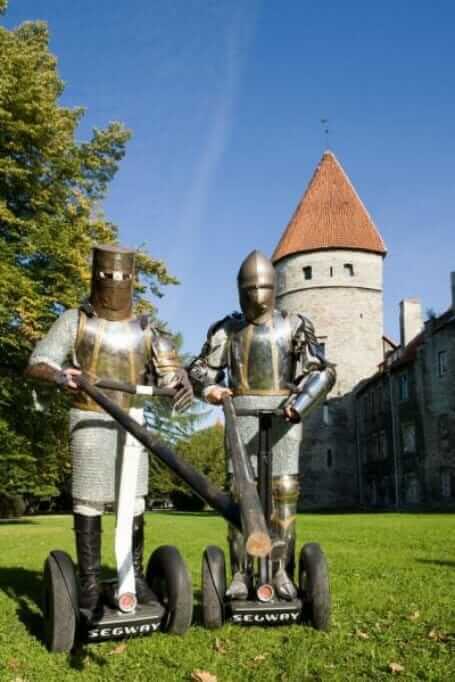 In Germans unpopular
However, Americans, Englishmen and Scandinavians in particular are keen on this program - and the Germans, by contrast, do not matter at all, says Andla - and suspects historical reasons. "Perhaps," he suspects, "it reminds the Germans too much of their own past."
This rather skeptical target group he then offers eg medieval treasure hunts, Murder Mysteries or a schnitzeljagd with iPads through the medieval old town.
Then the knights drive through the area with Seagways or when cannon-shooting is done with Angry Birds - Andla has Sinn for Humour and a knack for the zeitgeist. The special software for the iPads was bought extra expensive in Finland.
Customers like Nokia and National Geographic
In the 10 years of its existence, Andla's agency has carried out a good 2000 such events - also for international customers such as Nokia, National Geographic or the USmessage. Andla raves about the opportunities Estonia offers:
"We're a small country, so we're pretty flexible," says Andla. This is evident, for example, in the selection of the locations: In addition to the rather dilapidated Patarei Fortress, Tallinn offers underground secret passages, for example, but events can also be held right next to the exhibits in museums.
Mix of history and high tech
By the way, at a gala reception in the Seaplane Harbor Museum, I experienced that for myself, which would be unthinkable in Western Europe. In Denmark, for example, there are heavy metal concerts at the National Museum - though in the courtyard and entrance hall, while party guests are denied access to the museum.
For Andla, the originality and the mix of history and modern high-tech is the great advantage of Estonia. Most Fun But he has it himself, you can tell by the number with the Soviets.
Read text as PDF
Acquire this text as a PDF (only for own use without passing it on according to Terms and conditions): Please send us one after purchase eMail with the desired title supportberufebilder.de, we will then send the PDF to you immediately. You can also purchase text series.
4,99€Buy
Advice on success, goal achievement or marketing
You have Ask about career, Recruiting, personal development or increasing reach. Our AIAdviser helps you for 5 euros a month – free for book buyers. We offer special ones for other topics IT services
5,00€ / per month Book
Book eCourse on Demand
Up to 30 lessons with 4 learning tasks each + final lesson as a PDF download. Please send us one after purchase eMail with the desired title supportberufebilder.de. Alternatively, we would be happy to put your course together for you or offer you a personal, regular one eMail-Course - all further information!
29,99€Buy
Skate eBook as desired
If our store does not offer you your desired topic: We will be happy to put together a book according to your wishes and deliver it in a format of yours Choice. Please sign us after purchase supportberufebilder.de
79,99€Buy