Richard Branson once saidthat his business ideas always came out of personal frustration. Various studies also show how much Personality and experiences affect start-up success. 2 examples of success.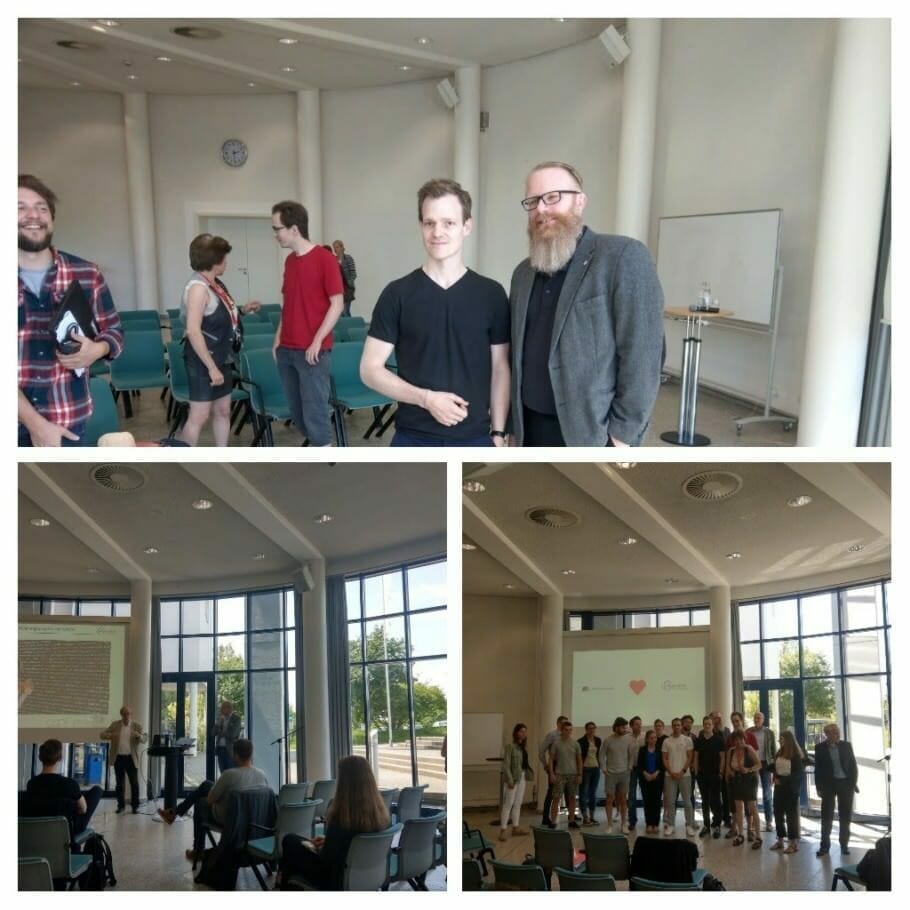 The best business ideas are created in pubs
According to Masterplan.com founder Daniel Schütt, the best ideas come from pubs. For example the first Idea to her first Company meinpraktikum.de, which he developed together with Stefan Peukert when the two were talking about the quality of internships. This resulted in Employour GmbH with additional portals, which was sold to Bertelsmann subsidiary Gruner & Jahr in 2015 for a double-digit million amount.
The founders could actually have retired, but developed - again in a pub - the idea for Masterplan.com in 2017. The online platform offers cinema-quality video courses for professionals Further Training targeted in companies.
Employees should learn digital skills
The books on the subject (advertising)
And this one too Foundation came from personal experience. In the early years at Employour, the two founders had outsourced a large number of services to external companies and a lot Money lost. Therefore, they decided to Employees to motivate you to become active yourself:
"Everyone had to learn something from a specialist area about digitization and give a lecture on it." In this way, the company gradually acquired digital core competencies and became more independent. Schütt therefore advises other companies: "Do as much as you can and hand as little as possible to service providers".
Teaching skills for the working world of the future
With Masterplan.com, Schütt and Peukert have that Objective set to help shape the current economic and social changes and the right skills for them Working world of Future to mediate. The core topic here: digital skills.
Looking for suitable Onlineoffers, the two had found that previous video learning offers did not meet their quality requirements. "Also, we've noticed that it's less technical Deselect arrives than on correct the attitude and Organization and that is exactly what we want to convey in our courses."
Ability to teach self-taught learning
Discounts for your success (advertising)!
And a third learning was necessary in order to optimize the offer: "Many employees find it difficult to teach themselves something on their own responsibility. For them we have developed an online course that is self-taught Things to Learn conveyed."
Schuett and Peukert won Holtzbrinck Ventures, Tengelmann Ventures, Elmx-Bertelsmann CEO Gunter Thielen and the chancellor of the CODE University of Applied Science Thomas Bachem as investors. Speakers include celebrities Transformation-Experts - including Sibyll Brüggemann from Klarna, Florian Heinemann from Project A or Trivago founder Rolf Schrömgens.
OnlineCourses complement university offer
In September 2018, Masterplan completed a financing round of 6 million euros. Then another one in June 2019 Success: The online platform's digital transformation course will become part of theCourses offered by the University Witten-Herdecke. The 40-strong Bochum start-up grants more than 2.500 students full access to its content. In certain courses, these are integrated into the regular course of studies via a graded module. Upon successful completion, the students receive credit points.
The approximately 8-hour digitization video course in cinema quality is intended to give students an introduction to the work life or facilitate independence. The Bochum start-up also uses the same course to train the employees of large companies such as Siemens, the OTTO Group and Deutsche Bahn. The aim is to make all participants capable of discourse and to create openness to change.
Driving social change
"We to plan already planning to roll out this model at other universities," explains Daniel Schütt, who, like his co-founder Stefan Peukert, is also an alumnus of the university, explaining how to proceed. "It is our mission, the German one Economy to get fit for the future. That's why we're starting with the decision-makers of tomorrow."
This shows the basic philosophy of the company Masterplan.com: "In the past, successful companies were always those who did social Behavior have fundamentally changed," explains Daniel Schütt, who believes in a fundamental reorientation of the working world away from specialist knowledge towards more humanity and empathy in the course of digital change: "In the end, proximity to the customers about the success of the company."
Customer proximity determines the success of the company
Customer proximity is also the philosophy of Daniel Marx and Daniel Krahn, who founded the bargain portal Urlaubguru.de in the summer of 2012 - more or less by chance at a barbecue on a balcony in Unna. Because both had good jobs at that time. But due to Daniel Krahn's passion and skill, im Internet to always find the best travel bargains and use them for yourself and the IT-Skills of Daniel Marx was created blog about cheap travel deals.
At first the whole thing was only intended as a hobby and sideline, but after only two years a GmbH with several employees was terminated and the secure jobs had long been terminated. Without any start-up capital, investors or a business plan, the site continued to be developed with growing success. Because customers and the media were made aware of the cheap deals by word of mouth I aufmerksam and continued to spread them. So it's no wonder that Marx and Krahn came up with something rather unusual for a digital company Measures set in order to continue to establish customer proximity:
A digital company goes offline and trains
For example through offlineMarketing and sponsoring measures, for example at Borussia Dortmund, as well as campaigns at city festivals, which, according to Marx, can achieve a greater reach than online campaigns of comparable price. And because customers kept coming to the company headquarters for personal advice, the company finally opened two of its own shops in Unna and Münster, where customers can have their trips put together according to their wishes by appointment.
In the meantime, almost 200 employees work for Uniq GmbH at three locations, which in addition to holiday guru and holiday guru sites in many countries also operate the portals Fashionfee, Prinz Sportlich, Captain Kreuzfahrt and Mein Pet and - also rarely for a start-up - training company in the future shall be.
Read text as PDF
Acquire this text as a PDF (only for own use without passing it on according to Terms and conditions): Please send us one after purchase eMail with the desired title supportberufebilder.de, we will then send the PDF to you immediately. You can also purchase text series.
4,99€Buy
Advice on success, goal achievement or marketing
You have Ask about career, Recruiting, personal development or increasing reach? Our AIAdviser helps you for 5 euros a month – free for book buyers. We offer special ones for other topics IT services
5,00€ / per month Book
Book eCourse on Demand
Up to 30 lessons with 4 learning tasks each + final lesson as a PDF download. Please send us one after purchase eMail with the desired title supportberufebilder.de. Alternatively, we would be happy to put your course together for you or offer you a personal, regular one eMail-Course - all further information!
29,99€Buy
Skate eBook as desired
If our store does not offer you your desired topic: We will be happy to put together a book according to your wishes and deliver it in a format of yours Choice. Please sign us after purchase supportberufebilder.de
79,99€Buy