Good stories are those we tell easy can decipher because they are a known Pattern show us for example at a Story remind. You are an ideal Marketing-Instrument.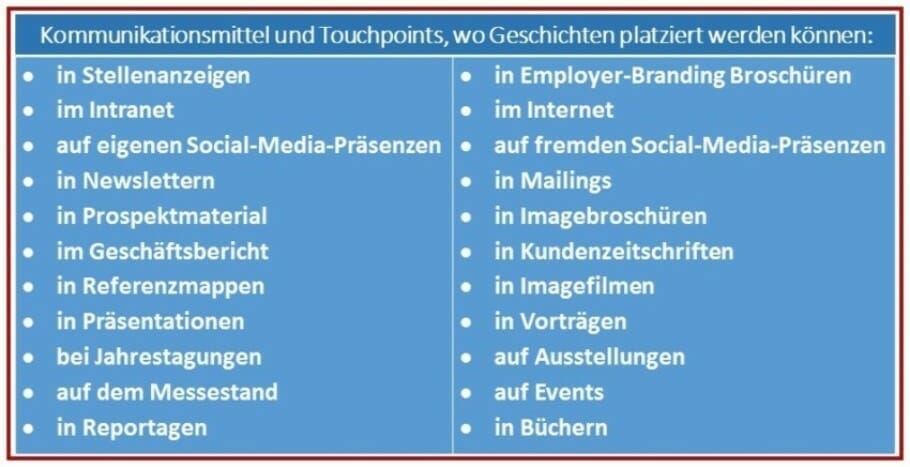 1. Each hero journey has a tension arc
Well-crafted stories are made from the Perspektive told of the hero. They usually follow the course of a hero's journey. Very important: They are told from the perspective of the hero, not from the point of view of the company. Ego postings have no place in it. Because the hero is usually the Customer. The beginning is essential, because that's when we ask ourselves: Does this have anything to do with me? If the answer is "yes" and the whole thing is relevant to us, we continue to listen. Is it for us without Significance, our brain simply switches off.
People love heroes especially when they are noble Objective pursue and surpass yourself. Ideally, the narrative thread follows a so-called hero's journey. This leads along an arc of suspense from a suboptimal starting length over obstacles and blockages, trials and tribulations or agony and nearly crashing to a glorious end.
Company, products and Employees act as accomplices, loyal companions or useful spirits who remain in the background, without which the Transformation however, does not succeed. And like in a good film, it drags on Konflikt there. the Solution then comes suddenly and fast. But above all: Good storytelling does not make your own Company but the customers to the hero.
2. How a hero's journey is structured
When building up, you can orient yourself to fairy tales. They have the following pattern:
What was the beginning (= the problem, the doubt)?
Who (= the hero) did (= the good deed) with whose help (= the good fairy)?
Where lurking dangers (= the adventure, the obstacle, the opponent)?
How was the whole thing going (= the victory, the happy ending)?
The basic model of a typical heroic journey, developed by the American mythologist Joseph Campbell, comprises twelve stages in two acts:
The first act: the old world. A situation that is suboptimal. The idea that there is something better out there. Cross-hatchers are trying to prevent the break-up. Encounters with a mentor who makes courage and shows ways. Crossing the threshold to new territory.
The second act: the new world. Examinations, opponents and allies appear. The day of the showdown is approaching. The decisive battle takes place. Victory is won. The return journey will be made. The transformation shows first fruits. The goal is reached.
3. Story telling in digital times
Modern stories are now told transmedially, that is across different media. Listeners and viewers are no longer restricted to the function of the passive consumer, but they can actively and creatively contribute: by helping to shape the progress of a story, to obtain the offered background material, or to comment and to vote at least.
Let the fans go a whole story on their own. In some cases, this even happens automatically. Thousands of fans, for example, did not want to accept the Harry Potter series coming to an end. On pottermore, they are now developing the story further variegated.
"If advertising and PR succeeds in getting the target group enthusiastic about a transmedia story, this is achieved through an increased length of stay, higher loyalty to the Brand and rewarded with a higher recommendation rate," writes Petra Sammer in her book Storytelling. Narrative images and video clips play an increasingly important role in this context. In this case, one speaks of visual storytelling.
4. Preparing stories for the media
The selected stories must be prepared for the media: the long version of the story is told on the company's own website. On Facebook is it shortened or divided into bites. On Instagram she is richly garnished with pictures. And as a moving image on YouTube and Co., for example, it comes across like a fast-paced thriller.
After all, depending on the target group, different facets of a story should be emphasized: The buyer of a machine needs a different story than the production manager. A bachelor is interested in other details than a proud family man. And a connoisseur is fascinated by other subtleties than a newcomer. Personas can be very helpful when building.
No matter how you knit your stories, they always have two objectives: an internal one, i.e. the employees, and an external one, i.e. interested parties, customers, ex-customers, partners, suppliers, banks, investors, Candidate, multipliers, the public.
Internally, examples and anecdotes can be used in a targeted manner to illustrate how corporate philoso- phy is to be lived concretely. Tell, for example, how a clever employee idea proved itself in practice and what the customers had of it.
Report the milestones to a major victory over your closest competitor. Or celebrate a successful (digital) Projects in all its facets. Develop real story series with "to be continued". Or tell a story from the perspective of different protagonists. And: feed the media stories instead of with you Money.
6. Where stories can be placed - externally and internally
Use all existing means of communication and touchpoints to place stories there (instead of boring facts). Also, I recommend at the beginning of each one Meetings to set a customer-related success story. Under the heading "The customer speaks", this gets the best place: agenda item number one on the agenda. One participant in turn reports on a customer enthusiasm story that the company has produced.
We should be dealing with We-Stories, that is, with those in which several areas were involved. This promotes the spirit of the community and the feeling of being in us. It is also about finding the secret customers' enthusiasm of the company, the gloom, which the bright light of the public does not like. They often have the best stories available.
Read text as PDF
Acquire this text as a PDF (only for own use without passing it on according to Terms & Conditions): Please send us one after purchase eMail with the desired title supportberufebilder.de, we will then send the PDF to you immediately. You can also purchase text series.
4,99€Buy
Book eCourse on Demand
Up to 30 lessons with 4 learning tasks each + final lesson as a PDF download. Please send us one after purchase eMail with the desired title supportberufebilder.de. Alternatively, we would be happy to put your course together for you or offer you a personal, regular one eMail-Course - all further information!
29,99€Buy
Skate eBook as desired
If our store does not offer you your desired topic: We will be happy to put together a book according to your wishes and deliver it in a format of yours Wahl. Please sign us after purchase supportberufebilder.de
79,99€Buy
Corporate publishing and advice
Do you want to publish, increase your reach or address applicants as an employer? We offer specials for these and other topics Consultant packages (overview) - For example, a personal phone call (price is per hour).
299,00€Buy