You want to change your life, experience more, new ones People get to know more Fun have? Congratulations. However, this shouldn't be a question of yours Finance be. If so, then please read on.
Which expenses are incurred?
Visits to the pub, cinema, holidays, the enormous increase in travel costs due to the price of petrol - you've already exceeded the monthly budget again. The monthly "leisure budget" is quickly exceeded. And that is exactly what can happen lonliness .
I have this situation in my early days as a self-employed person, in which my monthly Income wasn't that regular yet, unfortunately only got to know it too often. Then I had to see where I could save: The expenditure for Job, car, groceries, medicines or insurance were finally mandatory. I was only able to save on expenses that are not absolutely necessary Costs for the freetime.
Restrict quality of life?
The books on the subject (advertising)
But that means Quality of life limit - right? No! Because saving can even be fun: In fact, there are numerous ways to save without having to sacrifice quality of life.
Admittedly, when I die Method, which I would like to present to you here, I was a little skeptical at first: Saving – without making any sacrifices? And at first I found it very difficult to get used to calculating my monthly income and expenses with an Excel spreadsheet. But the success proved me right.
Systematically
And more than that, to systematically look at my monthly spend and to creatively search for alternative recreational opportunities has helped me to re-think existing habits, and in the end I even enjoy it. Saving does not necessarily mean giving up - but it means change.
The systematic approach requires a certain amount of personal initiative. The techniques that I have used are self-management techniques from the professional field, esp privacy transfer. That what many people in the job successfully applying can also help to improve leisure time.
Step by step to the personal savings plan
Discounts for your success (advertising)!
Step by step, I created my own personal savings plan using these techniques. And since it worked so well for me, I would like to show you in the following sections how I did it.
Maybe you will find some suggestions for an alternative leisure time. That's why I wrote this little series for my readers. Because: leisure does not have to be expensive!
Getting started to save monthly
The first step to using more sparingly Money is to think about where the money goes every month - in writing.
At the top of the sheet I have entered my monthly net income to have a calculation base, including my monthly fixed costs.
Fixed costs:
Fixed costs are the costs that are necessary and indispensable for me and in which I absolutely can not save. These include for me z. For example, all the costs of my apartment, the insurance and the basic cost of the car. These are just examples, of course. For you, the list may look very different - just delete my examples from the list or add more fields. But the less fixed costs you set, the more options you have to save afterwards.
For example, you may be surprised that I have not entered any fuel costs here. In fact, I believe that you can still save here: For example, with the right driving style. The site neuer-fahren.de offers some information about a price-conscious driving style as well as courses. Or by taking riders along for longer distances and sharing the gasoline price. Mitfahrzentrale.de you can find riders. Gasoline is one of the most flexible costs for me.
In the end, the Excel sheet shows me how much of my monthly income is still available for spending in my free time.
Flexible costs:
Then I figured out what else I'd spent my money on over the past month. To do this, I used the brainstorming process to write down everything that came to my mind. And first of all completely unsorted - I have not yet written how much I have spent and have not made any assessment as to whether the expenditure useful was or not. Here it is initially simply a matter of collecting the various items from the past month.
For me, this list looks like this:
Gym
Pub every other day
Amusement park with the family
been in the restaurant three times
concert
two new books purchased
Only now did I calculate how much money I spent on each item, again with the Excel spreadsheet. For this I have entered all my expenses in column A under Flexible costs and then in column B the costs.
How to save ideal?
The more precisely you break down your expenses, the easier it is to grasp the savings potential afterwards.
It is Z. For example, it makes sense to list pubs and restaurant visits in separate posts - usually you go to the pub more often and then spend smaller amounts, while you go to the restaurant less often, but then spend more per visit. Later, the Excel spreadsheet shows us exactly how much money you need to save on each item to reach the set savings target.
Speaking of restaurant ...
As an alternative to restaurants I have discovered a small but well-maintained snack: The food is good - and the biggest benefit: The small restaurant is a real communicative meeting place.
On the other hand, I like happy-hour-hopping in the pubs: I read the Happy-Hours of different places on the Internet site of my city magazine, or write down directly when Happy-Hour is at bars I like. And after that, I set myself up when I want to save money, but still want to leave.
Or I organize a fun picnic in the summer with friends instead of a beer garden. Everyone brings something to drink and nibble with. For many, this is a bit of getting used to, but: It always depends on how such ideas are sold.
On the other hand, in many cases, it is equally useful to group certain items, such as those for telecommunications. Nowadays a considerable savings potential can be achieved by flatrates.
How to evaluate the table
In the end, the Excel table counts automatically how much I spent, and calculates how much I have to save on a monthly basis so as not to exceed the amount that is available to me monthly. So I can determine my Sparziel exactly and knows how much I have to save on a monthly basis.
As an example, I already have a few items in the Vorlage entered, such as the cost of petrol, the gym or excursions. The values ​​are chosen completely arbitrarily, you can of course change the individual items at any time, add new fields to the table or rename existing fields and adapt the table to your needs.
Also, I left you space for your own position in the "Other costs" fields. So that you clear If what you should enter exactly in the fields, the individual items have been supplemented by explanations that you can call up by clicking on the small square in the respective field. If you need more fields, you can also copy the existing fields - but remember to copy the formula too! For me, clothing and shoes are also part of the flexible costs. These are basic needs, but on the other hand, not all clothing is the same, and savings can also be made here.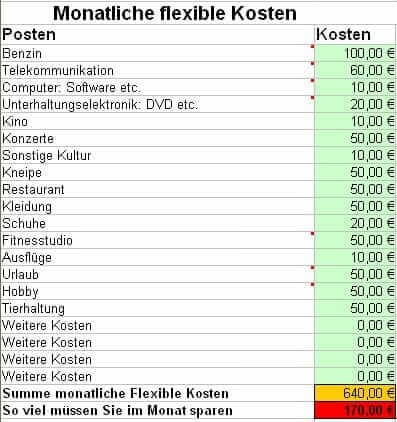 Speaking of: bonus programs and loyalty cards
Shoe and clothing stores in particular are now advertising with bonus programs and customer cards. That sounds cheap at first, but caution is often required: Participation is usually only worthwhile if you shop there quite often. A closer look is another Shop often cheaper than the promised discount. In addition, personal data is collected and passed on through such customer cards - pay attention to which data must be given. And check the terms and conditions: what happens if you lose the card? What happens if you use the card as a means of payment but are in arrears?
By the way, you can also get an overview of the private costs for the whole year draw up, all you have to do is copy the monthly sheet several times. This makes sense, because it makes the overview more objective. Larger but infrequent expenses, such as vacations, should be divided by the number of months. Then you will have a better overall view.
... Speaking of vacation
For example, I make a kind of wellness and recreation holiday, which is partly accepted by the fund, once a year through my health insurance.
And after I was annoyed that there are no low-cost airlines to some European countries, I sometimes travel by bus: companies like Eurolines serve all of Europe.
Another tip: If you do not want to travel alone for cost reasons, you should enter the term "travel partner" on Google - here you will find a wide, constantly changing range of options, including passengers and passengers.
A cheap flight and also a free travel guide for download offers German Wings.
If you want to determine, not just for your leisure time behavior, but in general, what you are spending all your money on, where your money is, you can use one of the many household books, a household calendar or "budget planner". Authorities, ministries and credit institutions offer models for this.
Read text as PDF
Acquire this text as a PDF (only for own use without passing it on according to Terms and conditions): Please send us one after purchase eMail with the desired title supportberufebilder.de, we will then send the PDF to you immediately. You can also purchase text series.
4,99€Buy
Advice on success, goal achievement or marketing
You have Ask about career, Recruiting, personal development or increasing reach? Our AIAdviser helps you for 5 euros a month – free for book buyers. We offer special ones for other topics IT services
5,00€ / per month Book
Book eCourse on Demand
Up to 30 lessons with 4 learning tasks each + final lesson as a PDF download. Please send us one after purchase eMail with the desired title supportberufebilder.de. Alternatively, we would be happy to put your course together for you or offer you a personal, regular one eMail-Course - all further information!
29,99€Buy
Skate eBook as desired
If our store does not offer you your desired topic: We will be happy to put together a book according to your wishes and deliver it in a format of yours Choice. Please sign us after purchase supportberufebilder.de
79,99€Buy