It is said that clothes make the man. One hears less often: clothing makes you richer and more productive. But those who live and shop in a minimalist way benefit from both effects.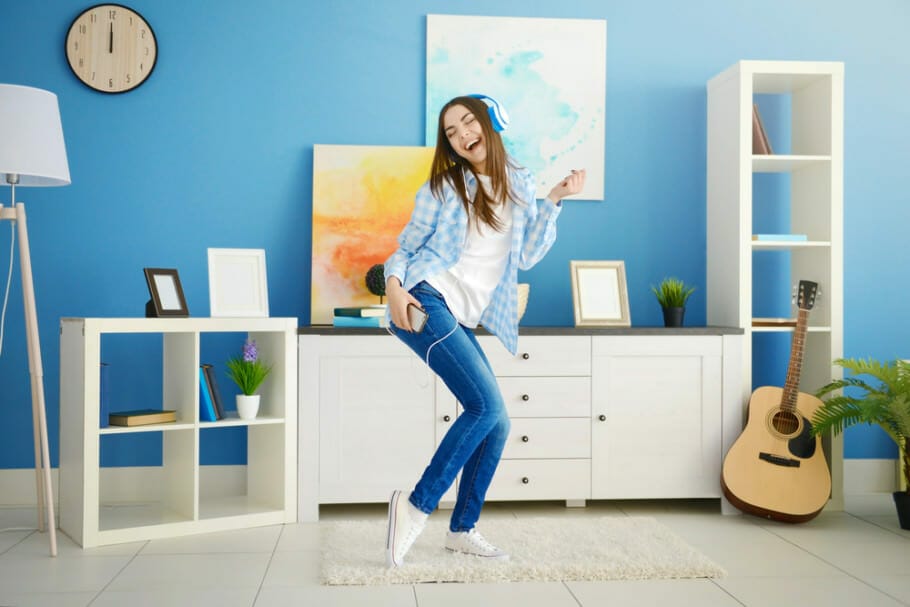 More productive thanks to minimalism
In any case, the increase in productivity depends heavily on the choice of the right garment. Since I've been traveling a lot for work, I've noticed how important it is to choose the right clothes. Not so much because of the occurrence - although this is of course an important aspect - but rather for practical reasons.
Since I am here on one day and there on the other day, I have no desire to carry a huge suitcase with me. Of course, I still want to be adequately dressed. For example, on press trips, it is not unusual to go hiking at lunchtime and eat in the 5-star restaurant in the evening. The right clothing is required for every situation.
Simplify - let's do it like men
Men have less of a problem, as I have found: a suit for the evening and pants and shirt / T-shirts for the day are enough for them. But wait a minute, who said it was for Women always has to be so complicated? For women, too, a black dress, for example - combined differently depending on the occasion - and jeans for the daytime are sufficient.
Both utensils have become my favorite items of clothing: the black dress because it offers endless combinations. The jeans because they don't wrinkle and also look dirty (yes, this can happen on the way!).
Focusing while shopping saves money and space!
Cait Flanders has this aspect with her book title "Have less, more life", published in 2019 by MVG, very nicely put into words. And tells how to do it, to buy less or nothing at all:
The rules for the shopping ban seemed very simple: In the coming year I was not allowed to buy any new clothes, shoes, accessories, books, magazines, electronic devices or anything for the apartment. Consumer goods, groceries, toiletries and petrol for cars were allowed. I was allowed to buy anything that was on my "approved shopping list." These were a few things that I could foresee that I would need in the near future. I was also allowed to replace items that were broken or worn out if absolutely necessary, but only if I discarded the original part. On certain occasions I was still allowed to go out to eat. However, I was no longer allowed to buy coffee to go. It was my biggest addiction and something I no longer wanted to spend $100 or more on every month. When I decided that I couldn't buy anything new anymore, I also decided to get rid of everything old that I no longer needed. A look around every corner of my apartment showed me that I had more than I needed and didn't appreciate any of it. I wanted to use what I already had. I wanted that feeling that everything had a purpose, and anything I would carry through the front door in the future should have a purpose too. If that wasn't the case, I could also get rid of it.
The same dress for a year?
Millionaire Meike Winnemuth also dared to experiment with the same dress (in three identical designs) for a year, each in a different combination, and documented this year. You can see that women's fashion doesn't have to be as complicated as we always think. "Simplify your wardrobe" is the motto!
So my solution to avoid unnecessary luggage is to buy practical clothes. Without extra overs. And easy to combine. A positive side effect is a cleared out closet. Hours of thought "What am I going to wear today?" not applicable. One grip and you have something suitable. Choosing the right clothes actually makes them more productive. Try it.
Living minimalist requires exactly the right things
The only problem with the whole story: It is not that easy to find the right clothes. If there is something suitable, I also like to buy in stock. Most of the shops, however, are full of shrill junk and wildly patterned trousers, which you will never wear in the end because they cannot be combined, and which will end up in the old clothing collection as an expensive mistake.
For example, find simple black dresses. Or the matching simple, black and comfortable (!) Shoes. I recently drove a shoe seller to despair with this actually simple wish. The only thing that helps is to sharpen your eyes and to focus precisely on your selection: What do I want? What suits me What fits to what? Actually just like in other areas of life. The right Objective saves money and, in this case, space too.
Create fixed rules
It can therefore be helpful to draw up a corresponding list, as Cait Flanders also suggests in her book. She has laid down fixed rules for a year of shopping spells and has written them down. But of course this is also possible for all other rules.
What I can buy:
Food and kitchen supplies • Cosmetics and hygiene articles (only when they are used up) • Cleaning agents • Gifts for others • Items from the approved shopping list
What I can't buy:
Coffee to go • clothes, shoes, accessories • books, magazines, notebooks • things for the home (candles, decorative items, furniture, etc.) • electronic devices
Approved shopping list:
A dress for different weddings (a dress and a pair of shoes) • sweatshirt (I only had one and it already had many holes) • sweatpants (I only had one) • boots (I didn't have any suitable for autumn / winter) • Bed (mine was already 13 years old and urgently needed to be replaced) • I can buy everything that needs to be replaced; the original product must be thrown away or given away.
Read text as PDF
Acquire this text as a PDF (only for own use without passing it on according to Terms & Conditions): Please send us one after purchase eMail with the desired title supportberufebilder.de, we will then send the PDF to you immediately. You can also purchase text series.
4,99€Buy
Book eCourse on Demand
Up to 30 lessons with 4 learning tasks each + final lesson as a PDF download. Please send us one after purchase eMail with the desired title supportberufebilder.de. Alternatively, we would be happy to put your course together for you or offer you a personal, regular one eMail-Course - all further information!
29,99€Buy
Skate eBook as desired
If our store doesn't offer you your desired topic: We will be happy to put together a book according to your wishes and deliver it in a format of your choice. Please sign us after purchase supportberufebilder.de
79,99€Buy
Corporate publishing and advice
Do you want to publish, increase your reach or address applicants as an employer? We offer specials for these and other topics Consultant packages (overview) - For example, a personal phone call (price is per hour).
299,00€Buy