A study by Stack Overflow of 64.000 developers shows that many are dissatisfied with the payment. Personnel managers must, especially when Recruiting, rethink!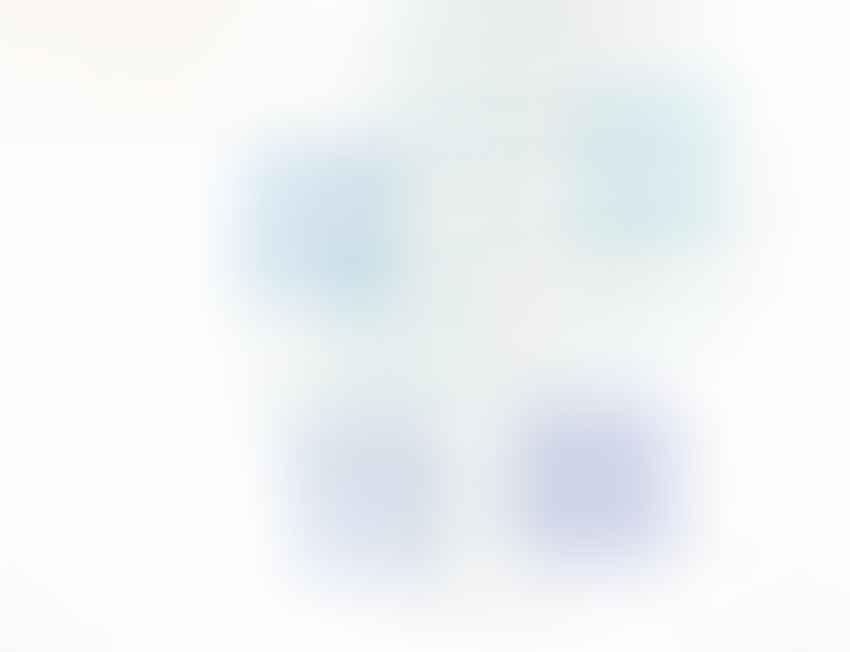 The average German developer is male, works in Bavaria and has more than 10 years of coding experience
Unfortunately, it is not surprising: Germans Developer are still mostly male and work for medium-sized companies in Bavaria Corporate. 90 percent of the participants are male and the proportion of women is just under five percent. Regarding the regional distribution of Germany, it can be said that most of the programmers work in Bavaria (19,4 percent), followed by North Rhine-Westphalia (17,4 percent) and Baden-Württemberg (15,2 percent).
The Startups12,9 percent of the German developers surveyed live and program in the stronghold of Berlin, which gives the capital a very high density of developers compared to the federal level - more than in all of the new federal states combined.
To study
The books on the subject (advertising)
Stack Overflow has unveiled the results of the latest global developer study. More than 64.000 website users from over 200 countries took part in the survey, including over 5.200 developers from Germany. Most participants are web and desktop developers as well as mobile developers and database administrators, the most popular industries for developers are software development (22,6 percent), Internet- and Onlineservices (14,9 percent) and the automotive industry (6,2 percent).
It is also surprising that 53,2 percent of those surveyed stated that they had more than 10 years of programming experience and 20,2 percent of this proportion had more than 20 years of experience. Coding experience is not the same as professional experience; many IT-Specialists have been writing code before their first real job. A fact that you should know when looking for programming talent as an employer, because even without many years of experience Study there are programming talents who are incredibly capable.
Programmers are mostly autodidacts
One thing stands out in particular: 93 percent of the Germans surveyed stated that they had at least partially taught themselves their skills. They learned their skills primarily with the help of the technical documentation (83,3 percent) or the answers to Stack Overflow QundA (79,6 percent) and a further 34,2 percent of those surveyed stated that they could improve their current skills thanks to an online course Have reached educational level.
This shows that programming today is still primarily a practical one Job is not necessarily the top universities in the CV thats it! Alternatives Educational paths are therefore not uncommon, although 30,4 percent of those surveyed have a master's degree or a comparable degree. Incidentally, one of the latest findings from the study is that developers don't have to have been programming since childhood to be successful, as is often assumed. Rather, beginners with only one to four years of programming experience can easily get a job as a programmer. This should be the case for all career changers and new programmers Courage do!

Discounts for your success (advertising)!
The status quo at the workplace: satisfied, but underpaid
Developers are general with their job satisfied. On a scale of one to ten (1 = not at all satisfied; 10 = absolutely satisfied), more than half of those surveyed placed themselves between seven and eight.
Regardless of satisfaction, the report also shows the willingness of developers to change: 9 percent are actively looking for a new job and just under 60 percent of all developers are open to offers. This is a great opportunity for companies to attract new talent and engage developers to compete in the battle for IT specialists. By international comparison, relatively few developers in Germany are looking for a new job: 13 percent of all developers worldwide are actively looking for a new job.
But all developers have one thing in common: When it comes to Money going feel themselves programmers underpaid. More than half of those surveyed in Germany (52 percent) stated that they felt underpaid in some cases, one in ten even clear underpaid. What the payment looks like in Germany and how it differs regionally can best be seen directly in the report.
German developers like Java Script and code in their spare time
In the most popular programming languages, Java Script retains the crown for a further year in a row: 41,3 percent of participants said they liked JavaScript, followed by Python (32,7 percent) and Java (31,4 percent).
With the sheer range of different programming languages ​​Perl, Erlang, Groovy and Coffeescript (each 2,9 and 2,8 percent), the worst way to go is tailing. Programming is also a popular hobby among the respondents: 77 percent from Germany stated that programming is also their hobby. Whether own or open source projects - the developers are also busy in their spare time with lines of code.
This is important to developers at job and potential colleagues
When evaluating new positions, the most important things for applicants are professional development opportunities, technologies and the working environment. Only then does the criterion follow salary. When it comes to additional benefits and employment contract details, home office regulations, vacation days and the number of hours per week are particularly important to developers.
Asked how developers in the role of recruiters Candidates for the Team would choose, they listed the ability to communicate and work independently ahead of concrete specialist knowledge. The university Vocational Training named them only in fifth place. Good is after Opinions IT professionals, i.e. those who fit into the team, tackle projects independently and reliably write their code.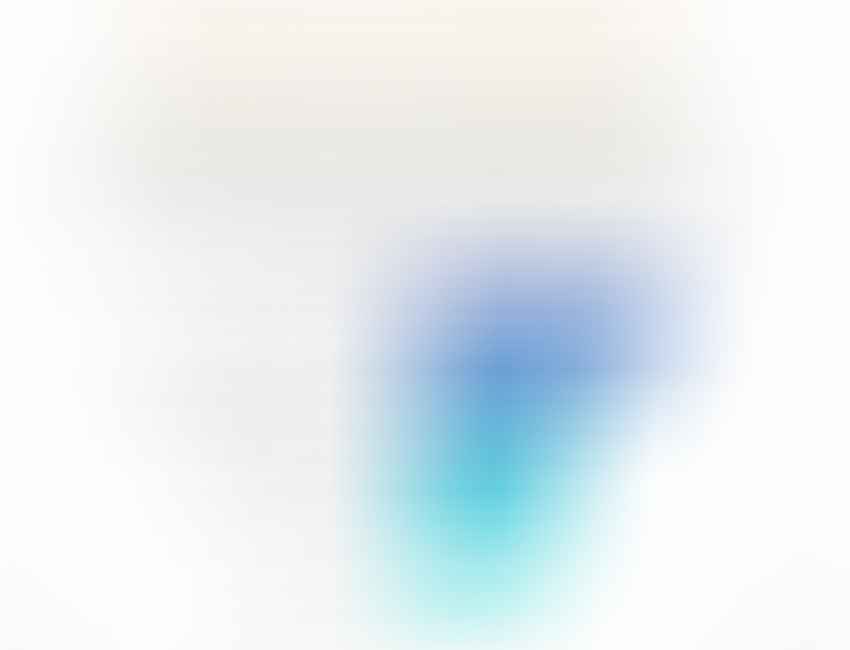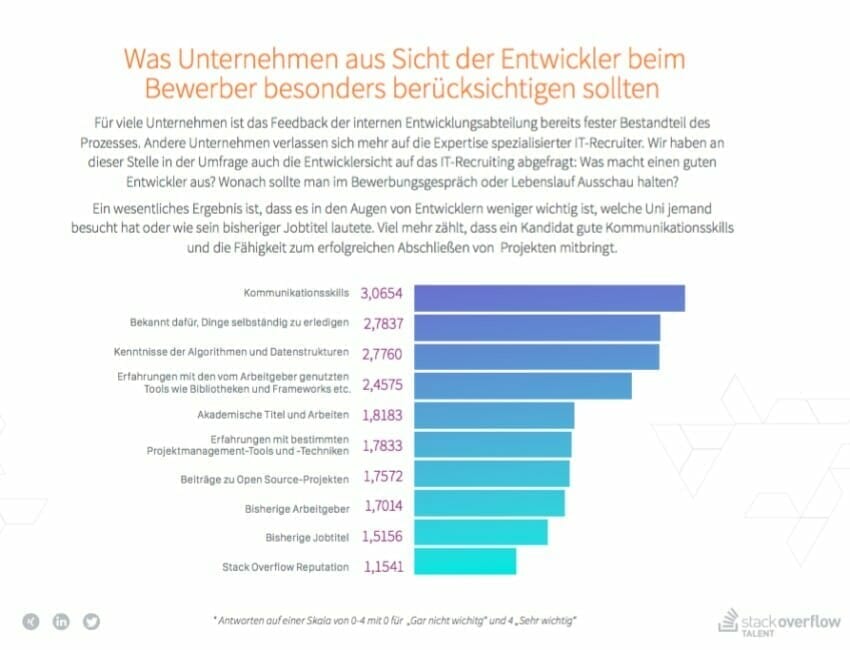 Conclusion: Personal managers have to rethink
The study shows that many developers are interested in Further Trainingare interested in new challenges and career opportunities. At the same time we see that HR managers need to rethink:
Developers often have more experience than officially on their resume. Companies should therefore be open to alternative educational pathways in order to win the good talents in the highly competitive IT market.
Read text as PDF
Acquire this text as a PDF (only for own use without passing it on according to Terms and conditions): Please send us one after purchase eMail with the desired title supportberufebilder.de, we will then send the PDF to you immediately. You can also purchase text series.
4,99€Buy
Advice on success, goal achievement or marketing
You have Ask about career, recruiting, personal development or increasing reach? Our AIAdviser helps you for 5 euros a month – free for book buyers. We offer special ones for other topics IT services
5,00€ / per month Book
Book eCourse on Demand
Up to 30 lessons with 4 learning tasks each + final lesson as a PDF download. Please send us one after purchase eMail with the desired title supportberufebilder.de. Alternatively, we would be happy to put your course together for you or offer you a personal, regular one eMail-Course - all further information!
29,99€Buy
Skate eBook as desired
If our store does not offer you your desired topic: We will be happy to put together a book according to your wishes and deliver it in a format of yours Choice. Please sign us after purchase supportberufebilder.de
79,99€Buy