Hone Mihaka is a Maori and chief of the Ngapuhi. Thanks to tourism, he has it to modest prosperity brought. That has a big part in it Internet. How does he live and work between tradition and modernity, between Business and simple conditions in the extreme north of New Zealand?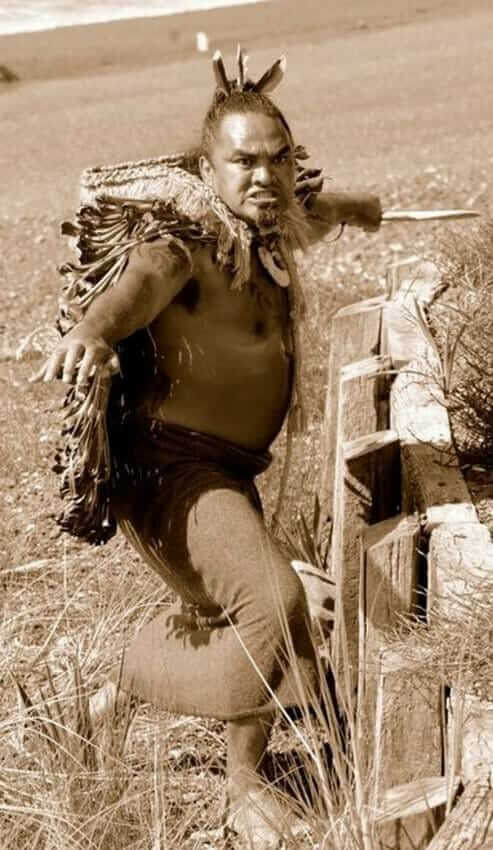 First welcome, then reinkommen
Before I enter his house, like every guest, I am greeted with the traditional, solemn welcome ceremony, the whakatau. Hones Ms. Judy stands at the entrance of the house and sings. For the ceremony, she pulled a skirt over her jeans to cover her legs and thus identify herself as a woman. Because women who show their legs are like men in the Maori tradition – and are treated like men, Hone explains to me.
Judy invokes her and my ancestors who are in the Maori philosophy always and everywhere with you travel. She asks for information as to whether I am coming with peaceful intentions or not. Finally, I am welcomed and reply in my own language. This is followed by the traditional Maori greeting of pressing nose and forehead together. Now I can enter the house.
House conversion in only 5 days
Then it becomes very practical: soon, Hone tells me proudly, he wants to completely renovate his house. Real doors in all rooms instead of curtains for separation, even in the toilet. One floor more for the guests to get in Future no longer have to sleep on the floor in the garage.
The Maori chief and his tribe, the Ngapuhi, run the tourismCorporate Taimaitours. When Hone started tourism, he didn't even know what a computer was. Today he runs his own website, blogs and works for Facebook.
A staircase and a porch. And a real kitchen. The house conversion should only take five days: Then comes the whole thing Family, everyone camps in the garden and rebuilds the house: I ask, doubting whether that isn't a little short. "No", Hone dismisses, "everybody comes to help. And he promises photos of it at Facebook adjust. To date I haven't found any.
Flute in the ear
"Even backpackers have signed up for support," says Hone proudly - and laughs. He is now known far beyond the borders of New Zealand, thanks to his job as a "tourist attraction" that he has been doing for 15 years. Because Hone is a strange guy.
So he has a flute in his ear instead of an earring. This is very practical because he can take it out and play on it at any time, he says - and then demonstrates it straight away. He can also blow melodies on shells. How did he make such a big hole in his earlobe? "With a feather" he explains and adds to my puzzled expression: "With the feather I drilled the hole and then gradually enlarged it with a small branch."
Video Note: If you don't see a video here, you have to activate the option "Watch videos" at the end of the page under "Privacy and Cookies"!
Tourism has brought prosperity
Tourism is a blessing to Hone and Judy - he brought them prosperity. Now, finally, they have earned enough for the house remodeling. His wife Judy can not wait.
She, who grew up in a big house in Wellington, the Mother Maori, the father knows, had to adjust to the small, rather shabby wooden house that Hones' parents used to own, she tells me: "When Hones' father asked us to move here in 1997, I didn't want to – our standard of living was better in Auckland ." Now she doesn't remember how she used to be able to live in the city with all of them People and the smog.
"I'm not a show pony"
Hone shakes it Head, when I tell him that there are people in Berlin who are demonstrating against tourists: "Fighting tourism means Money to fight," says Hone. At the beginning he worked in the tourismIndustry not even enough money to support his small business Marketing close.
But then the New Zealand Tourist Board discovered the Maori as the unique selling point of the country - and Hone got orders. At first he therefore appeared with a Maori group who, for example, performed the Haka, the traditional ritual dance of the Maori, on cruise ships. But that was soon too artificial for him, too fake: "I'm an original, not a show pony," he says confident.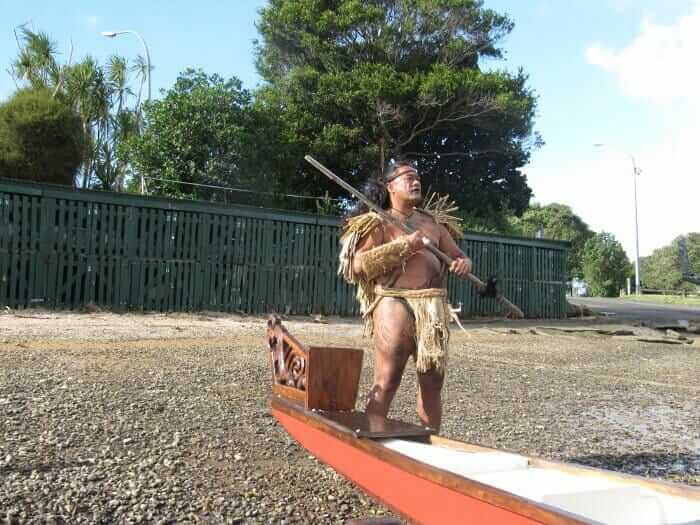 A motor at canoe for the tourists
Today, Hone and his tribe offer canoe tours for tourists on the Waitangi River. More than just paddling: before each tour, the gods of water, wind and wood are invoked. Because the canoes, the waka, have a long tradition with the Maori and tell stories.
With just such canoes, the ancestors were rowed from Hawaii to New Zealand - a nautical masterpiece, so to speak. Its nine canoes were made by the tribe itself - and has largely followed the traditional design. However, the modern canoes are made of fiberglass.
Hone has just bought a motor for his canoe - "if the tourists get tired". And he didn't start his bast skirt today either. "Too cold" as he says.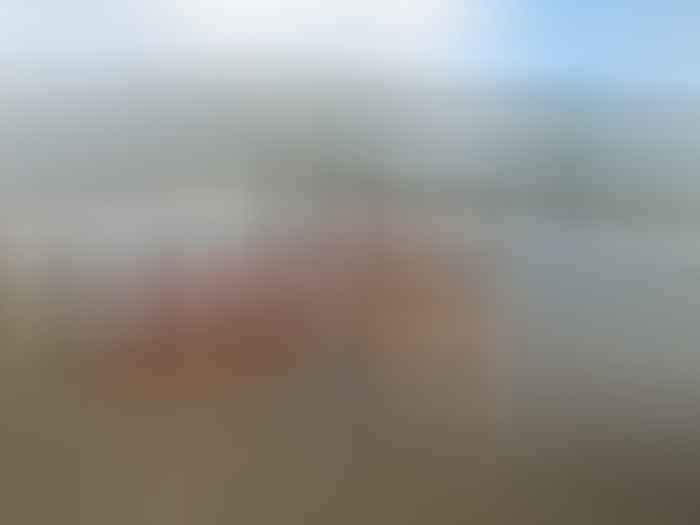 Little mishaps on historical ground
I accompany him on a tour with students from an elite girls' school in Auckland. Contrasts could hardly be greater. And while Hone tells us about James Cook, who was the first European to visit the Bay of Island and gave it its name, about the early European settlement and the Waitangi Treaty, which was signed here in 1769 - he throws his euphoria into it Lecture bowed his car key into the water.
And of course you won't find him again. Now he has to borrow a cell phone from the teacher to call his wife to bring him the spare key. We can't make it to Hararu Falls today. But the girls had anyway Fun. There is no doubt that his culture and traditions play a major role for him.
Strengthened by Traditon
Earlier, Hone says, he did not know who he was: he had somehow tried to survive, more than 20 for years, aimlessly in different places of New Zealand and finally in Auckland. 1997 then return to the Bay of Islands.
Since then, Hone has become increasingly involved with the traditions of his tribe and developed his own philosophy of life.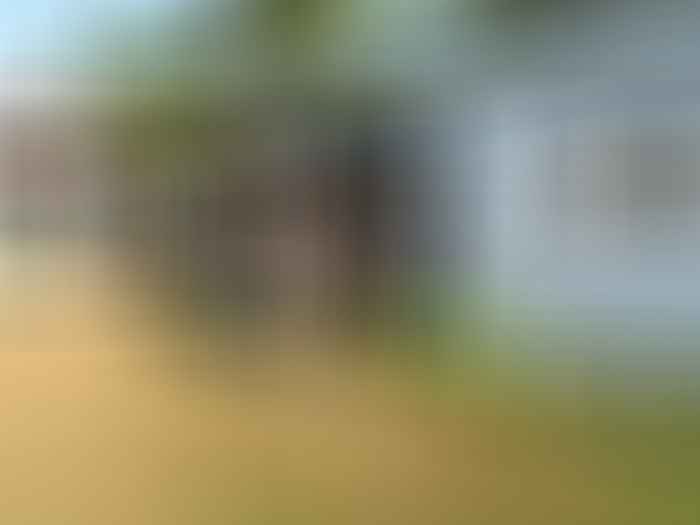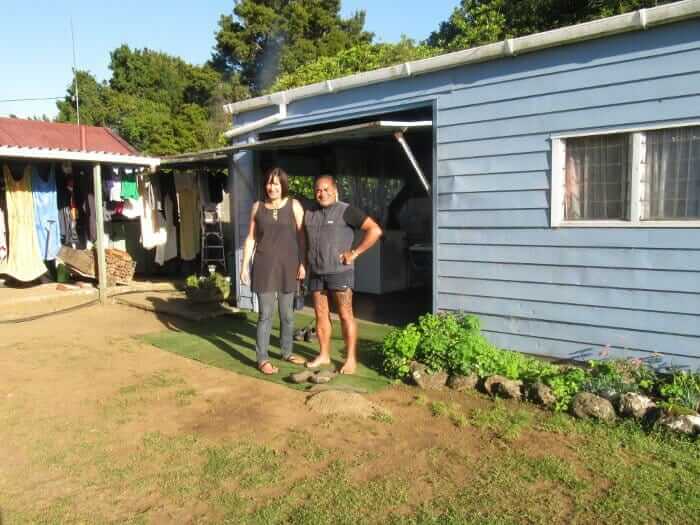 His ancestral line he knows extensively
He knew his entire line of ancestors by heart until 1819. At that time one of his ancestors traveled to London, visited King George and got to know the way of life of the Europeans. And translated the Bible with 14 letters from the English alphabet into Te Reo, the "language given by the gods" to the Maori. English, on the other hand, is a human-made language, says Hone - and it sounds a little derogatory.
In the garage, which serves as a living room, his ancestors are lined up as photos and look down at us while eating. Of the Respect before the deceased is so big that I can not take pictures of these pictures.
Real values ​​or just for tourism
And yet, does this reflection on family traditions not have to do with the fact that he earns money with tourism? This denies Hone energetically - and as a counter-example, he calls his Ta moko, the traditional tatoos of Maori, which he carries all over his body.
"If I only wore them for tourists, they would be painted on like in other regions of New Zealand," explains the Maori chief. In fact, some of the tattoos that tell his family history are still incised the traditional Maori way - with bones dipped in paint and then pierced into the skin. By the way, not the only bloodthirsty custom of the Maori, who also cultivated canibalism in earlier times. But that's long gone insured you me.
Bloody affair
Today, says Hone, the Maori also prefer the modern tattooing method, even if it is more painful: "With traditional tattooing, you lose too much blood and the risk of infection is greater because of pollution. "
"Who can wear a Ta moko?" I ask. "Everyone", says Hone and tells of his German friend, who is a tattoo artist and appreciates his Ta moko more than other tattoo artists. Because a Ta moko knows no prejudices, he explains to me and adds: "People are racist and discriminate, culture is not."
Video Note: If you don't see a video here, you have to activate the option "Watch videos" at the end of the page under "Privacy and Cookies"!
"I was trying to survive somehow"
Hone proudly wears his family on his body today, he says. And yet he came to his ta moko late himself. As he jung was, his father asked him if he wanted to wear it – and he declined. "Culture and traditions didn't interest me, I just dabbled in an unjust one Society, which oppresses us Maori to get by!
Today I try ways to find, to change that - but that takes time." The social system must be greatly improved, more must be done to help the lower classes. Germany, he thinks, could be a role model.
Only no dyes
Despite this Optimism his deep frustration about the social and economic situation of the Maori is noticeable. The Treaty of Waitangi is regarded worldwide as exemplary in dealing with indigenous people and Te Reo is the official language. But New Zealand's welfare system has done little for the Maori or him, says Hone.
That's why it's still often the case today that the Maori do the simple, physical work - "and the whites do the well-paid business jobs." For many, the Maori are still the stumbling block of society, he complains bitterly. He has something against whitewashing: "Some say you shouldn't talk about the negative things in front of tourists so that visitors can get a positive impression of New Zealand. I say you have to Honestly his!" he says calmly. And doesn't have any Problems by photographing his house with the laundry hanging out: "That's the truth!"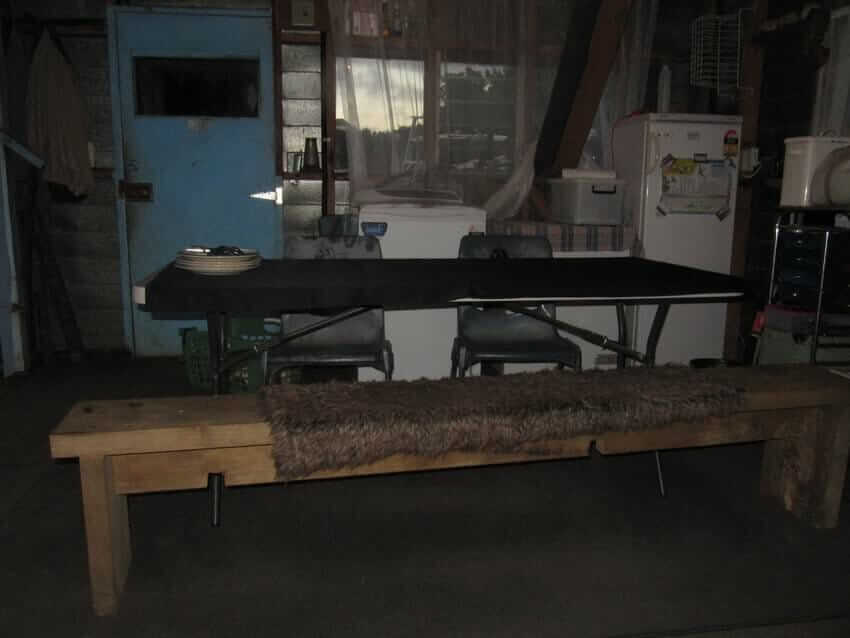 Spaghetti bolognese and sweet potatoes
But true are also the small breaks and contradictions between tradition and modernity. Traditional Maori cuisine would be on their table - and I'm very excited. But then there's spaghetti bolognese with sweet potatoes and lettuce.
Hone also likes to talk and talk a lot about the pollution that the whites, the Pakeha, have brought. In fact, New Zealand is no longer the untouched natural paradise it seems: around 80 percent of the original rainforest has been cut down and many a lake suffers from environmental pollution.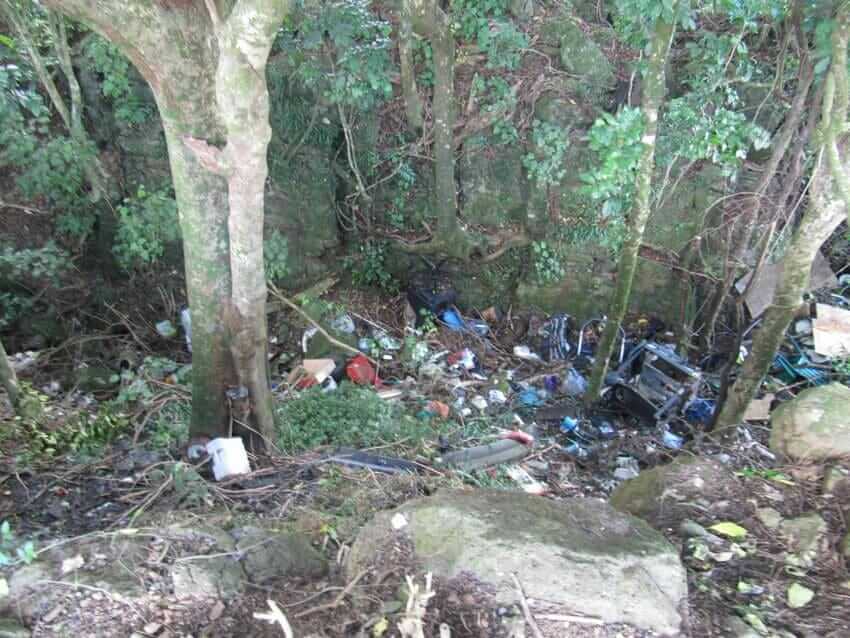 Mercedes as a lover
Yet Hone is not exactly an ecological lifestyle: in a ditch behind his house lies the rubbish of recent years - from sports equipment to kitchen machines. And Hone owns four cars. A van into which the canoes fit. A van for the family. A car for his wife Judy. And finally an old Mercedes.
Now Hone wants two vans sell and buy a new, larger one that will fit both canoes and family. Used means he got all his cars. Also the Mercedes, which a friend gave him cheaply years ago. "I never thought I'd be able to drive a car like that," he enthuses, amusing me that a German car brand that didn't pass the moose test had so much reputation on the other end of the world World enjoy.
Driving fun with it is not cheap, because the collector's item simply consumes an incredible amount of petrol. "If I don't have any money, the car just stops," says Hone and laughs. Presumably, the New Zealanders do not have toTaxes numbers.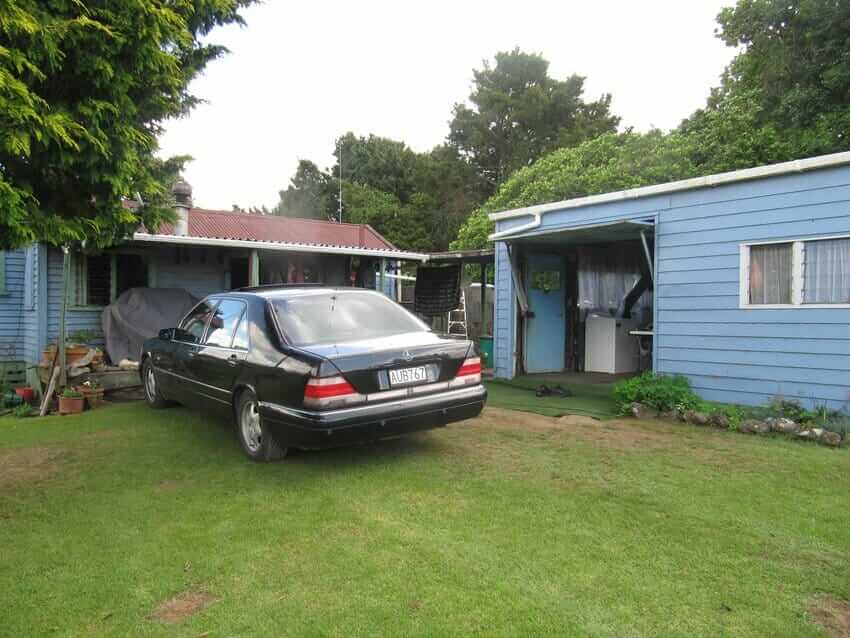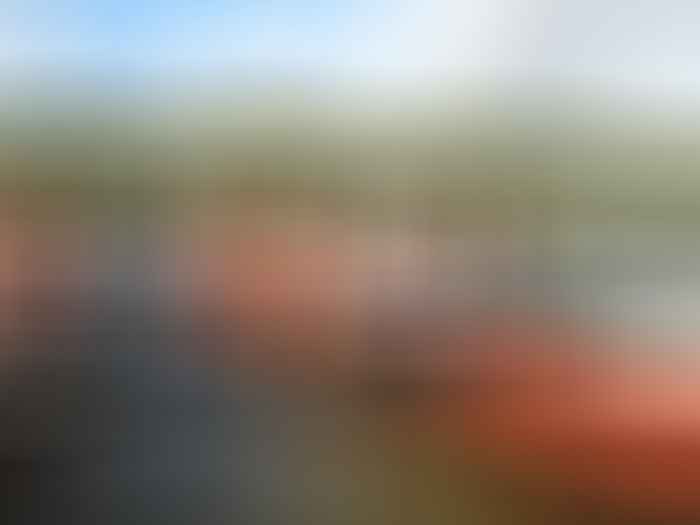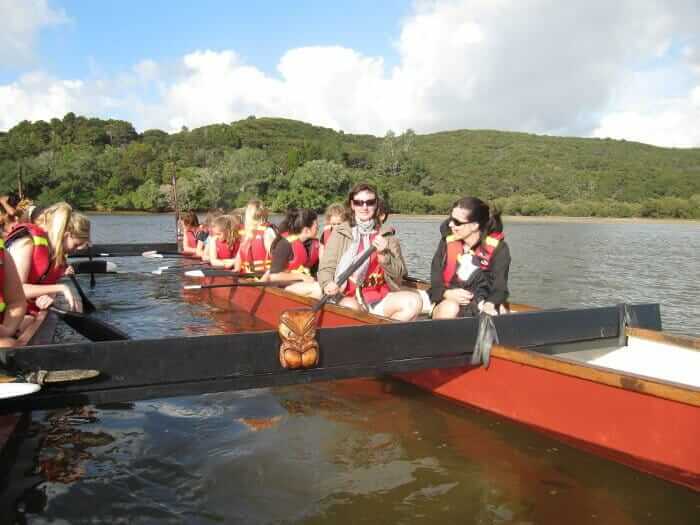 Internet - curse or blessing?
The Internet has greatly improved his life, he states: "The customers can now book me directly and even find me from abroad!" But he also has the disadvantages of the modern ones Communication got to know: "You can also spend a lot of time with it."
How to prove the morning after waking up first the phone calls go: Hone has received a booking, must clarify inquiries, eMails answer. His wife Judy also telephoned, sometimes with two mobile phones at the same time.
Very normal business people
There is no place for social romance, the two Maori are two ordinary business people who answer customer inquiries on several channels. The region in which they live has also changed a lot over the past 10 years: "There weren't even roads here before," Judy tells me.
The canoe tours feed the whole family. Hone has two adult daughters and five grandchildren. The tribe, which consists of 3.000 people and meets three times a year, is the only one to offer canoeing.
From canoeist to golfer?
Hone, meanwhile, wants to expand the canoe business: His wish is that the company is still growing and about 80 to 100 gives people of his tribe work.
Then he wants them Geschäfte leaving the younger folks to pursue new projects of our own - eg he wants to offer golf tours and teach golfers about Maori culture. I am amazed to learn that Hone is a passionate golfer.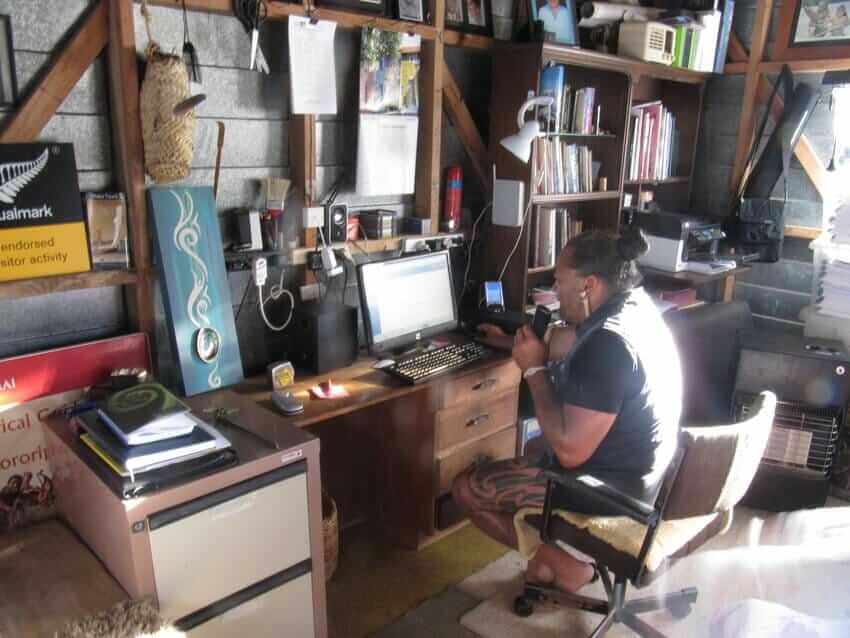 Even seen nothing from the world
However, Hone is already thinking about them pension. In four years, when he and his wife are 54, he wants stop to work and travel the world in a mobile home or as a backpacker. And take his family with him. Only his wife Judy is not entirely happy with her Idea.
In other countries Hone has hardly been so far: From his Dutch travel agency Travelessence, he is invited once a year to Europe to present his home country at the Vakantiebeurs Trade Fair in Utrecht - quite classic in Baströckchen. Then, as he says, he flies business class because he is not used to flying. Apart from these trips, Hone has never been outside New Zealand.
Be part of a culture or live the culture?
Nevertheless, in his work with tourists from other countries, Hone has also studied their culture – and his own Opinions educated about it: Many white people, Hone has observed, want to be able to choose whether they want to be part of a culture or not.
For Hone, this is absurd: "I don't choose my culture and I'm not just a part of it, I AM my culture. You don't have any Choice. " This is not only a theoretical question for the Maori, but also makes a difference in practice: "I am not only part of this earth, I am the earth, it inevitably belongs to me. If I'm just part of something, I can break it."
With tourism, the culture betray?
"Educated people often see culture in a distanced way, not wanting to be a part of it." says Honey. "What a crap. You don't need any Educationto know where you belong. Father Sky, Mother Earth, Wind are the siblings. All the expensive certificates are useless, for which people spend a lot of money."
Nevertheless, Hone does not make a bad profit from these educated whites: A group of tourists lived with his tribe for a week to share the experience and paid $ 2400 for it. "But just because he works in tourism," says Hone, "doesn't mean that I betray my traditions. I let people into my life for some time and they respect my customs. I want people to understand because they hear something they don't know.
Maori: Back to the roots
Why does he think people are so interested in Maori culture? "Many people, Hone says, have forgotten their roots. The Maori have preserved something that others have lost. We always have to know where we come from to know where we are going. The key to the future is in the past. And that's exactly what people are looking for. "
Tangata Phenua, People of the land, so the Maori call themselves. Phena means country in the Maori language. Maori is an English word and the embodiment of the various tribes. That would be something like this, says Hone, as if you call all the white Europeans.
Video Note: If you don't see a video here, you have to activate the option "Watch videos" at the end of the page under "Privacy and Cookies"!
Maori: Progress in tolerance
In a globalized world, tolerance is important, Hone says - and precisely in this area, the Maori are extremely progressive because they have dealt extensively with cultural identity and loss of identity. Maori are very modern.
Maori appreciate their cultural values ​​and principles, which makes them open and able to understand other people as the world gradually changes into a multicultural society. "If we teach our children that, we will break down barriers!"
What if the tourists stay away?
What happens if one day the tourists stay away? Hone is not worried. "I'm fine - unlike others."
Read text as PDF
Acquire this text as a PDF (only for own use without passing it on according to Terms and conditions): Please send us one after purchase eMail with the desired title supportberufebilder.de, we will then send the PDF to you immediately. You can also purchase text series.
4,99€Buy
Advice on success, goal achievement or marketing
You have Ask round to Career, Recruiting, personal development or increasing reach. Our AI consultant will help you for 5 euros a month – free for book buyers. We offer special ones for other topics IT services
5,00€ / per month Book
Book eCourse on Demand
Up to 30 lessons with 4 learning tasks each + final lesson as a PDF download. Please send us one after purchase eMail with the desired title supportberufebilder.de. Alternatively, we would be happy to put your course together for you or offer you a personal, regular one eMail-Course - all further information!
29,99€Buy
Skate eBook as desired
If our store doesn't offer you your desired topic: We will be happy to put together a book according to your wishes and deliver it in a format of your choice. Please sign us after purchase supportberufebilder.de
79,99€Buy