Benchmarking and best-practice examples are seen by many consultants as the silver bullet Success preached - also in personnel marketing. But if you always do it like the others and compare yourself, you will never become your own ways .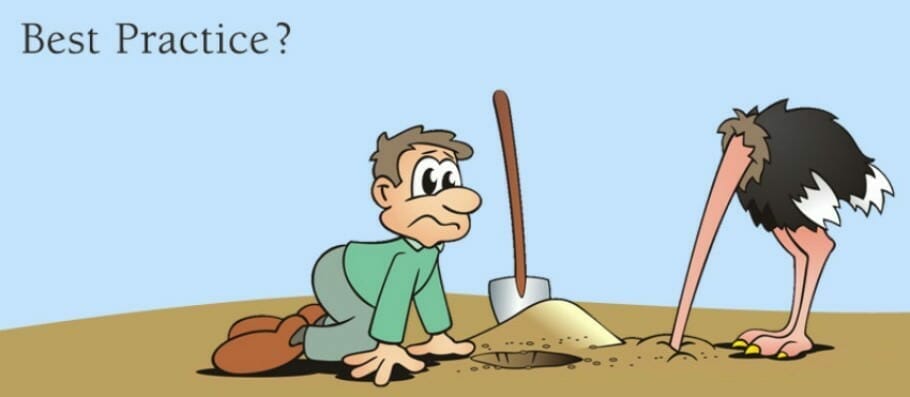 Benchmarking or why do everyone always do the same?
Hardly one Corporate has been spared. The belief that benchmarking is the guarantor of success has been haunting the management and HR departments for years. There are hardly any textbooks, specialist articles, congresses, seminars or workshops that do without best practice examples - some even only consist of such examples. But beware of the supposedly best - even in personnel marketing benchmarking leads directly into the dead end!
Why this is so, described the business journalist Karl Pilsl in one of his books: "We have too many similar companies doing similar ones Employees deal with a similar Vocational Trainingwho carry out similar work. You have similar ideas and produce similar products at similar prices with similar quality."
What works elsewhere can not be bad?
Let's look around - he's right. But how did this similarity come about? Quite simply: To number for sure to go, the well-known best practice examples were mostly copied 1:1. What worked elsewhere can't be that bad. Or is it?
Differentiation with benchmarking? None! This phenomenon can be marveled at in HR marketing, for example Jobs, which are like one egg in the other. I've written about this before.
Best practice is what the majority does
Obviously, one writes of the other, but this dreary uniformity can not be explained otherwise. Even claims, actually intended as an all-purpose feature, are already copied.
Of course, the best practiceMethod Nor does it stop at social media activities: Despite regular shit storms, the production of videos with singing and dancing employees does not seem to stop.
Best practice is worst practice
Best practice is NOT a successful method to differentiate itself as an attractive employer from others. Best practice is strictly Worst Practice.
With Best Practice, no one comes to the fore, but rather follows in the footsteps of the originals. He always runs behind the original. It also happens that the examples are often not transferable.
Higher, faster, wider or even different with benchmarking?
What was good for the first company rarely works for the imitators. Success cannot be copied, it is like that unique like the companies themselves.
An example makes clear, why benchmarking is not suitable as a successful method. Up until the 1968 Olympics in Mexico, the common one was Technology in the high jump the so-called western roll. The record was 1,72 m. The athletes crossed the bar on their stomachs.
The courage for the new
Dick Fosbury jumped the bar, which was at a record height of 2,24m, with the backwards Head Ahead. Fosbury did everything differently than his peers - completely different.
And that's why he was by far the Olympic champion! Before his grandiose victory, the experts made fun of him or advised him against his jump technique.
Do not mind what the others say
Several doctors even argued that one would break his neck in his jump style. Dick Fosbury did not care. He won Olympic gold with the entirely new jump technique developed by him.
An infographics on Pinterest shows the jumping technique of Dick Fosbury.
Think outside the box, copy no!
Of course, it is important to look at what other employers are doing in the competition for the best talents. Even during the development of concepts and procedures or optimization of organizational processes, market observations can help, but copying them too easily leads almost never to the desired result.
But it is required that Regulate to know in order to break them intelligently. Think Dick Fosbury. He knew exactly how his competitors do it. He knew the old jumping technique down to the last detail and then did it completely differently. With success!
Forget Benchmarking and Best Practice!
Best practice is exactly what the majority of others do. And this is sufficient for mediocrity at best. Do not copy other companies, but develop your own idea. So do not benchmark, but benchbreaking. Make everything different from everyone else!
You should do everything to ensure that Candidate say about your company, "I would love to work there!" And that's not what you'll achieve by copying others. Rather, you should do the following Ask respond:
What makes you unique as an employer?
Why should someone work with you?
What are the benefits of other companies' answers? For your company, only you can answer these questions yourself.
Read text as PDF
Acquire this text as a PDF (only for own use without passing it on according to Terms and conditions): Please send us one after purchase eMail with the desired title supportberufebilder.de, we will then send the PDF to you immediately. You can also purchase text series.
4,99€Buy
Advice on success, goal achievement or marketing
Do you have questions about careers, Recruiting, personal development or increasing reach. Our AIAdviser helps you for 5 euros a month – free for book buyers. We offer special ones for other topics IT services
5,00€ / per month Book
Book eCourse on Demand
Up to 30 lessons with 4 learning tasks each + final lesson as a PDF download. Please send us one after purchase eMail with the desired title supportberufebilder.de. Alternatively, we would be happy to put your course together for you or offer you a personal, regular one eMail-Course - all further information!
29,99€Buy
Skate eBook as desired
If our store does not offer you your desired topic: We will be happy to put together a book according to your wishes and deliver it in a format of yours Choice. Please sign us after purchase supportberufebilder.de
79,99€Buy