Social media is calling at the latest since the Choice by Donald Trump awake with many fears. The trust the user drops. But those who are declared dead often live longer. What's next for social media?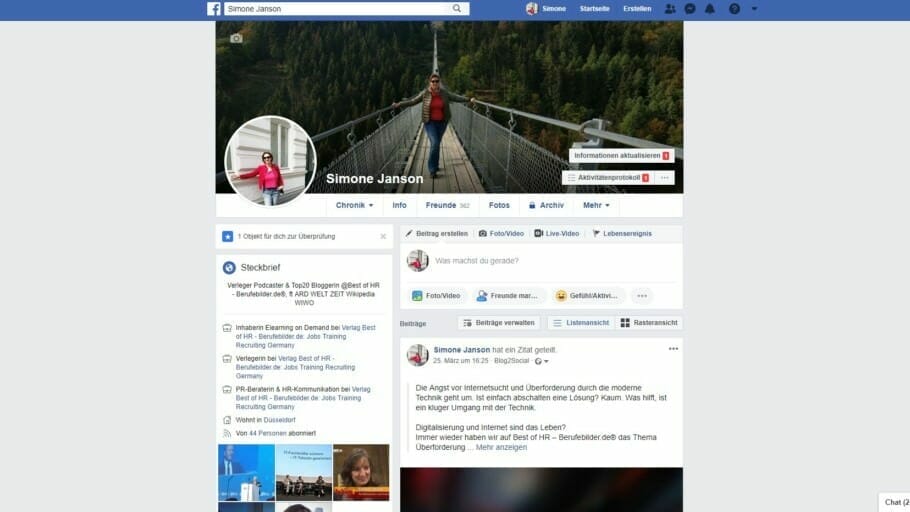 Google vs Facebook: Battle of the Internet giants
uniebook and Google are undisputed Internet giants. Your business model: Advertising. While Google generates its advertising revenue from search, Facebook the social interaction. Which Method works better now? And which business model will be in the long term Success have?
Google+, on the other hand, died a slow death. The social Network had against Facebook no chance and was switched off at some point. At the same time, Facebook an ever-increasing loss of trust, not only the Cambridge Analytica scandal but also the numerous fake accounts. So what about the Future by Faqebook out? And are social media as a whole sustainable?
uniebook in 5 years at the end thanks to a loss of trust?
The books on the subject (advertising)
If you believe trust researcher Rachel Botsman, Facebook in a few years at the end. In an interview with t3n she stated:
"The Brand uniebook dies. It will be the new Myspace. "
Botsman is a lecturer at Saïd Business School belonging to OxfordUniversity heard. In her book, Who can you trust? How Technology brought us together – and why it might drive us apart" is about trust and Technology and how trust has changed over the course of civilization. Your reason:
"[Users] like Facebook rather passively trust and be there, maybe to find an old classmate. But Facebook has forfeited the trust we as users have in the platform - or better - had in order to play a really essential role in our lives. Just think about it: If Facebook If you want to implement all the planned things, because you had this unique platform, such as starting a television station or a banking service, it will now be extremely difficult. "
The dead live longer
As I have been able to find out over and over again in recent years, especially in relation to social media, those who are said to be dead live longer. From my point of view, however, the business model of Facebook some others weaknesses, especially in direct comparison with Google. These include, for example:
The black box weakness: The main problem faced by Facebook from an economic point of view is a characteristic that is also repeatedly criticized by network activists: Facebook is like a black box that wants to absorb all content and lock it from the outside. Those who are not part of the network do not notice what is going on in it. But that is precisely the structural weakness of Facebook: While Google makes all content accessible, Facebook access for users. Of course, all companies start with the claim to be the sole No. 1 and try to attract users to their site. But at some point they realize that it won't work.
Hot air syndrome: uniebook to a large extent from hot air and its success from hypes. Former employees of the company have long admitted that Facebook specifically focused on evoking certain emotional responses in the user. There is simply not much more behind it.
The "communist" business model: Facebook is interchangeable. While Google's search is unrivaled to this day and Google also monetizes other people's content for free in a kind of communist business model, the business model of Facebook easily copied. The overlaps with other social networks are too strong.
Fragmentation of communication: From an evolutionary point of view, all ideas tend to be specific. Our social communication will therefore also continue to fragment: The trend is towards special networks in which special communities meet and exchange ideas - such as LinkedIn for highly specialized business contacts or Researchgate for scientists. Facebook as a network for everyone therefore cannot exist in the market in the long term.
The mosaic strategy: For example, Google simply has a much broader basis for its business model with its multitude of services. The search engine provider pursues a strategy of the mosaic tiles, in which many small offers under the brand name Google result in a big whole - unlike Facebook, which so far could only establish the social network.
The end of Facebook only a matter of time?
Discounts for your success (advertising)!
The imminent end of Facebook? In view of billions of users, this thesis sounds a bit daring. And yet a look at history teaches that this is quite possible: That Internet as a black box – this one Concept tried to establish AOL in the 90s without success. I also notice at Facebook an der clear reduced willingness of users to communicate that the really big hype is over.
Finally, fragmentation is a fact that is very evident in economic history. And even if Google+ at his Significance behind faxebook lagged behind, Google actually has the broader business model. Is that really the end of Facebook means remains to be seen. In any case, it remains exciting.
Read text as PDF
Acquire this text as a PDF (only for own use without passing it on according to Terms and conditions): Please send us one after purchase eMail with the desired title supportberufebilder.de, we will then send the PDF to you immediately. You can also purchase text series.
4,99€Buy
Advice on success, goal achievement or marketing
You have Ask about career, Recruiting, personal development or increasing reach? Our AIAdviser helps you for 5 euros a month – free for book buyers. We offer special ones for other topics IT services
5,00€ / per month Book
Book eCourse on Demand
Up to 30 lessons with 4 learning tasks each + final lesson as a PDF download. Please send us one after purchase eMail with the desired title supportberufebilder.de. Alternatively, we would be happy to put your course together for you or offer you a personal, regular one eMail-Course - all further information!
29,99€Buy
Skate eBook as desired
If our store doesn't offer you your desired topic: We will be happy to put together a book according to your wishes and deliver it in a format of your choice. Please sign us after purchase supportberufebilder.de
79,99€Buy