happy ones only customers are good customers – and generate corresponding sales. Many companies still don't seem to have understood this old adage when you look at their Marketing-Views activities. But how is it better?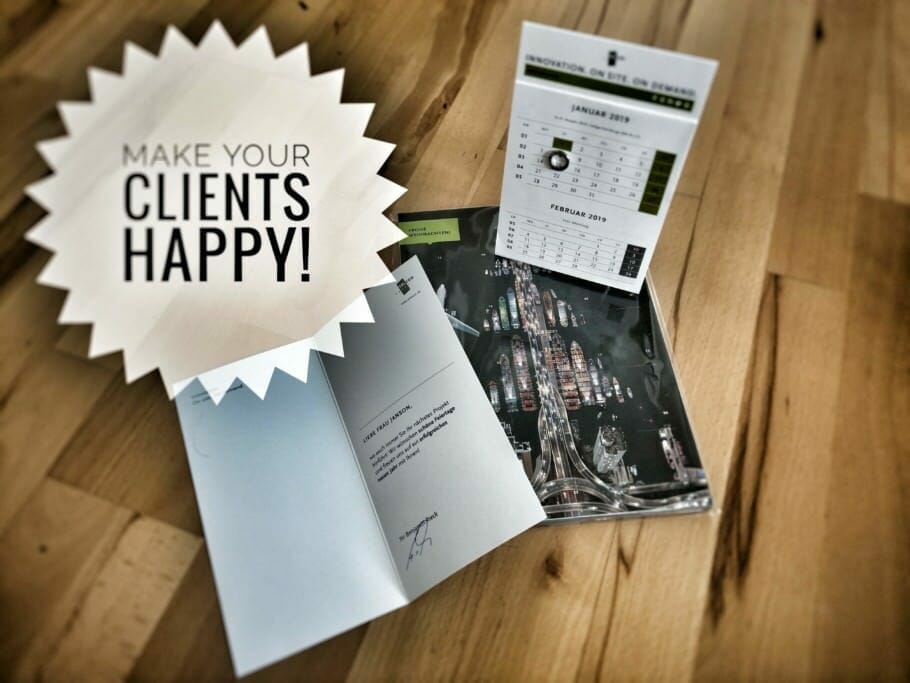 Happy customers: how are customers satisfied?
Only happy customers bring corresponding sales. If customers are happy, then they also like to pay and even send a small Christmas gifts during the Christmas time as in the picture mine Customer SolocomI'm looking at this ways for the excellent cooperation and the nice pre-Christmas present.
But how do you make customers happy? By offering them added value, namely what they want at a price they are willing to pay and therefore satisfied are. It really can be very simple.
Customer loyalty - better not!
Unfortunately, many companies do not heed this simple rule. Instead, they operate with all sorts of marketingTricks- and Strategies. For example, calling up address lists from the Chamber of Industry and Commerce for advertising purposes. That's just not a good marketing strategy. It may also fall under unfair advertising.
When I ticked the box "We may pass on your information to initiate business" when registering with the Chamber of Industry and Commerce, I had no idea what I was getting into. Exactly: advertising! In fact, any other member of the Chamber of Commerce and Industry can now request my company name and my contact details as well as my field of activity if it Geschäfte wants to initiate.
Bad advertising: standard slogans, wanted over-friendly
A Bonn publishing house, which is notorious for such marketing actions, apparently wanted that: I met their business attempt in the form of a telephone call. Wanted overfriendly penetrated me by heart the learned little proverbs of the too nice lady in the sales department in the ear.
What I really hate about such calls: the disguise tactic, which shouldn't let the called customer notice that something should be gossiped on him. Why not, someone would like to send me something and I would then have the opportunity to continue to buy it ... blbl blue ... the lady happily reeled off her speech. So it took five minutes before I realized that I was going to be turned on.
If the audience matching is wrong
But the reason for this was also that, with the best will in the world, I would not have guessed what kind of product I would get sell wanted: A self-employed letter, an apparently monthly publication for entrepreneur. The lady came to this conclusion herself when I revealed to her that I had written several books on the subject.
"Oh" she stuttered apologetically, apparently completely out of step "then you probably don't need that..." "No' I said politely and hung up.
At least she immediately understood that it was really embarrassing. It doesn't do much Sinnto simply call through an address list. And it doesn't exactly testify to good customer service if I don't inform myself a bit about the potential customers - after all, what is Google for?
Trends and developments in marketing
After all, if you are looking for a job, you should not go there unprepared Job Interview go or send standard applications. In addition, one inevitably asks oneself: what is in the publications if the marketing strategy of the Company so is? Also just crap?
In the age of communities, social marketing, viral marketing and artificial Intelligence this scam is certainly more than archaic. Because the new developments have some unpleasant side effects. One of them has already happened: Traditional marketing is increasingly on the retreat.
Revolution in the minds of customers
Because digitization has one in terms of marketing Revolution triggered in the minds of potential buyers: the buyers have emancipated themselves. They have networked and are thus increasingly independent of the advertising machinery Seller.
Because: If you want to buy something, you no longer just have to trust the advertising or maybe wait for the next product test by Stiftung Warentest. No, if you want to buy something, look for it in the numerous product test forums or on relevant blogs Opinions of the other users or makes his own opinion known to others.
Marketeers: have patience, build trust!
So what do marketing companies have to do if they want to use this development for their own purposes? First of all: be patient. Do not spam customers indiscriminately with advertising using the watering can principle. Because the laws of digital Communication cannot be applied in a vague manner and certainly cannot be transferred to everyone and every situation.
And then: Marketing in moderation. First analyze the target group, then spread the marketing message accordingly. And always in the Head remember: Good advertising works above all through trust. And the following example shows how to win this:
Being nice to customers pays off
Some time ago I got per eMail an apology from a mail order company I ordered something from some time ago. In the end I almost ordered something: Because the alleged apology was just a perfectly disguised marketingmessage.
In eMail was simply provided with "apology" in the subject. "Yeah, why?" I thought and clicked on it. Then I read:
Hello, due to a technical problem, yesterday it was not possible for every customer to order from ... without any problems. For this reason, and for the inconvenience caused to you, I would first like to apologize to you. Since your satisfaction is most important to me, today I have a very special offer for you as a small compensation: Articles XY for only 7,79 EUR without shipping costs instead of the usual 13,90 EUR. Order article XY now - only valid for 3 days. I hope that I can continue to convince you as a loyal customer of our advantages ...
Just a click - and what happens then?
What should I say: I was about to press order button. Then the red warning lamp in my head lit up: Attention, advertising, spam, you do not need the article. Of course, a glance at said website shows: There are always such special offers. Nothing special, then.
It has been scientifically proven that customers are more likely to use the word discount. And this is exactly the effect that was felt here. Whereas the "nice" apology made me die eMail read through to the end and not like the many spam advertisingeMails, leave unopened in the junk folder disappear.
What Marketeers Can Learn
With nice being, you keep on getting Best of HR – Berufebilder.de®Author Michael Moeslang written and meant that Executives nice should be to their employees. But this topic also applies here. You first apologize to the customer, who actually had no damage at all, and this creates a feeling of trust.
Then comes the perfectly camouflaged marketing message. Customers, be careful!
But, dear marketeers, you with aggressive Methods try to convince customers, you should learn a lesson from that. Because being nice and building trust pay off. Always.
Read text as PDF
Acquire this text as a PDF (only for own use without passing it on according to Terms and conditions): Please send us one after purchase eMail with the desired title supportberufebilder.de, we will then send the PDF to you immediately. You can also purchase text series.
4,99€Buy
Advice on success, goal achievement or marketing
You have questions about Career, Recruiting, personal development or increasing reach. Our AI consultant will help you for 5 euros a month – free for book buyers. We offer special ones for other topics IT services
5,00€ / per month Book
Book eCourse on Demand
Up to 30 lessons with 4 learning tasks each + final lesson as a PDF download. Please send us one after purchase eMail with the desired title supportberufebilder.de. Alternatively, we would be happy to put your course together for you or offer you a personal, regular one eMail-Course - all further information!
29,99€Buy
Skate eBook as desired
If our store does not offer you your desired topic: We will be happy to put together a book according to your wishes and deliver it in a format of yours Choice. Please sign us after purchase supportberufebilder.de
79,99€Buy