On Berufebilder.de presented Michael Moesslang, among others, how to present exciting, But how should a good presentation be structured at all? What does the reality look like? And how do you avoid the most common mistakes? For perfect presentation in 7 steps.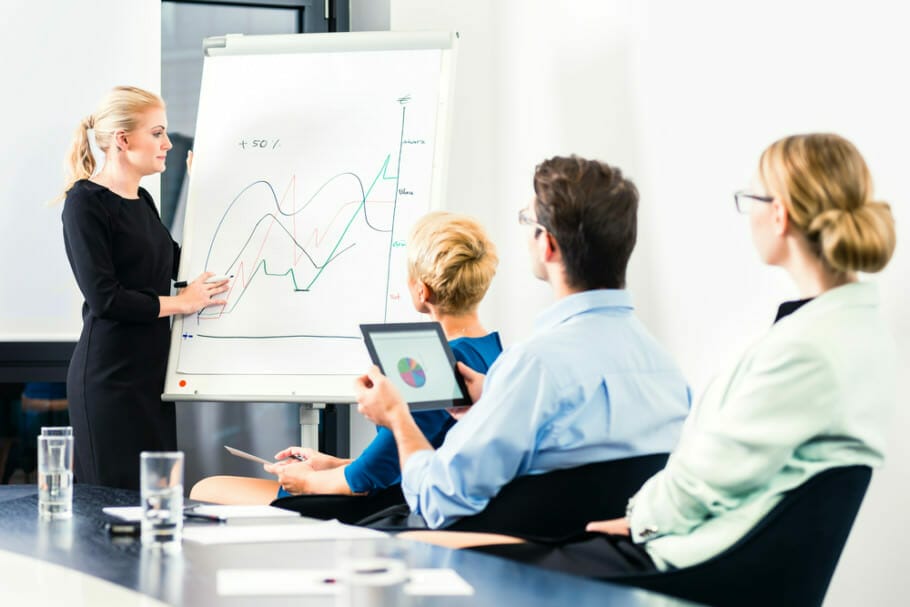 Knowledge of science
The less you see in a presentation, the better you can focus on it, the more it will be remembered. Here is the continuation of our 7 tips with concrete implementation help.
A critical word in advance: As early as the year 2004, a study group at the University of New South Wales (Australia) came to the conclusion that we are overpowering our slide presentations.
It is counterproductive to convey information in a mixture of acoustic, visual and possibly even moving forms. Information would be better understood if delivered either acoustically or visually.
Why overwhelm us with presentations?
The books on the subject (advertising)
The reason: When text and language run in parallel, the writing dominates. The spoken word fades away and is forgotten.
But: slides are not bad per se; because they come from the habits of People against: the human being is an animal with eyes and absorbs visual information particularly efficiently.
reality check
But what is the reality? Slide presentations are often of poor quality. The prejudice still seems to persist that the number of slides and information with the Expertise of the referent correlated.
In addition, most slide presentations are filled with far too much text and details. But the opposite is true, both in terms of the amount of slides and their content: less is more.
7 tips for successful slide presentations
Discounts for your success (advertising)!
Many presentation tips provide specific tips and tricks for exciting punch lines or storytelling. I'm more concerned with the more general ones Ask, because the variety of topics for a slide presentation makes it difficult to make specific recommendations.
But the following scheme can be a useful basis for structuring your slide presentation, at least in those cases where presentation and Solution of a problem.
Avoid classic mistakes
It is all about one thing: Avoid classic presentation mistakes. So what is to be done about it? First of all, it is important to avoid the most common and worst mistake in slide presentations: Slides must not be used as handouts for the participants.
Be sure to make the effort and draw up You have two types of documents: slides according to the following instructions and participant documents, in which you put all the details, numbers or graphics.
Step 1: Clarify what your goal is
Just be who Objective knows, can find the way. So: think about what you actually want to achieve.
Stop and ask yourself, "If my Audience If you could only remember one sentence, what would that be?" The answer is your goal or your core message.
Step 2: Clarify the basic conditions
How much time is available?
How many listeners are expected?
What technology is available (projector, emergencyebook, Microphone)?
Where does the lecture take place?
Step 3: Clarify who your audience is
As with all communication formats and types, when creating presentations it is important to first think about the recipients, i.e. the audience. This is not as easy as it may seem at first, because we are all subject to the so-called "curse of knowledge":
We simply know too much about our field and can't (anymore) imagine that others know less. So get closer to your listeners by finding out as much as you can about them:
Age
Gender distribution
hierarchical position,
Relationship between theorists and practitioners
subject area
Respect for your subject (prejudices, objections, sensitivities, resistances)
Knowledge and experience
Motives for participation (voluntary, forced)
Conflicts of interest between participants
Step 4: gather fabric and develop a "script"
Write down your first thoughts on paper - if you are working with a PC, you are already too attached to the classic "PowerPoint mindset". The very fact of working with a pen makes you more creative.
It is better to keep the thoughts on paper or, better yet, on post-its. If you stick it to a panel or wall, you have a good overview of the overall presentation. Use a separate piece of paper for each slide.
What is the topic?
Why is the topic important for the listeners? #
What is the problem?
How did the problem arise?
How is the audience affected?
What are the benefits of listening to the problem?
What can be done?
What are the alternatives?
What is the choice to make?
What does the solution look like?
Why is it the best solution?
What would the solution do?
What would be required for implementation (timely, financially, personnel)?
Step 5: Compress your collection of materials to theses
Now proceed to assign the collected material to the individual outline points. Regarding the number of foils, there are quite contradictory recommendations in theory and practice. Basically: "When in doubt, cut it out!"
If you have any doubts as to whether a slide is required, then remember: "In really good presentations, something is shown that could not be presented better in terms of language." The quality question is: Does a slide make understanding easier for the audience, does it help to convey my content faster / better?
Frequently quoted is the 10-20-30 rule by Guy Kawasaki; it means that a slide presentation does not include more than 10 slides, should take minutes under 20, and should have a font size of at least 30 point.
Step 6: visualize your theses
Avoid all that eats reading energy, such as logos, small pictures, legends, ornaments, shadows, boxes, footers, and the like. Even my headings are not necessary in my opinion - you are finally present and explain what is to be seen.
Slides should be like traffic signs: Quick and easy to understand. So, separate yourself from everything that is not absolutely necessary.
Differences are important!
Do without a "master": human perception usually processes each image completely anew. However, if large parts look the same over and over again, that concludes Brain "I already know" and switches off.
Design your slides differently. Only the first and last slide should appear in a "corporate identity dress" (fonts, colors, logo), in between you need variety.
Contrasts and harmonious colors
Choose a white / light or dark background. You can also choose a signal color (light green, orange) - the contrast is clear, so the writing or picture elements are easy to recognize.
Use colors that harmonize with each other - these are the colors that are in the color circle, such as orange and blue or green and red.
Less is more!
Never write more than 40 words on a slide. Typically, you will get less than 20 words. Some experts say: the contents of a film should be captured in less than two seconds.
Use a large font, at least 24, better still 30 point. This not only promotes legibility, but also limits the space available to you - so you are automatically forced to self-imposed. Also, use a large line spacing.
Pictures and graphics
Never use more than 7 pieces of information (lines / blocks of text, pictures, graphics, symbols ...) because the working memory capacity is limited to 7 (+/- 2) elements.
Include full-page images (photos) without captions in the presentation. The picture should build tension and for itself act – You provide the explanation for this with your presentation. If you don't use full-page images, but only smaller excerpts, do so ordnen Display the image elements asymmetrically, i.e. not centered.
Step 7: Hold a trial and correct your slides
The more important your presentation is, the more time you should give it investto practice and improve them. Ask colleagues, acquaintances or friends for their opinion. Try to keep your presentation free.
If you are not able to do this, make a speech note, but without formulated sentences, otherwise there is a risk that your lecture will sound too "wooden" or monotonous. Finally, check whether your presentation is error-free in terms of content and dramaturgy, spelling and punctuation as well as form and readability.
Read text as PDF
Acquire this text as a PDF (only for own use without passing it on according to Terms and conditions): Please send us one after purchase eMail with the desired title supportberufebilder.de, we will then send the PDF to you immediately. You can also purchase text series.
4,99€Buy
Advice on success, goal achievement or marketing
Do you have questions about careers, Recruiting, personal development or increasing reach? Our AIAdviser helps you for 5 euros a month – free for book buyers. We offer special ones for other topics IT services
5,00€ / per month Book
Book eCourse on Demand
Up to 30 lessons with 4 learning tasks each + final lesson as a PDF download. Please send us one after purchase eMail with the desired title supportberufebilder.de. Alternatively, we would be happy to put your course together for you or offer you a personal, regular one eMail-Course - all further information!
29,99€Buy
Skate eBook as desired
If our store does not offer you your desired topic: We will be happy to put together a book according to your wishes and deliver it in a format of yours Choice. Please sign us after purchase supportberufebilder.de
79,99€Buy