Elaborate advertising campaigns, strenuous tweeting, annoying customer harassment? Bah! Sometimes the best Advertising simply good, original goods that follow current trends – as these two examples of DIY furniture show.

Video Note: If you don't see a video here, you have to activate the option "Watch videos" at the end of the page under "Privacy and Cookies"!
Good design does not have to be expensive
I had already written 2009 in a book about the do-it-yourself trend as a successful industry of the future. An architect and designer from Berlin has now become known.
According to the motto "Good design does not have to be expensive", he has developed simple, practical and inexpensive HartzIV furniture, writes and talks about his idea and makes others do it Courage - like in this great video.
Who is behind it?
Van Bo Le-Mentzel was born in Laos in 1977 and fled to Germany in 1979. In his youth he was active as a graffiti artist and rapper in Berlin-Wedding. He successfully completed his architecture studies at the Beuth University for Technology Berlin. During his studies he worked as a radio presenter at KISS FM, among others.
Le Van Bo is the initiator of several projects such as "Underground Classic", in which U-bahn musicians (mostly unemployed young people) meet musicians from the Deutsche Oper. He is also involved in the DeutschPlus Association - Initiative for a Plural Republic. He has been working as a strategist at dan pearlman in the field of brand architecture for 5 years.
From carpentry course to HartzIV furniture
At the beginning of 2010 he graduated Boy architect for the first time a carpentry weekend course at the Berlin Adult Education Center, where he invented the 24 Euro chair.
He gained increasing fame through the development of Hartz IV designer furniture for self-construction at low cost and through his successful crowdfundingProjects for Financing of the Hartz IV furniture book on startnext.de.
From Crowdsourcing to Publishing Discovery
Construction manuals for his so-called Hartz IV furniture published as a book, which was not only funded via crowdfunding, but also created by crowdsourcing - and this was discovered by a publisher. Write to this SPON:
About Facebook the content of the book was discussed. Without that Internet if the book were unthinkable, it contains the ideas and the support of a lot of People. And instead of the usual author's line on the book: "Le Mentzel and The Crowd".
Great idea, more of it!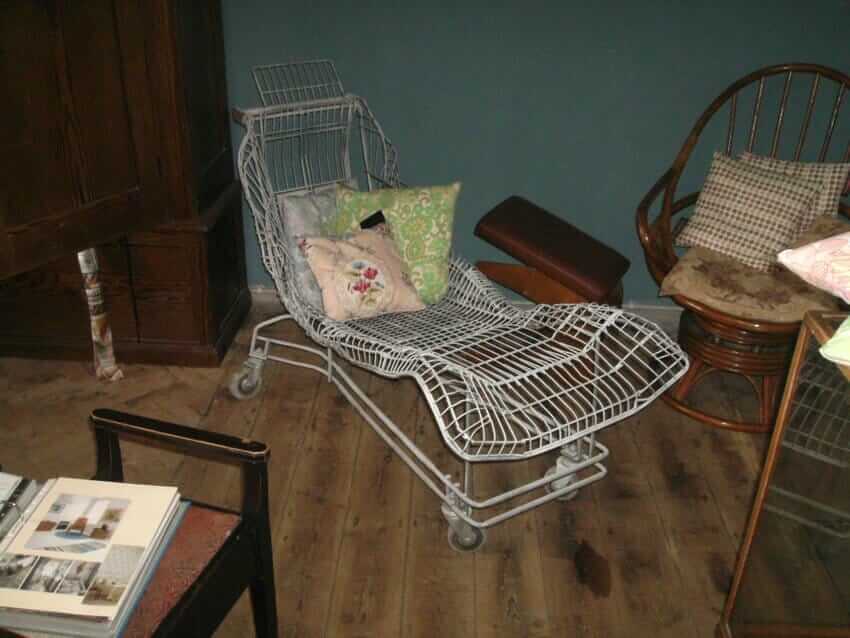 DIY proposal from England
Another great DIY product comes from England. A rollable bed that was assembled from two shopping baskets. Eye-catcher guaranteed! I found this gem in St. Ives, England, which is located in the far west of the island, a little less rainy Cornwall. Greetings from Rosamunde Pilcher! In any case, St. Ives would be a cute, small fishing village with pretty, white houses and wonderful turquoise water (unfortunately too cold for swimming, brrrr ...).
If it were not for the hosts of English tourists visiting the place every summer. Therefore, lined in the narrow streets and tourist kitsch, pseudo-art shops and galleries together. Anyone who wants to attract attention with his shop, must come up with something in any case.
Being original is everything!
The owners of the small shop Beaten Green did that and came up with this original idea: They welded and hammered two shopping baskets into a very original reclining chair, as they told me in the shop.
The thing is probably, with a few cushions, really comfortable, practical to roll away (e.g. when cleaning) and the material costs are quite cheap (depending on where you get the two shopping trolleys). And even if it for sure not everyone likes it as much as I do, the thing is really an eye-catcher that has a lot customers lured into the store.
Do-it-yourself trend adapted to customer needs
There is just one thing the shopping trolley bed is probably not: handy. The normal tourist who comes to St. Ives by car, Family and luggage are likely to have difficulties with carts just as much as bus or train tourists. Not to mention us, who were walking with our backpacks. And now?
The friendly saleswoman in the original vintage shop also had the right one Solution ready: because you're not selling the whole lounger, just instructions on how to do it yourself at home. What a great idea.
Only with the website that Beaten Green has to do something else to practice: Unfortunately, a few nice photos and references to these incredibly original products are missing. It's a shame that so far only visitors to St. Ives have been able to enjoy this idea.
Read text as PDF
Acquire this text as a PDF (only for own use without passing it on according to Terms & Conditions): Please send us one after purchase eMail with the desired title supportberufebilder.de, we will then send the PDF to you immediately. You can also purchase text series.
4,99€Buy
Book eCourse on Demand
Up to 30 lessons with 4 learning tasks each + final lesson as a PDF download. Please send us one after purchase eMail with the desired title supportberufebilder.de. Alternatively, we would be happy to put your course together for you or offer you a personal, regular one eMail-Course - all further information!
29,99€Buy
Skate eBook as desired
If our store does not offer you your desired topic: We will be happy to put together a book according to your wishes and deliver it in a format of yours Wahl. Please sign us after purchase supportberufebilder.de
79,99€Buy
Corporate publishing and advice
You want to publish, increase your reach or as an employer Candidate speak to? For these and other topics we offer special Consultant packages (overview) - For example, a personal phone call (price is per hour).
299,00€Buy